What exactly is pre-diabetes?
It is the state where your blood sugar is higher than normal, but it is not high enough to actually be considered diabetes.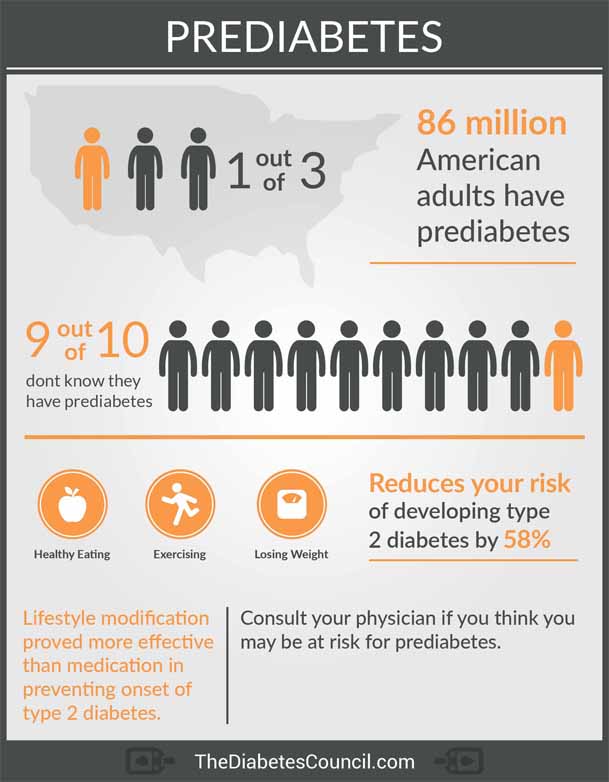 Many people do not even know that they have pre-diabetes when their doctor tells them because they have no symptoms. Your doctor may do some blood tests at your yearly check-up and that be the first time you find out that you have pre-diabetes.
The following image shows the ranges of blood tests for normal, pre-diabetes, and diabetes.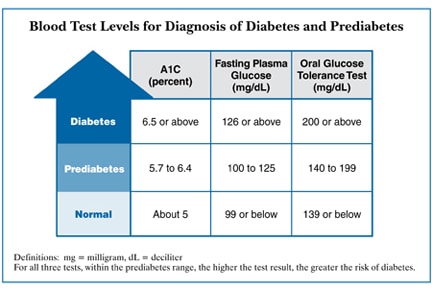 Pre-diabetes is actually very common, but it is not a deadly disease. It is an early warning that diabetes is coming and that you need to make some changes or you could face some serious consequences.
If it advances to Type 2 diabetes, the complications can have a major effect on your life
If your doctor tells you that you have pre-diabetes, then the chance of you developing Type 2 diabetes is pretty high.
Without changes, it is estimated that 15 to 30 percent of people that have pre-diabetes will advance to diabetes. Make sure to download our diabetes management guide for more tips.
If you do develop to Type 2 diabetes and you let your disease go uncontrolled, then the complications can kill you. If it doesn't kill you, it can make the quality of your life go out the window.
Complications include:
High blood pressure: One study found that 67 percent of people with diabetes also have high blood pressure. This elevated pressure in your blood vessels can damage your heart, kidneys, and increase your risk for a stroke, which can lead to death.
High cholesterol: Cholesterol sticks to the inside of your vessels and can increase your risk of heart disease, which can be deadly.
Heart Disease: Heart disease is the leading killer for people with diabetes. Those with diabetes are 2 to 4 times more likely to die form heart disease than those without it. 68% of people 65 or older with diabetes die from heart disease, which can be defined as heart failure, coronary heart disease, or cardiomyopathy. These can kill you.
Stroke: 16% of adults over the age of 65 with diabetes die from a stroke.
Kidney Disease: If the kidney disease progresses to End-Stage Renal Disease, which is the most advanced stage, then without a kidney transplant or dialysis it can lead to death.
Eye problems that can cause blindness: Blindness won't kill you, but it can decrease your quality of life and make it difficult to do the things that you love.
Non-healing wounds which can lead to amputations: Having a non-healing wound can lead to death if the wound gets infected and the bacteria gets into your blood becoming something called sepsis. Amputations will make your life more difficult, but they are not life-threatening.
If you have pre-diabetes, your body can still be experiencing the damaging effects of full-blown diabetes, more commonly harm to your kidneys, blood vessels, and heart, but they are not as severe.
Find out what changes you need to make to prevent Type 2 diabetes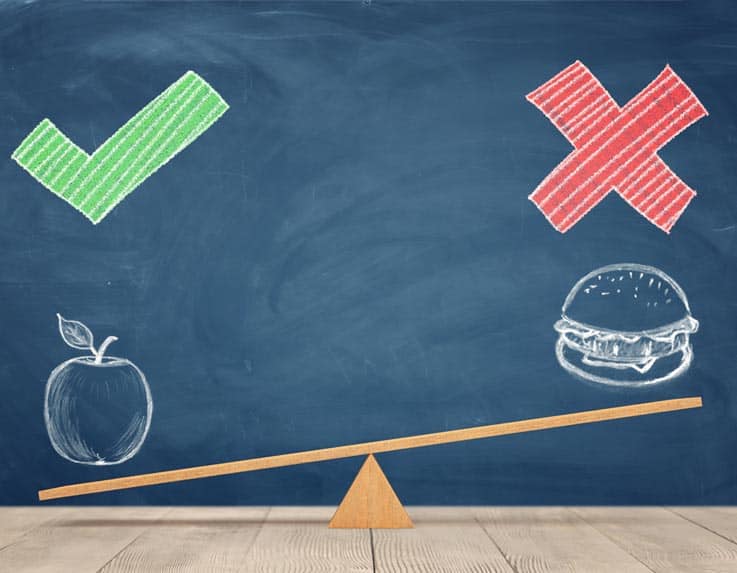 Pre-diabetes and diabetes occur because your body's insulin stops responding to sugar the way that it used to. Normally, when you eat something, the sugar from the meal enters into your bloodstream and pairs with insulin. Once they are paired, they are able to pass into the cell wall and be used as fuel to provide you with energy.
As pre-diabetes begins to develop, your body's insulin stops pairing with the sugar molecules and they build up in your bloodstream. This literally causes high blood sugar.
There are risk factors that increase your risk of pre-diabetes:
Genetic factors. If someone in your family had pre-diabetes or Type 2 diabetes, your risk goes up.
Weight. One of the main risk factors for pre-diabetes is being overweight or having a large waist line (40 inches for men and 35 inches for women). The more weight you carry, the more resistant your cells become to insulin.
Sedentary lifestyle. Exercise and physical activity help to keep your weight down as well as using up excess sugar that your body doesn't need.
Age. After age 45, your risk increases.
Poor diet choices. Ingesting lots of sugary drinks and fatty foods increases your risk of pre-diabetes.
Race. African-Americans, Native Americans, Hispanics, Pacific Islanders, and Asian-Americans are more likely to develop pre-diabetes, although the reason is unknown.
Having gestational diabetes while pregnant. These women, or a woman that delivered a baby larger than 9 pounds are more likely to develop pre-diabetes.
Sleep apnea. People with sleep apnea are more likely to be resistant to insulin.
Polycystic Ovary Syndrome. Women with this disorder are at an increased risk.
High blood pressure. Having unhealthy lifestyle choices can lead to high blood pressure.
High cholesterol. This is equivalent to the amount of fat that is in your vessels, which also goes with making poor diet choices.
After looking at that list, you can see that there are only a few things that are in your control.
You can't change your race, age or your genetics.
The things that you can change though are your weight, level of physical activity, and diet choices.
Weight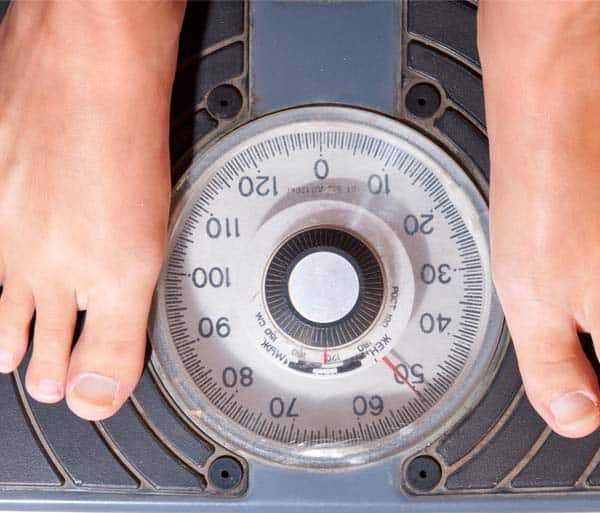 Like I mentioned before, the more fat that you have stored, especially around your waist area, the more resistant to insulin your cells become. You don't have to have a massive weight loss to see progress. Losing only 5% to 10% of your body weight, can reduce your risk of developing Type 2. By increasing your physical activity and making better food choices, you can lose the weight.
Physical Activity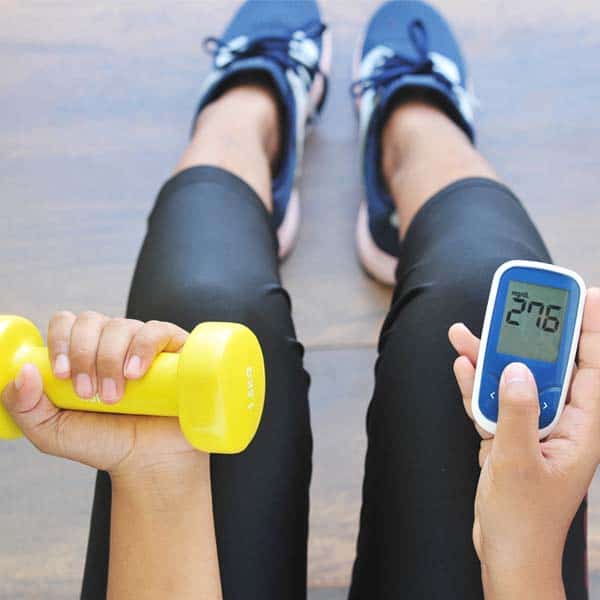 When you exercise, your body burns off extra glucose that is in your bloodstream. It also increases the health of your heart, which is very great. Having just 30 minutes to an hour of physical activity a day can be beneficial. To be safe, always talk to your doctor before beginning a new exercise program. Some great suggestions of enjoyable exercise include:
Swimming
Hiking with a friend
Walking with your neighbor or spouse
Taking dance lessons
Joining a gym or a community center to take part in group classes
Whatever it is that you decide to do, just make sure that it is something that you enjoy and something that you can stick with. Exercise should become a part of your life, even when you hit you goal weight and target blood sugar range.
Other benefits of exercise include:
Preventing heart disease, high blood pressure, and stroke
Decreasing back pain
Improving your mood
Helping you deal with stress better
Reduce risk of osteoporosis
Diet Choices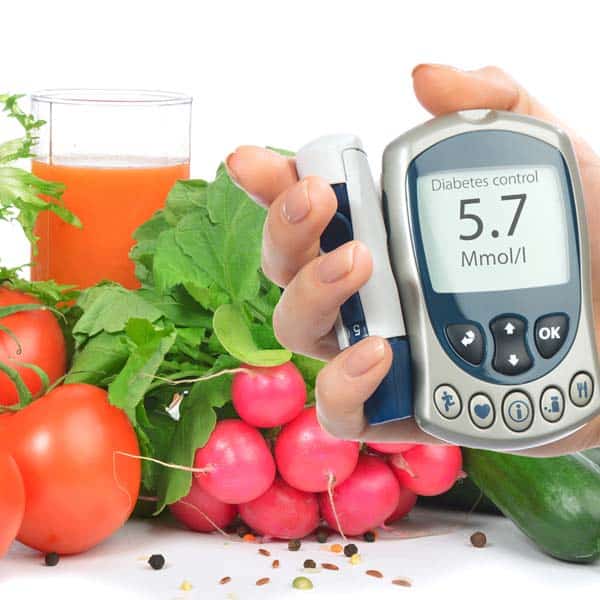 Good food choices are imperative when it comes to managing your pre-diabetes as well as diabetes. Foods that you should choose should be high in fiber and low in calories and fat. Fruits and vegetables are always the best choice. Choose whole wheat over white, and lean meats such as fish over fatty red meats.
Portion control is also very important. The image below gives you a great idea as to how your plate should look. Fruits and vegetables should take up most of your plate, while your meat and grains should only take up about a quarter each. If you have any questions about what you should be eating, schedule an appointment with a dietician in your area for more guidance.
Just like your exercise, find food choices that you will be able to stick with. Don't pick things that you hate. This will help you stay on track to the healthier you. Read an article I wrote Why Do Most Diets Fail to give you more tips on how to choose a smart diet that works.
See your doctor regularly so they can check for changes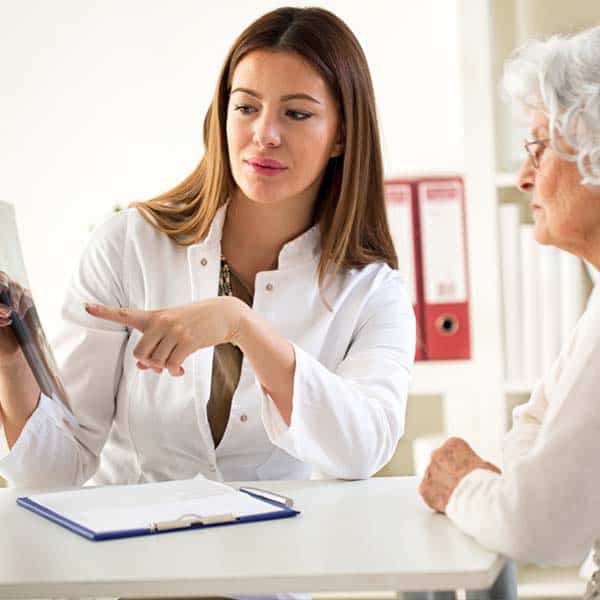 You should be having a regular check-up with your doctor at least once a year. If you are at an increased risk for anything, you should see him more often. During these appointments, he should be checking your blood work, your blood pressure, and making sure that your weight is under control. He will probably talk to you about the foods that you are eating and any physical activity that you are doing.
If you have pre-diabetes and think that you are getting worse, then you should schedule an appointment with your doctor right away. The earlier you are able to catch diabetes, the less damage it can cause. Some pretty good signs that you are moving from pre-diabetes to diabetes include:
Problems seeing such as blurred vision
Fatigue
Increased thirst
Urinating often
Pre-diabetes is reversible, you can do it!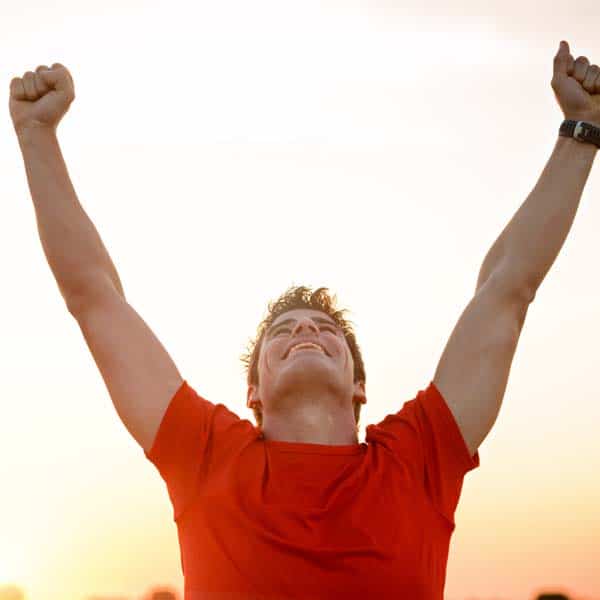 If you are diagnosed with pre-diabetes, know that it is not a death sentence. You were given a warning about a deadly disease that you can reverse, so take it as a life saving miracle.
Talk to your doctor about what the best plan is going to be, and stick with the diet and exercise options that work for you. If you need support, find someone that you can talk to and lean on when you become frustrated or feel defeated. You are only given one life and one body. Take care of it so that you can live it to the fullest.
TheDiabetesCouncil Article | Reviewed by Dr. Sergii Vasyliuk MD on September 15, 2018