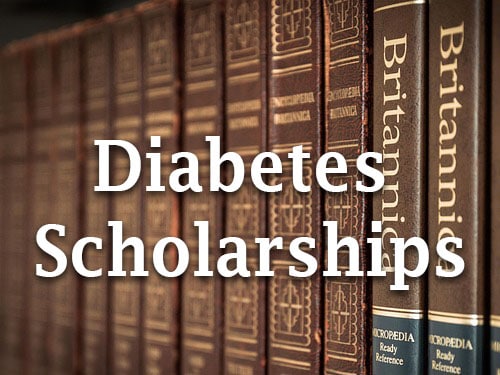 In the world of scholarships, rising college freshman find out just how hard it is to secure extra money to pay for college. They may spend long hours writing essays in an attempt to get scholarship money, only to find that competition is stiff, and money for college education for lower middle and middle income families can be hard to come by. Still, with a bit of persistence, you can find money to help with your college education.
What about those living with Diabetes? Are there more scholarship opportunities out there for them? Are there specific scholarships available for Type 1 and Type 2 Diabetes? Do you have to have good grades and test scores to qualify, or is having diabetes alone enough to qualify?
Where do you start in order to qualify for some of the available scholarships? These are some of the questions we will answer to help you as a diabetic student, obtain scholarship monies.
There are so many scholarships available out there, and so many different requirements for them. For one, you may need to be a tennis player who has diabetes. Another may require you to demonstrate that you are self-managing, and excelling in your high school courses to be considered.
Others look at academics and financial need, and take into account the whole academic and financial picture of the student such as extracurricular activities, diabetes advocacy and leadership qualities. Some are for Type 1 diabetics, and some are allocated for Type 2 diabetics.
Some scholarships for diabetics require essay writing and letters of recommendation. Recommendations may include a letter from your doctor if they are looking to see that you have shown initiative to get your diabetes in check.
Having diabetes will help you get the opportunity to apply for more scholarships that are diabetes related. However, you will have to meet whatever criteria that the scholarship fund has set up, and "jump through their hoops," so to speak. Diabetes conference scholarships are a different story. They are mainly based on financial need.
It may require time and effort to apply for college scholarships for diabetics, but the payoff can be big! One student successfully acquired $20,000 in diabetes scholarships, which really went a long way to help pay for her college education at a state university.
It does seem that when you search for these scholarships that there are more for Type 1 Diabetics than there are for Type 2 diabetics. There are a few for Type 2 diabetics, and we will explore all of the scholarships for Type 1 and Type 2 diabetics in this article.
Scholarships for Type 1 Diabetes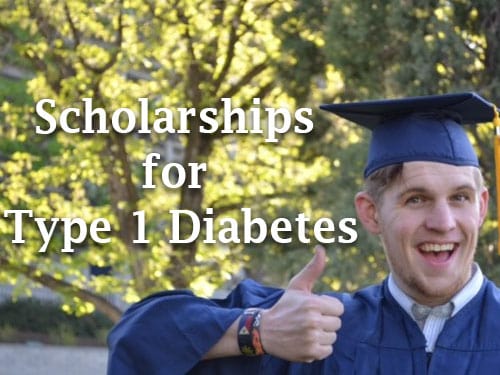 The Diabetes Scholars Foundation provides funding for Type 1 Diabetics to achieve higher education or attend conferences. Yearly, they award over 3,000 scholarships to people with diabetes wishing to attend the Children with Diabetes Friends for Life Conference who would otherwise not be able to pay for it. The DSF college education scholarships are the only scholarships that are only awarded to Type 1 Diabetics in the United States, and to no one else. The scholarships are for $5,000 each.
They also fund scholarships to the Family Scholarships to CWD's Friends for Life UK Conference, Young Adults with Type 1 Conference Scholarships, and Adults with Type 1 Conference Scholarships, in addition to the children's conference. Deadline for scholarship application is April 15th each year.
To be eligible for this scholarship, you must have high academic achievement, extracurricular activities, leadership abilities and the ability to self-manage your diabetes. It would be helpful if you are involved in some kind of diabetes advocacy groups, activities or community organizations. An essay and 2 letters of recommendation are required.
One letter should be from your doctor, and the other letter should be from a high school teacher or guidance counselor. A scholarship from Lilly Pharmaceuticals is included in these scholarships, as well as the Jay Cutler Diabetes Scholarship and David's Diabetes Scholarship. Other sponsors are Helmsley Charitable Trust, JDRF, and Marcom Group. To apply for these scholarships with one application when they come up again for 2017, click here.
The Austin Community Foundation of Austin, Texas, awards the Aimee Melissa Davis Memorial Scholarship Fund. This scholarship was created for family and friends to honor Aimee, who died young from complications of Type 1 diabetes. Annually, scholarships in the amount of $5,000 are awarded to a high school senior from Travis, Williamson or Hays County, Texas with Type 1 diabetes based on financial need and academic excellence.
The application deadline is April 15th of each year, and applicants are required to submit 2 letters of recommendation, the date of diagnosis, and a letter from your doctor stating that you have Type 1 diabetes. For a link to this scholarship, click here.
I recommend these articles for more information:
The Novo Nordisk Donnelly Awards offers scholarships for team tennis players living with Type 1 diabetes. Why tennis players? If you are not too young, you may remember Billie Jean King, a famous tennis player. These scholarships were started by the famous athlete in 1998, as she wished to promote physical activity and competition in tennis for those with Type 1 diabetes.
The scholarships were named after 2 sisters with Type 1 diabetes who were Mylan World Team Tennis executives and champions, Diane Donnelly Stone and Tracey Donnelly Maltby. There are 2-$7,500 scholarships, and 8-$3,000 regional scholarships awarded to competitive tennis players age 14-21 that have Type 1 diabetes.
The money can be used for education, tennis development, or medical care, which is different from most scholarships, which are paid directly to the college, and not to the individual. The deadline is April 1st of each year. In addition, applicants must be in good academic standing, show community involvement, show strong character and sportsmanship, provide physician confirmation of diagnosis, an essay and 2 references. Click here to link to the scholarship page.
For Ohio residents, the Thomas J. Seefred Scholarship is for Type 1 diabetes students between 18 and 25 who wish to obtain a bachelor's degree, and are already enrolled in college and in good standing academically. High school seniors aren't eligible for this scholarship. Each scholarship is up to $3,000.
You must submit an official transcript, write an essay, get a letter from your doctor that states you have Type 1 diabetes, obtain one letter of recommendation from someone other than a relative, and financial information. The application must be notarized and postmarked by May 1st. To apply for this scholarship, click here.
The Diabetes Hope Foundation recently awarded 40 scholarships to Type 1 and Type 2 diabetes patients in Canada in 2016. Recipients are self-managers, academic achievers, involved in their community and in extra-curricular activities. Scholarships historically have been awarded to about one half or one third of those that apply from across Canada.
The scholarship has been expanded to include those students with diabetes who wish to apply from New Brunswick, Nova Scotia, Newfoundland, Alberta and British Columbia, with separate guidelines. The guidelines for Ontario students are a separate set of guidelines. There is an essay required. For the Diabetes Hope Foundation scholarship webpage, click here.
The Central Ohio Diabetes Association application for scholarship is offline now, but will be back up online in November, 2016, in time for 2017. Their Women's Board College Scholarship Funds are awarded based on academic excellence and financial need for those with Type 1 diabetes living in central Ohio who are in control of their diabetes and living healthy with it.
Applicants must provide a reference, and this could be a coach, teacher, advisor, employer, minister or any non-relative adult. Another requirement for this scholarship is to help others and contribute to a community awareness of diabetes.
"Our Women's Board will award a total purse of $7,500-$9,000.  We give individuals anywhere from $2,000-$5000.  This year we awarded 6 recipients with money, total purse $9,000.  Our Women's Board has been doing this for many, many years," said Pat Hoffmanbeck with Ohio Diabetes Association in an inquiry email. Even though the scholarship information is not online until November, you can visit the website. Click here for the Central Ohio Diabetes Association.
The Scott and Kim Verplank Foundation awards scholarships for Type 1 diabetics. They can be up to 10,000 for tuition, fees, and books. The difference with this one is that it is not just a one-time scholarship. This one is renewable for up to 4 years, and there is a team sport requirement. Applicants must meet the initial and renewal requirements for scholarship in subsequent years.
To be eligible, you must be a high school senior with Type 1 diabetes, in control of and self-managing your disease, have medical endorsement that you have Type 1 diabetes, and be participating in an organized team sport. The deadline is April 15 of each year. To visit the scholarship webpage, click here.
The Diabetes, Incorporated Scholarship can reoccur if you reapply every year, and they award at least one per year of at least $1,000. Membership to Diabetes, Incorporated is required, and this costs $10 per year. These dues must be paid prior to the deadline of April 15th of each year.
The website says only that the student must have "diabetes," so it is assumed that they could be diagnosed with either Type 1 or Type 2 diabetes to apply. Further reading on the website reveals that the applicant can be a student with diabetes or have a family member with diabetes.
This is different, as other scholarships are just for the diabetic, not the family member. Priority is given to Kamp for Kids veterans or volunteers for Diabetes, Incorporated. If you win, you will be on the cover of their newsletter. You must write a 100 word essay about "How Diabetes Has Affected your Life," and describe your community involvement and honors. There is no financial information on the application, therefore it is not a needs-based scholarship. To visit the Diabetes, Incorporated website, click here to download a pdf file about the scholarship.
The Seneca Diabetes Foundation awards scholarships to members of the Seneca Native American Nation, but being diabetic is not a requirement. In this way, a member of the Seneca Nation could apply for scholarship if they were not diabetic, and also if they have Type 1 or Type 2 diabetes. Scholarships are from $5,000 to $10,000 over 2 years, and is for students pursuing a college degree in health and human services. Students can apply to more than one scholarship. There are 4 scholarships:
Barry and Deanna Snyder, Sr. Chairman's Scholarship – 3 awards of $10,000 over 2 years, and is based on leadership qualities
Ruth Goode Nursing Scholarship – 1 - $5,000 scholarship for those wishing to pursue a nursing career who have qualities similar to Ruth Goode
Geraldine Memmo Scholarship – 1 - $5,000 scholarship for students pursuing a degree in Native American History
Seneca Gaming Corporation Scholarship – the award amount is not listed, but this one is for a degree in healthcare business and administration
For a Seneca Nation scholarship, the student must have good academic standing, and they must be going to graduate high school, or have graduated high school (or obtained a GED). Transcripts are required to obtain the award for the second year.
Scholarships for Type 2 Diabetes
See Diabetes Hope Foundation above
See Seneca Diabetes Foundation above (not specifically for diabetics, but Type 2 Diabetics who are members of the Seneca Native American Nation can apply
Not so many scholarships for diabetics? Try a few things.
When you look at the list above, it becomes apparent that there really are not enough scholarships for students with diabetes to go around. Type 2 diabetics are certainly not getting the attention they need in the scholarship area. Type 1 diabetics have more award offerings to choose from. What if you are an average student? Can you get money awarded to help with your college?
To give you some tips, tricks and hints here, you first need to go visit your guidance counselor at your high school. They can talk you through the process to apply for grants, including federal Pell Grants up to $5,000 per year. These are income based, and so you will need to qualify in that area.
There are federal student loans of course, and parent issued loans to cover expenses. All of these resources will be accessed by you and your parents by completing the FAFSA (Free Application for Federal Student Aid). If you have a tax return, it will get uploaded into your FAFSA. Your parent's tax return will get uploaded also. Once you have completed your FAFSA, the amount of your family contribution is determined.
At this point, you can decide whether or not you want to go on a more exhaustive search for more funding through scholarships. There are many scholarships that are not specifically for diabetics that you may still qualify for. There are many for general disabilities that do include diabetes. Your guidance counselor will be a great resource during this time. You should also check with the college or university that you attend.
Their financial aid office can help you to find scholarships in general, and also scholarships for students with diabetes. Good luck in your search, and don't give up! With a little persistence, you can earn the degree of your dreams.
Is there a diabetes tennis scholarship? How do you get one?
See Nova Nordisk Donnelly Awards under Type 1 scholarships above. This scholarship founded by Billie Jean King is for competitive tennis players.
Are there scholarships for parents of diabetics?
There are no college scholarships for parents of diabetics, but there are scholarships for diabetes conferences.
Is there a college scholarship for diabetic students?
Yes! They are listed in detail in the above article.
How do you get a scholarship to get a PHD if you are diabetic?
Internet searches yield nothing in North America when searching for PHD scholarships. There are some available in the UK for US citizens at Kingston University in London, and Australia for Australian citizens.
Can you get a scholarship for having diabetes?
No. Though there are scholarships for diabetics, there are other requirements besides just having the diagnosis.
Are there diabetes scholarships for undergraduates?
Yes, most of the scholarships available as listed above are for undergraduates.
Are there diabetes university-based scholarships available?
Yes, some universities do offer scholarships for students with disabilities, including diabetes. Check with your college or university financial aid office for University-specific offerings.
Are there diabetes educator scholarships available?
Yes, the AADE offers scholarships for their annual conference. Find them at diabeteseducator.org.  
What about diabetes camp scholarships? Are those available?
Many diabetes camps offer scholarships. Check with each camp for offerings. Refer to the article on this website entitled, "Diabetes Retreats: Everything you need to know."
The Diabetes Council Scholarship Program
The Diabetes Council focuses on the education and awareness of Diabetes in our daily lives and what we should do to live and thrive with Diabetes.
The Diabetes council is awarding $2,000 in scholarships to individuals suffering from Diabetes (Type 1 or Type 2).
For addtional informative links check these:
The Program
3 Scholarships will be awarded to current or prospective students in College. The scholarships will be awarded in the form of $1,000, $600, and $400. Three scholarships will be awarded in the Fall semester and three will be awarded in the Spring semester each year.
Students should fill out the form below. Please copy and paste an essay that describes who you are, and why you feel it is important to educate the public about diabetes, and what is lacking in terms of support for people with diabetes.
Please submit your essay by October 20th for the Spring Semester and by June 20th to be eligible for the fall semester scholarship.
This opportunity is opened every year and submissions are open and encouraged for the fall and spring semesters.
Scholarships will be sent directly to the winner's school as a tuition payment.
If you have any scholarship stories to share post them down below.
Who is Eligible?
Diagnosis of Diabetes (Type 1 or Type 2)
Successfully managing diabetes with proper diet, exercise and medication
Proof of enrollment in College or University for the semester that you are applying
Commitment to education by maintaining a 3.0 Grade Point Average (Based on 4.0 scale)
TheDiabetesCouncil.com Scholarship Form
TheDiabetesCouncil Article | Reviewed by Dr. Sergii Vasyliuk MD on June 10, 2020