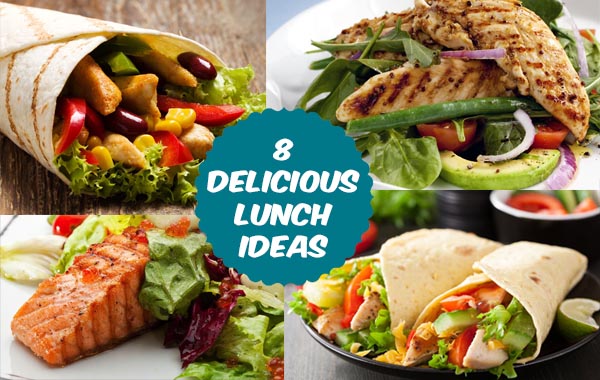 Brown bagging it to work, even if you're not using a brown paper bag, is the best way to control your carb intake at lunch time.  Not to mention, it's much easier on your wallet than eating out every day.  Gone are the days of boring old peanut butter and jelly sandwiches with a bag of chips and a red apple.  Get creative and enjoy your lunches from home again.
Here are some healthy lunch ideas, along with the carbohydrate counts.  These lunches include 60 grams of carb each, but are broken down for you to see where that carb is coming from, in case you want to adjust for your personal needs.

1. Smoked Turkey & Harvarti Pita – Creamy Havarti paired with smoked turkey is divine.  Thin slices of Granny smith apples inside are the icing on the cake.

You can even enjoy a few vanilla wafers with this lunch and still meet an acceptable carb count.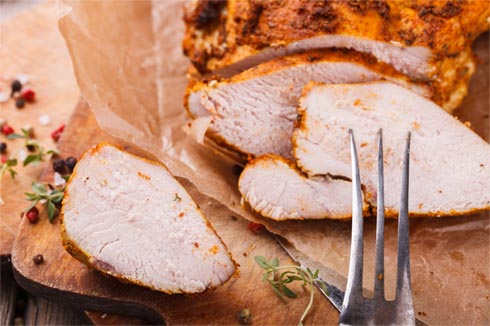 Food
Amount
Carbs (grams)
Pita
1
30
Apple
1
15
Vanilla Wafers
5
15
Total
60
2. Fancy Grilled Cheese – Use whole grain bread and add chopped marinated olives or mushrooms, or roasted red peppers, or roasted green chilies to the traditional grilled cheese sandwich.  Nothing goes better with grilled cheese than tomato soup. You can also include 1 cup of melon and still make the target.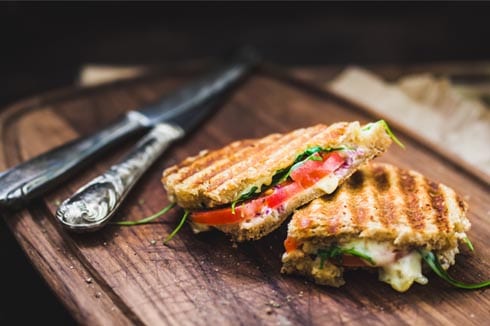 Food
Amount
Carbs (grams)
Bread
2 slices
30
Melon
1 cup
15
Tomato Soup
1 cup
15
Total
60
3. Mason Jar Salad – These are all the rage right now.  Simple to prepare ahead of time.  They keep well up to a week in the fridge.  Layer ingredients in this order:  salad dressing, protein (tuna or chickpeas or black beans), veggies (grape tomatoes or chopped bell peppers or cucumber slices), and salad greens.  Carb counts will vary based on what you include, but you should have plenty of carbs leftover to add a Greek yogurt parfait with 1 cup of plain yogurt and 1 cup of sliced berries.  This lunch is satisfying and full of fiber!
For more diabetic related information read these: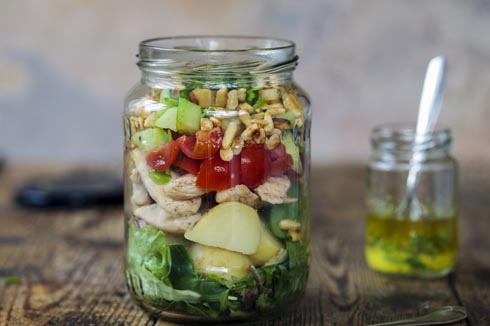 Food
Amount
Carbs (grams)
Chickpeas
½ cup
20
Salad Dressing
2 T
4 – 10
Greek Yogurt
1 cup
15
Sliced Berries
1 cup
15
Total
54 – 60
4. BBQ Chicken Wrap – Spread your favorite BBQ sauce on a whole wheat tortilla (watch the amount closely…. BBQ sauce can be super high in carbs), add shredded carrots, bell pepper strips or sliced red onions.  Tuck ready-to-serve grilled chicken strips inside and roll up.  Add a fresh peach or pear…. Yum!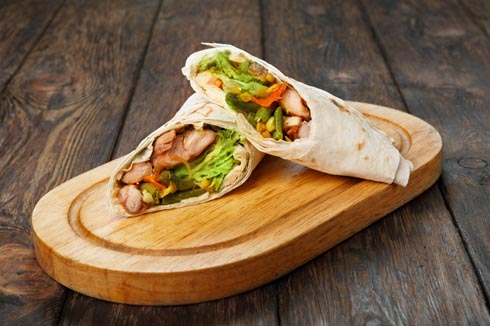 Food
Amount
Carbs (grams)
Whole Wheat Tortilla
1 (10 inches)
30
BBQ Sauce
2 T
15
Peach
1
15
Total
60
5. Breakfast for Lunch – Make some extra scrambled eggs at breakfast.  Top an English muffin with ham slices and the eggs.  A juicy fresh orange and some yogurt rounds out this delicious breakfast for lunch.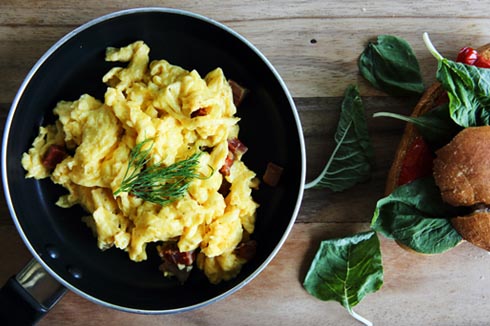 Food
Amount
Carbs (grams)
English Muffin
1
30
Orange
1
15
Yogurt
1 cup
15
Total
60
6. Tea Party Delicacies – Spread some light cream cheese with chives on cucumber slices.  Top a mini bagel with some smoked salmon.  Add a side of prosciutto wrapped melon slices.  End with a few ginger snaps for a kick of flavor.  It's like a fancy tea party in your lunch bag!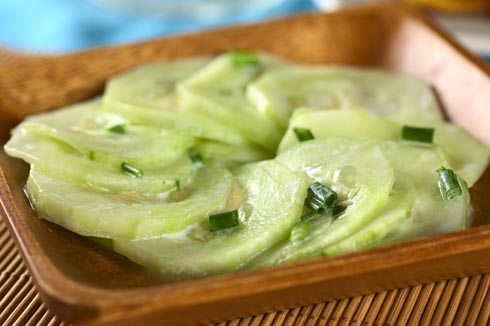 Food
Amount
Carbs (grams)
Mini Bagel
1 (2.5 ounce)
35
Melon
1 cup
15
Ginger Snaps
3 small
15
Total
60
7. Chicken Noodle Soup – Make extra homemade soup for dinner one night at home.  Add crunchy wheat crackers and a small bunch of grapes.  Warm soup always makes the mid-day slump a little better!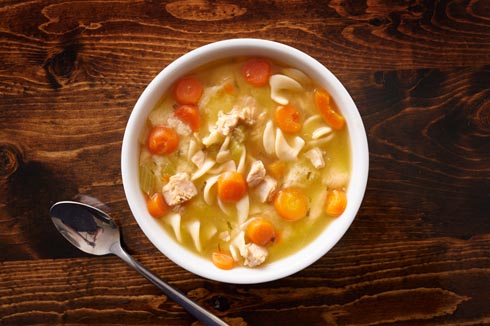 Food
Amount
Carbs (grams)
Soup
1 ½ cups
18
Wheat Crackers
10
27
Grapes
15
15
Total
60
8. Snack Pack Lunch – This is a great philosophy when you have a lot of little leftover foods in the pantry and the fridge you need to eat up.  Grape tomatoes, dried apricots, roasted almonds, cheese chunks, pretzel twists, baby carrots and a banana….. yummy, varied and filling!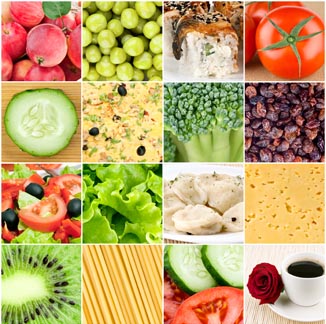 Food
Amount
Carbs (grams)
Dried Apricots
6 halves
15
Pretzel Twists
15 small
15
Banana
1
30
Total
60
What is your favorite diabetes friendly lunch at work? Share it with us in the comments section below.