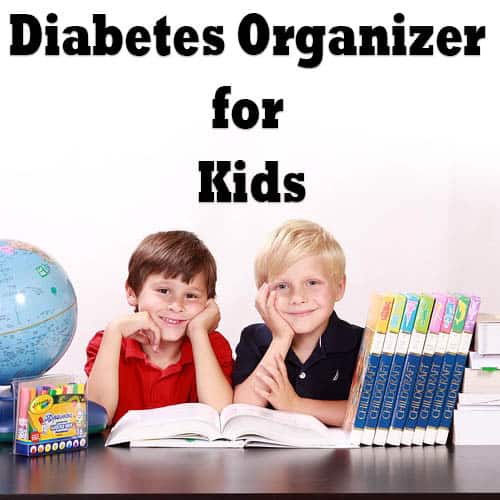 Having diabetes can be a real bummer for children in general. They are restricted from eating certain food or doing certain activates that other kids are enjoying. Not only that, they also have to experience a lot of pain and discomfort unlike other kids. In a lot of ways, they may feel like they are out of place. What's worse is that they have to carry around all the diabetes supply with them at all times. Toting around a dull looking bag of diabetes supply only makes the whole situation more awkward than ever.
How to Pick the Right Diabetes Supply Organizer for Your Child
To help your child cope with having diabetes, have a sit-down conversation and ask them about what they would want to use as their supply organizer. Just like every adult has their own style, each child feels different about carrying around their diabetes supply. Some may be proud to tote their cool supplies around whereas others may want to keep it concealed. Once you know what your child wants, choosing the right organizer will be an easier task. If your child is unsure of their choice, let us help you. Go through our compiled list of best kids organizers on the market with your child and decide together.
For the Non-Insulin Users
Depending on how old your child is, durability is essentially the only factor you have to worry about when it comes to picking a supply organizer for a non-insulin-using child. It is normal for kids to be careless and forgetful when it comes to their belongings. So when you are choosing for a younger child, try to pick a case with more padding. If your child has chosen a pencil case or makeup bag as their organizer, you can reinforce the organizer with some extra foam padding in the interior. While you are at it, it is convenient to stick a label with your child's information and photo on the exterior of the organizer. So even if your child has forgotten the case somewhere, their teacher or a good Samaritan can quickly return it to your child.
For the Insulin Users
Storing insulin vials can be tricky as the vials are easily breakable and require a relatively cool storage temperature. Nonetheless, we have come up with a list of organizers that will suit your child's needs.
Best Statement Organizer: Love Bug Diabetes Case and Champ Sports Locker Diabetes Case (Click here to buy now.)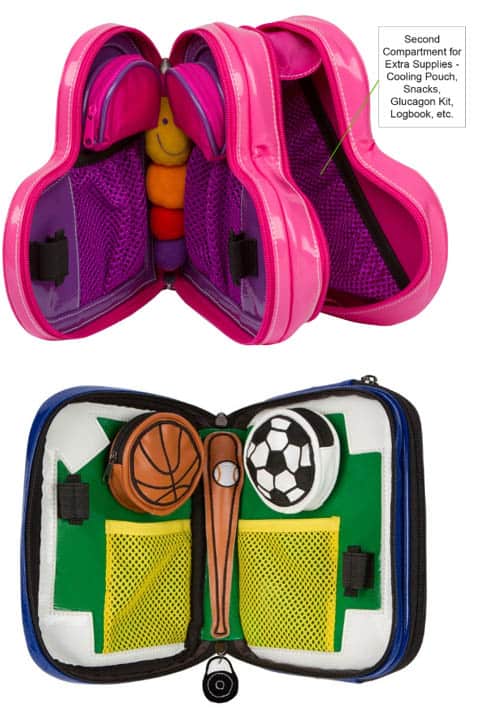 The Love Bug Diabetes Case and Champ Sports Locker Diabetes Case are manufactured by a fashion-forward diabetes supply organizer brand Myabetic. The owner Kyrra Richards is a Type I diabetic patient herself, and understands the demand for organizers that are both durable and attractive. Along with the rest of their other organizers, these kids' diabetes organizers come in two sections. The first section includes two elastic loops and two large net pockets to hold the all your child's supply items. The other section allows the insertion of a gel ice pack to keep the insulin pens and insulin vials at a cool temperature. If these two designs are not to your child's taste, there are many other wonderful organizer designs to choose from. And for teenagers who want a more subtle design, there is always the option of choosing an organizer from the adults' section. Unlike many brands that can only be purchased online, Myabetic organizers are available at Target.
The Best Compact Kid Diabetes Organizer: Kids' Double-Pocket SPIBelt (Click here to buy now.)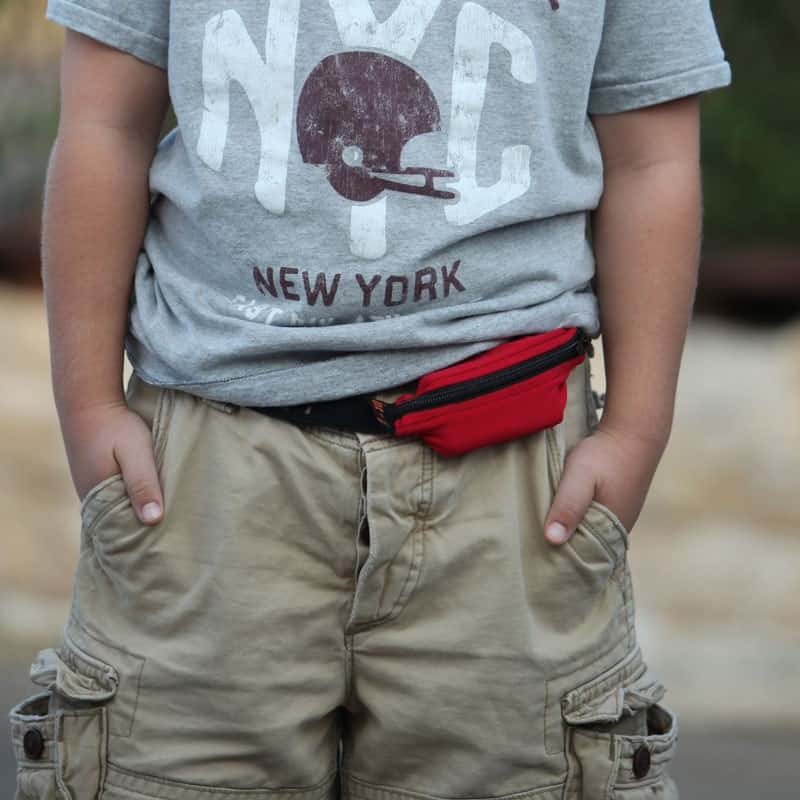 Not every kid wants to tote around a large size organizer for their diabetic needs. The Kids' Double-Pocket SPIBelt is the perfect solution for these children. This waist-pouch organizer is compact and super lightweight. It is great for active kids as the belt will not shift even during vigorous moment activities. As for storage capacity, it has two pockets to fit supply items such as insulin pumps, Insulin pen, or continuous glucose monitoring systems. What makes this organizer so special is that it has a pass-through hole in the backside of the belt for the easy attachment of the insulin pump or the continuous glucose monitoring meter. The belt is made to fit waist size 18 in. through 26 in. https://spibelt.com/shop/medical/kids-double-pocket-spibelt/
Best Teenage Organizer: Sugar Medical Universal Organizer ( Click here to buy now.)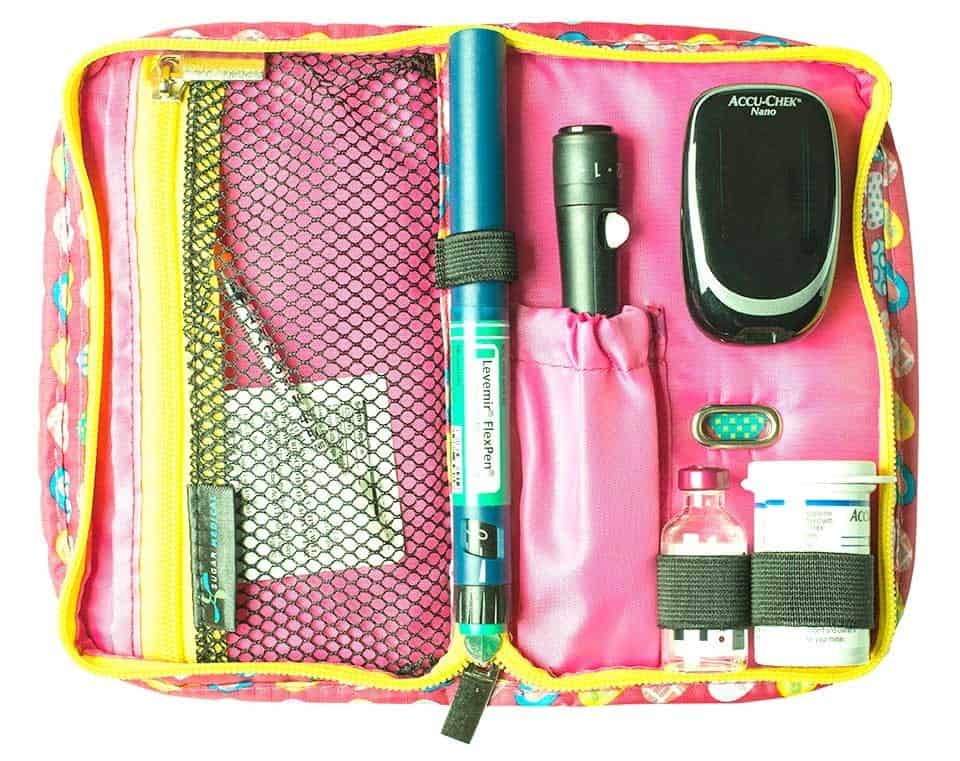 The Sugar Medical Universal Organizer is the best choice for teenagers who want an organizer that is both functional and stylish. With the size being 7 in. x 4.25 in. x 1.25 in., there is plenty room for all your kid's supply needs. What's so awesome about this organizer is that this organizer has a patent pending trash pocket. It allows your child to simply put their used test strips through a specialized slot into the back trash pocket. What's more is that there are various strong 3M Velcro hooks and loop system that will securely hold all the items in place. It can double functions as a holder for credit cards, driver license, and cellphone as well. Aside from this design, Sugar Medical has many other organizer options to choose from depending on your needs. http://sugarmedical.com/styles-cat/universal-cat/diabetic-bag-pink-heart-sugar-medical.html
What If Your Child Hates All the Choices?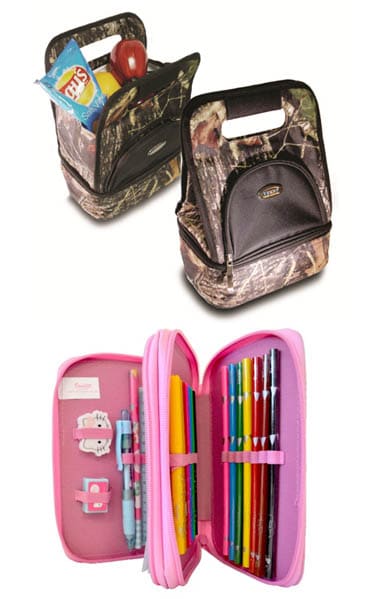 If your child hates all these choices, may we suggest taking a look at our adult organizer list? For example the SumacLife Hard Shell Protective Case Organizer is a popular choice amongst boys. If your child likes the interior design but hates the plain exterior look, you two can have a great project of decorating the organizer. And none of the choices works, don't be alarmed. As we have offered the same advice to adult diabetes patients, don't be afraid to think out of the box. One of the options is to get a pencil bag with two compartments and turn it into an organizer. Many Asian cutesy pencil bags such as the Sanrio Hello Kitty pencil bag shown have this feature (Click here to get it on Amazon). If pencil bag is not big enough, consider a makeup bag or lunch bag (this is the one we recommend.).
And if you want to take this moment to bond with your child, you can use this opportunity to design and make a customized organizer together.
Where to Find the Best Deal?
Believe it or not, all these mentioned organizers have the best deal on their own official website. As kids' diabetic organizers are still a relatively new "concept", all these specialized companies are still operating at a smaller scale and trying to push their products into the mainstream market. That means that they will more likely to have a special promotional price for their items.
For Myabetic, if you sign up for their mailing list, you will receive an exclusive offer and coupons for their new diabetes products. If you know of several other diabetes patients who wish to purchase a Myabetic organizer as well, try contacting the company and ask for a bulk price.
Another way to score a deal is to search for blog reviews and interviews on the brand. Usually there will be a promotional code hiding in the article somewhere. On the other hand, if you choose to purchase the Myabetic organizer at Target, you can receive Target point rewards by using their store credit card. Every now and then, Target will put their products on sale as well. So if you are a frequent Target shopper, pay attention to a sale.
As for SPIBelt, they have a wholesale price if you can gather a group of people interested in purchasing a SPIBelt. The great thing about this company is that they are also producing items for people who simply love spending a lot of time in the outdoors. So building up a bulk order will be easier. At the same time, because of their multi-functioning purposes, a lot of luggage stores and sporting goods stores do carry the brand. Big 5 Sporting Goods and Frontrunners are known for having weekly sales and you may be able to find a great deal on a SPIBelt.
Sugar Medical, unlike Myabetic and SPIBelt, is focusing mainly on online sales at this moment. So you can only find a deal online. However they do offer wholesale price. What's interesting about this company is that they have one item on special price every Wednesdays and they always are out of stock by the afternoon. So if you want a great price and your child can negotiate with the design pattern, wait for the Wednesday sale.
Picking a diabetes supply organizer can be a great lesson for teaching your child how to cope with diabetes. By going through the options, you can not only better educate them about all the supplies they need but also help them become more confident about voicing their needs and discomforts. This behavior will carry over to their attitude when it comes to discussing about their issues with the doctors, teachers, and peers.