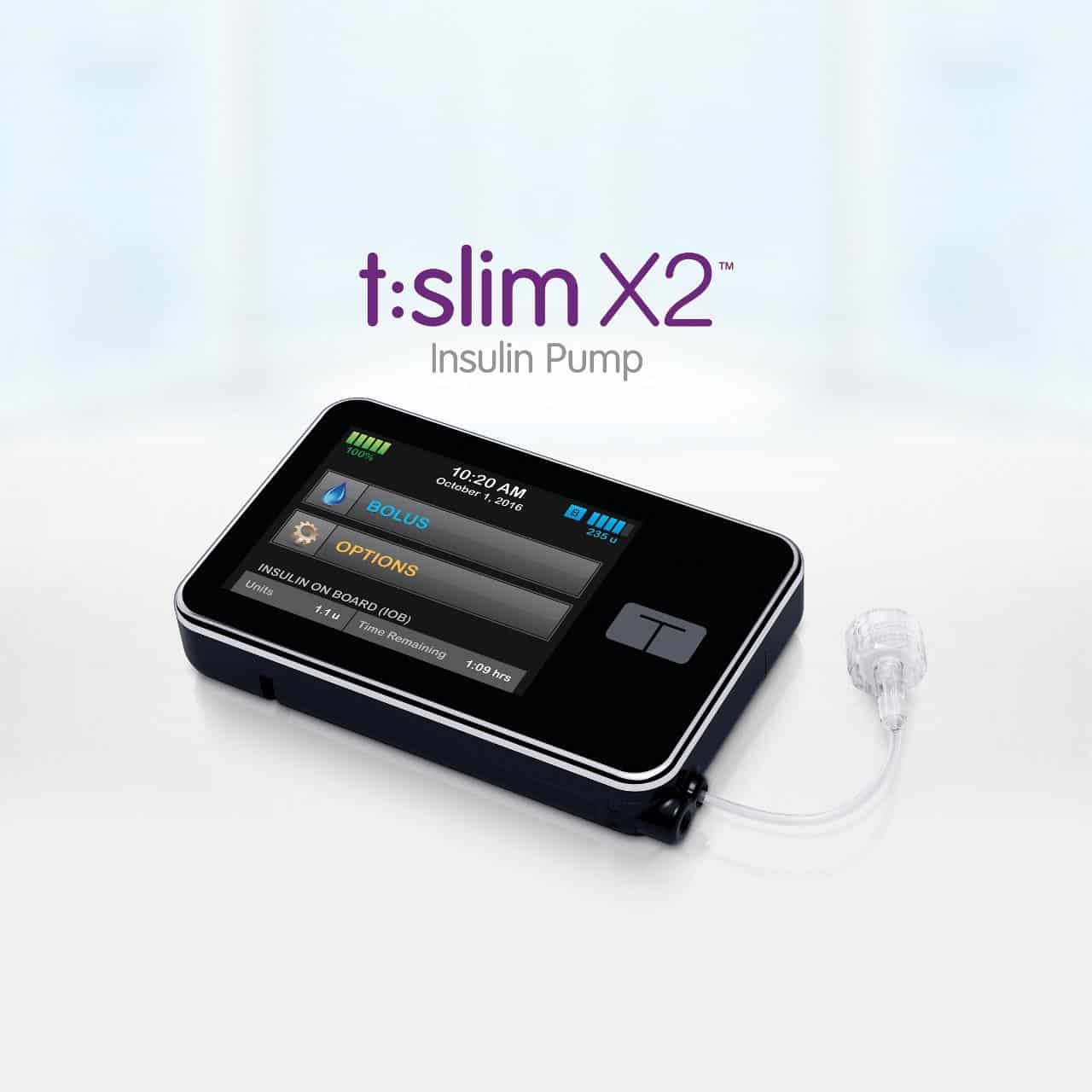 In terms of diabetes management, Tandem is the new kid on the block. But this new kid is surely making a name for themselves. Founded in 2006, by a group of engineers who recognized the need for more efficient insulin pumping therapy. They worked diligently for 5 years, when in 2011, their hard work paid off and they received FDA clearance to market their first insulin pump, the t: slim. The t:slim was the first of its kind, a touch screen pump.

Before we continue with this article, I wanted to let you know we have researched and compiled science-backed ways to stick to your diet and reverse your diabetes. Want to check out our insights? Download our free PDF Guide "Power Foods to Eat" here.

While the t:slim has definitely been moving up the ladders in diabetes care, there is a new pump on the horizon, the t:slim X2.
T:slim X2 Insulin Pump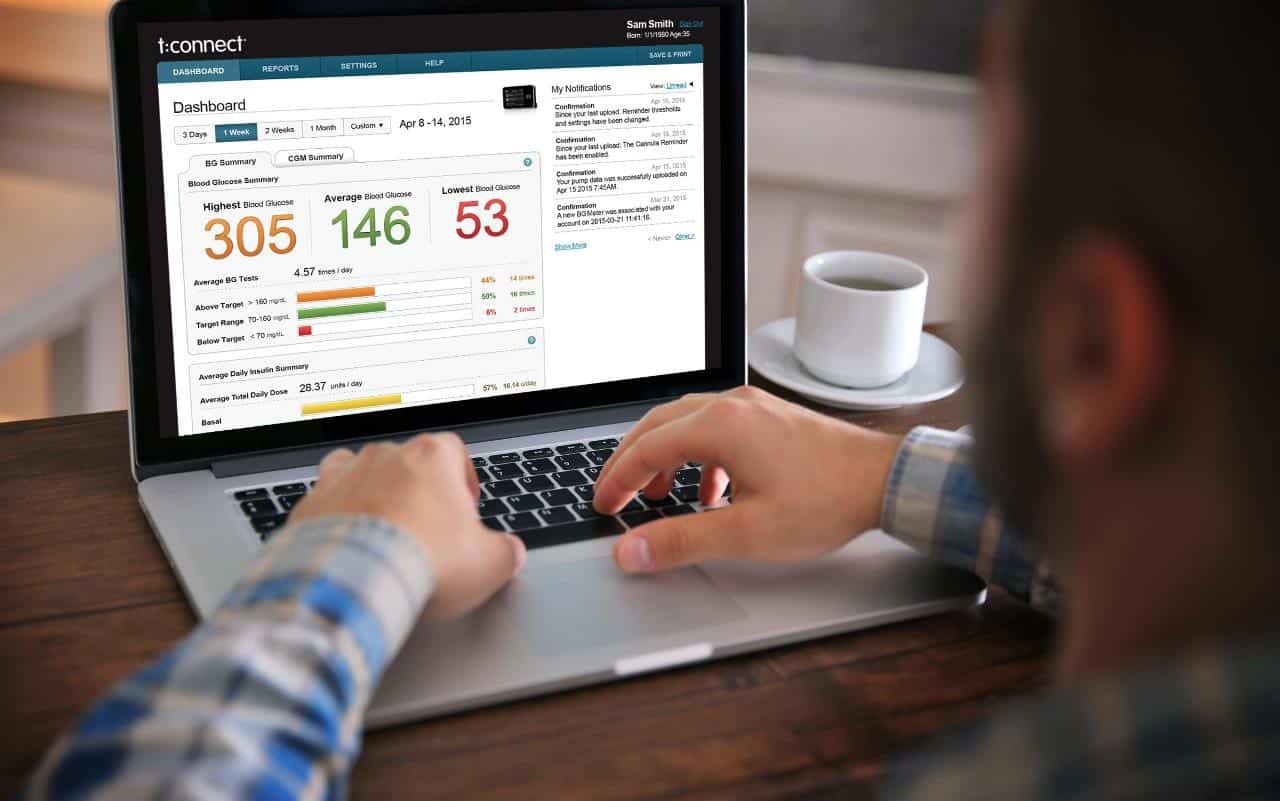 The X2 system was created for those ages 6 years and up. It's the next-generation touchscreen pump from Tandem. Based on the previous version the t:slim, the X2 system offers a watertight housing with a Bluetooth radio which has the ability to communicate with compatible devices.
The aluminum body is lightweight and durable. The touchscreen is designed with shatter-resistant glass. And what's even better is you don't have to worry about getting it wet because it's watertight.
Considered to be one of the slimmest systems on the market, it offers a modern look and feel. The new rechargeable battery design offers up to seven days of power. The smaller, compact design easily fits into any pocket and can be discreetly under clothing.
The t:slim X2 offers compatibility with the Tandem device updater that allows you to update your pumps software right from your home computer. It offers potential to provide users with the ability to add new features in the future aside from their insurance company's pump replacement cycle. An integrated micro-USB port offers fast charging and data transfer.
Additional Features:
Battery Indicator: Shows how much battery life is left.
Status Display: Displays your current settings and the insulin status.
Insulin on Board: Shows how much active insulin you have.
Micro-Delivery Technology: Delivers your insulin in the smallest amounts.
USB Connectivity: Convenient for charging your pump and uploading data information via tconnect.
Bluetooth Radio: Communication capabilities with compatible devices and future devices.
Tandem Device Updater: A new tool which gives you the ability to update the software of your pump regardless of your insurance companies pump replacement cycle.
Benefits of an Insulin Pump
Many studies have been conducted on insulin pump therapy. When you receive the proper education and support on how to use your new pump you will see the following benefits.
Lower your daily insulin usage.
Fewer swings in your blood sugar.
Decrease in high blood sugars. Even with a decrease in high blood sugars, pumping has not resulted in an increase in severe low blood sugars.
Better control over your blood sugar. When compared to multiple daily injections, people who pump are seeing better a1c levels.
How Does an Insulin Pump Work?
Just like a human pancreas, insulin pumps use only one type of insulin (Fast-acting). Using your own personal settings, determined by you and your doctor, the insulin is delivered in a continuous manner (basal) and in much larger doses for mealtime (bolus).
How Does the t:slim X2 Work?
You can use your own personal settings to deliver a steady and continuous amount of insulin to help meet your changing needs throughout the day. This is what is referred to as basal insulin. The X2 offers 6 different customizable daily profiles, that feature 16 different settings.
Temporary basal rate decreases and increases are available for added flexibility when you need it. The micro-delivery technology, unique only to the t:slim X2 insulin pump, you can deliver increments as small as .001 units every five minutes.
Simple Mealtime Bolusing
The X2 offers you the ability to deliver your mealtime or bolus insulin by using a colored touchscreen. An integrated bolus calculator gives you to carb adding abilities as well as a standard and extended bolus option. The quick bolus feature gives you the ability to use just the touch of a single button to bolus without having to take your pump out. You can customize your own bolus settings by using either units of insulin or grams of carbohydrates. The insulin pump cartridge holds up to 300 units and works well with Humalog, or Novolog fast acting insulin.
Never Forget to Test or Change Your Site
With integrated alarms, you can always ensure you remember to test or change your pump site. The X2 system offers a High BG, Low BG, After Bolus BG, Infusion Set Change and a Missed Meal Bolus alarm.
Wrap-Up
If you are interested in learning more about the Tandem T-Slim X2, the Tandem site features many pump features as well as a t: simulator App to try out the pump today. Check it out for more information. If you are leaning towards insulin pump therapy, it's always a good idea to check with your doctor beforehand so that you can get on the same page with your diabetes management to determine what is best.