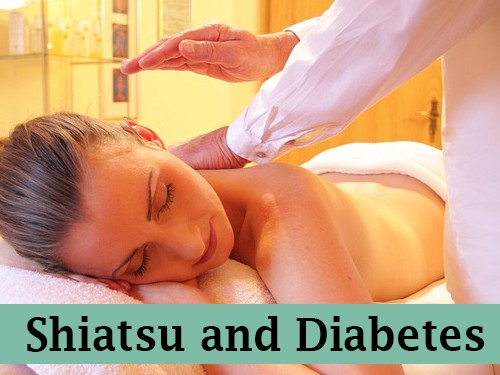 In Japanese, Shiatsu means "finger pressure," and there is evidence that using Shiatsu massage with a doctor's approval as a complimentary approach to conventional treatment for those with diabetes may help to lower blood sugars 1.
Current research is lacking in randomized, placebo-controlled studies, but suggests that shiatsu may decrease pain (painful menstrual cycles, lower back and labor pain), decrease post-operative nausea and vomiting, and improve sleep in elderly in long term facilities2. In addition, it may decrease symptoms of neuropathy in diabetics3.
Shiatsu is a form of Japanese bodywork- an alternative medicine that uses fingers, thumbs, feet, palms, or various devices to apply pressure to the body.
From traditional Chinese medicine, "meridians," or channel networks are believed to provide the path for the life energy known as "Qi." The massage therapist may use techniques of assisted stretching, joint manipulation and mobility.
Before a Shiatsu session, the patient will be asked some general wellness and medical questions. Sessions take place at floor level or on a table, clothed or unclothed, based on the patient's comfort level.
"Meridians" are treated using gentle thumb, finger, elbow or knee pressure (acupressure). Sometimes where the flow may seem weak, deep thumb pressure is applied; in other areas where there is a build-up of "Qi", shaking, chopping, or rubbing is used.
The practitioner will gently manipulate and ease joints before moving onto treating specific meridians and acupoints (acupuncture points where acupressure is applied). Joints are also gently pulled and stretched to release energy (Qi).
Throughout the treatment, the therapist listens to the movement of energy, sensing it through their fingers and the responses within their own bodies. The practitioner is there to facilitate change and movement at the emotional, mental and spiritual as well as physical level.
At the end of the session some special exercises, breathing exercise techniques, or dietary advice may be given to support the treatment.
Techniques of Shiatsu Massage
Namikoshi Shiatsu founded the Shiatsu College in the 1940's, and is credited with inventing modern Shiatsu. There are several different techniques of shiatsu massage:
Hara Shiatsu combines gentle pressure with the power of your breath to release emotional and physical blockages.
Movement Shiatsu is a form of bodywork born in Europe as a result of bringing together traditional Zen Shiatsu and gestalt therapy principles (psychotherapy based on the theory that every individual is made up of mind, body, and soul).
Macrobiotic shiatsu introduces the idea that foods have a living energy or "Qi" of their own and that when eaten this will change the way "Qi" flows in a person.
In Healing Shiatsu, the healer supports and activates the client's own healing potential.
How Shiatsu Therapy May Benefit People with Diabetes
Here are some ways that the therapy can help diabetics:
Certain hormones are released during stress that impact blood sugars and cause a chemical reaction in the body that raises them. One patient speaks of the stress of losing her husband as what triggered her blood sugars from controlled to running in the 200-300's. Stress and anxiety have been known to be toned down by the use of massage therapy.
Shiatsu may help to lower blood sugar. Some patients report a drop in blood sugar of 20-40 mg/dl. Since stress raises blood sugars, massage may decrease hormones related to stress and anxiety, which in turn causes a drop in blood sugar.
Insulin Absorption Improves, as does Ability to use Insulin Better
People with Type 2 diabetes may see advantages from the ability to use insulin their body already makes more efficiently. For Type 1 patients, Shiatsu may improve insulin absorption.
Hardening of the arteries from years of blood high in sugar concentration results in compromised circulation, especially in those areas farthest from the heart. The small and large vessels of the feet and hands are affected, and massage, especially in these areas, is thought to improve circulation prevent problems from poor circulation from developing. This may prevent diabetic foot ulcer development or other circulation problems.
Muscle Flexibility and Range of Motion Improves
High sugars thicken tissue around tendons and muscles and cause muscles to become taut. The right massage movements to key areas in stiff joints will loosen the tendons and muscles so that the patient will experience less stiffness.
This can improve a person's ability to perform exercise, a known way to minimize diabetic complications. All complementary treatments that help a patient to achieve his or her exercise goals are likely to be considered beneficial.
The Pain of Neuropathy Decreases
When the pins and needles feeling of diabetes nerve pain sets in, shiatsu can help to ease that pain by increasing circulation to the areas. Also, by lowering blood sugars and decreasing stress, shiatsu massage may decrease the pain of neuropathy.
When stress is decreased, blood pressure tends to come down as a result. This is part of the total picture of relaxing effects on the body's central nervous system.
A feeling of complete calm and head to toe body relaxation can trigger an increase in the endorphins that the brain releases, causing a benefit of decreased depressive mood, at least for a time. Heart rate and blood pressure are slowed. For some, a massage has a more relaxing effect than a regular rest.
Precautions and Contraindications of Shiatsu for Diabetics
With a prescription, patients with neuropathy may benefit. However, deep tissue massage may be contraindicated. The patient may be unable to feel the pressure related to nerve damage, increasing the risk of injury.
Excessive friction or heat should not be used for patients with poorly controlled diabetes due to risk of burning skin with decreased sensation or injury (3).
Following a Shiatsu treatment, with the possibility of a blood sugar drop, patients and therapists should be on increased alert for signs and symptoms of hypoglycemia. The patient and therapist should keep glucose tablets or other form of simple sugar at hand in case of a drop.
It is important for patients to check their blood sugars before and after Shiatsu massage, in order to pick up on any episodes of hypoglycemic unawareness that may occur related to the increased relaxation state of the patient.
Acupoints for Diabetes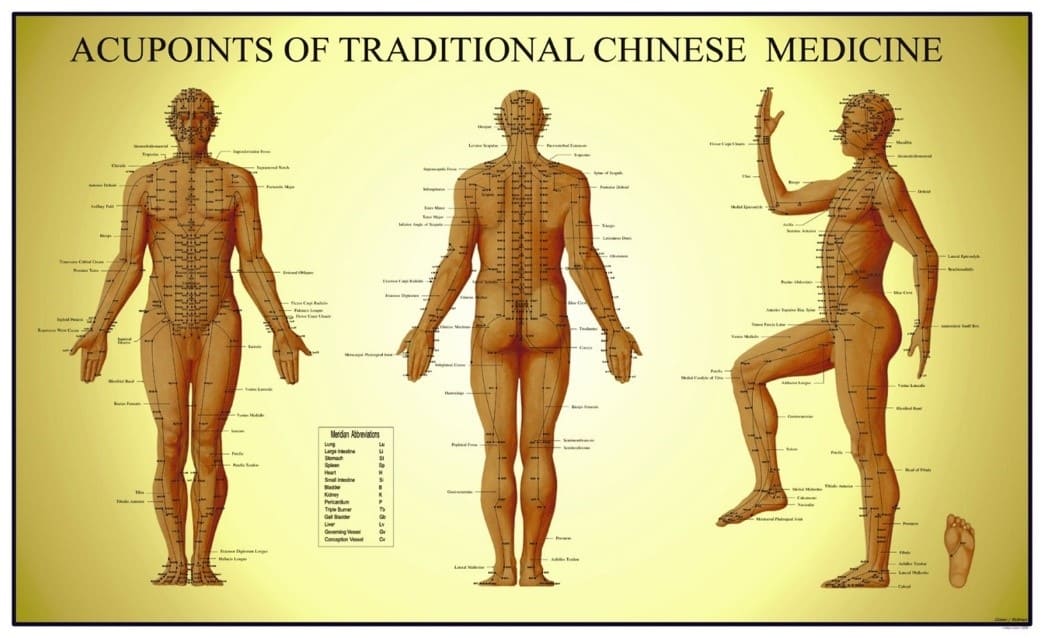 Depending on what the therapist wishes to achieve for the patient, there are different acupoints where acupressure can be applied. The therapist takes great care to avoid massaging over injection sites to prevent increased absorption of insulin, and steer clear of an episode of hypoglycemia.
The theory is that if the therapist wants to address macular degeneration and the formation of cataracts, the therapist would press on acupoints near the eyes. Some acupoints used with diabetes patients include:
The back of the knee
Liver foot point
Digestion point
Finger width underneath the navel
I recommend the following articles for diabetes related issues:
How to Find the Right Shiatsu Massage Therapist for You
Patients with diabetes will want to find a licensed massage therapist who specializes in Shiatsu massage therapy. To find a licensed massage therapist in the United States, patients may click here.
This will take you to the AMTA (American Massage Therapists Association) website, where you can type your zip code into a search and get a list of licensed massage therapists in your area.
For a list in Canada, click here. This will take you to the RMT (Registered Massage Therapists) website, where you can search by postal code, by town, or by therapist.
You should give the therapist a call, and ask if they specialize in Shiatsu massage therapy. If they do not, ask for a recommendation of a colleague who specializes in Shiatsu.
You may also be able to ask your primary care provider or endocrinologist for recommendations on a licensed therapist with experience in Shiatsu massage therapy, specifically with diabetic patients.
How to Find Shiatsu Massage Therapy Products
There are many products on the market that are available for home use that mimic Shiatsu. There are Shiatsu massage chairs, pillows, back massagers and neck massagers, just to name a few. For an extensive list of Shiatsu products complete with product reviews and pricing online that is useful when comparing, check Amazon. The most popular Shiatsu products are massagers, massage chairs, and pillows.
A massage chair can run $300 to $5,000 or more. A pillow will cost from $29 to $49. When shopping for a shiatsu pillow or other product, remember that if you have diabetic neuropathy or uncontrolled diabetes, you should not purchase a product that heats your skin.
You should also check local pharmacies, medical supply dealers and large department stores such as Sears, Target, WalMart and Sam's Club, as well as CostCo, for Shiatsu products.
Think about what you will need the product to accomplish for you, such as provide relief to back or leg and foot pain, you will want to research many brands by reading about them on the internet. This will help you to make an informed decision.
Let's move on to a review of some popular Shiatsu massage therapy products.
TheDiabetesCouncil.com Top 3 Picks
Shiatsu Massage Chair: Electric Full Body Shiatsu Massage Chair Recliner w/Heat Stretched Foot Rest 06C (Click here to buy now)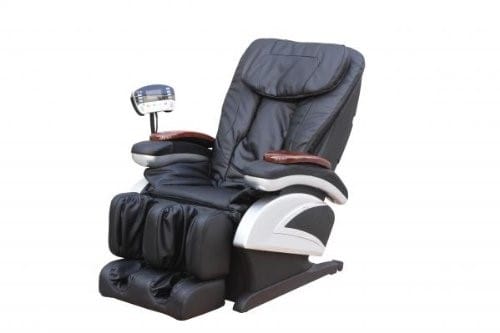 For a relaxing Shiatsu Massage chair, this recliner is on the affordable end of the price range, and is an all over body massage. It doesn't target just one, but many areas of the body. Several mechanisms accomplish this, including rollers and optional heat for your feet and low back. There are three different settings that you can program. You can even make a custom program. There are air bags that work together with the rollers, and this provides a vigorous yet relaxing effect.
The chair is somewhat large and bulky, and weighs about 250 pounds. You should not attempt to move the chair alone. There is a control at the armrest, but not a remote, so some people may prefer a chair with a remote control.
This chair is a comfortable, affordable alternative to trips to a Shiatsu massage therapist. Have the relaxation of a professional massage in the comfort of your own home.
Pros:
Awesome lower back range - If range is what you are looking for then this is the best, most chairs lack this feature
The company will deliver it to your door in about a week to 3 weeks
1 year warranty
Holds a large person comfortably, and has massagers on the armrests
Affordably priced
Many positive customer reviews
Best seller
Cons:
Some customers complain that the chair has trouble within 1 year, and they are unable to reach the manufacturer's customer service line
Persons larger than 250 pounds will need a different massage chair
This chair is heavy, weighing in at 250 pounds.
Shiatsu Massage Pillow: Zyllion ZMA-13-BK FDA Listed Shiatsu Pillow Massager with Heat (Black) (Click here to buy now)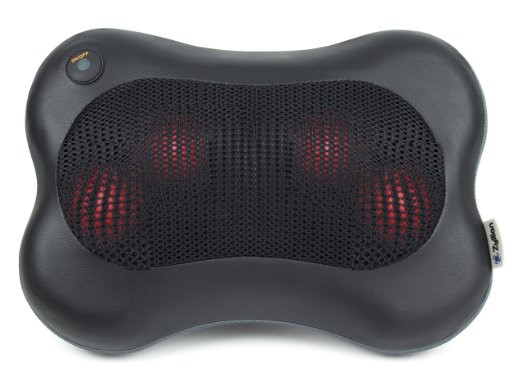 This Shiatsu pillow is a powerful little pillow. It measures at only a couple of inches. It will fit easily in small areas, and is good for a neck massage. You can get a better effect than with a regular heating pad, so pain relief will last longer. Heat is included with it, and it's very affordable. You can also take it literally anywhere with you for those times when you may have been on a long car ride and need to use the pillow to relieve aches and stiffness.
If you don't want to put much money into buying a chair or cushion insert, you certainly could use this smaller version to target small and specific problem areas. It has a handy strap that you can use to attach it to a chair. 4 massaging nodes rotate and knead muscles(shiatsu).
Pros:
Relieves muscles aches and pains
Heating function for added comfort
Use anywhere a targeted Shiatsu massage is desired
1 year warranty
Adjustable strap attaches the pillow to a chair
Customers rate it better than heating pads, and as one of the strongest and best Shiatsu pillows
Cons:
Some customers report the vibration from this pillow as too vigorous, and not for everyone
The cord is a bit short
It stalls and chokes when you lean into it for a deeper tissue massage. (Update: According to Paul from Zyllion, it is very powerful and it does not stall and choke. The motor is very strong.)
For more great articles about diabetes check these out:
HoMedics MCL-110HA-2CO Shiatsu Massage Cushion with Heat from Homedics (Click here to buy now)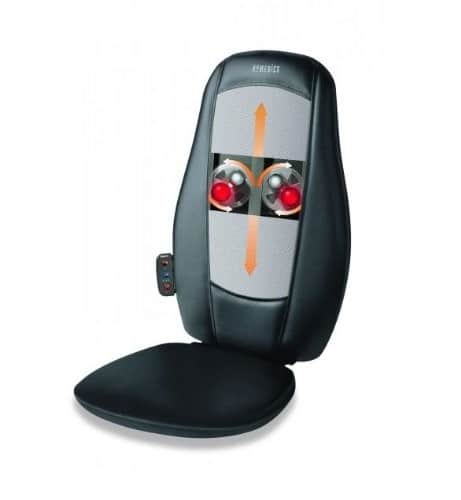 This Shiatsu Massage Cushion fits in any chair, even a wheelchair or recliner. It is portable, and could be used for travel. The adjustments allow for an all over back massage, or to target different regions of the back. Heat may be used. The remote is attached to the cushion, so you won't ever have a problem with misplacing it. The "finger pressure" is strong, according to one reviewer.
Pros:
Compact and works well for travel
Works well to relieve tight and achy muscles
Quiet when compared to most other cushions
It does a great job massaging the lower back region
Most customers are satisfied with its use
Cons:
It doesn't get in between the shoulders according to some reviewers
Not suited for taller people
Attached remote makes it difficult to operate, and may not be suitable for the elderly with arthritis and mobility issues
Frequently Asked Questions
[accordions id="568"]
Shiatsu massage therapy can be a relaxing and stress reducing experience that allows the everyday diabetes management issues to fade away for a time. Still it is always important to have a discussion with your doctor or primary care provider.
Though some insurance companies will cover some or all of shiatsu massage therapy with a prescription, most do not. Contact your insurance agency for details on what may or may not be covered when using Shiatsu as a complementary treatment for diabetes. If your insurance does not cover therapy, make sure to ask what the cost will be. Shiatsu can be very expensive.
Did I miss something in the Q&A? Let us know in the comments section below.
TheDiabetesCouncil Article | Reviewed by Dr. Sergii Vasyliuk MD on June 06, 2020