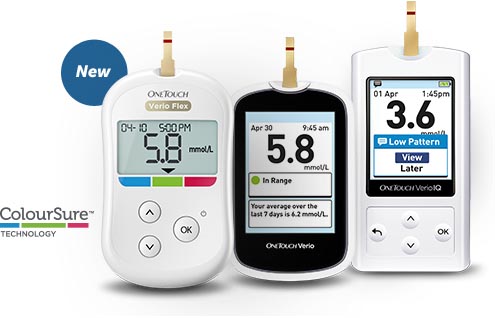 OneTouch, the leading brand of blood glucose meters and testing strips has a new line of meter that are paving the way for more convenient and smart testing.
The Verio brand of meters consists of three different meters each with their own unique capabilities. In this review we will dive into each meter and take a look at the pros and cons of each. Lifescan, the makers of the OneTouch brand are a solid brand in the diabetes community. It seems that some of the complaints of their previous meters The OneTouch Ultra 2 and the OneTouch UltraMini were actually addressed in these new Verio meters.
Consumer complaints of OneTouch in the past have ranged from the inability to spot trends in blood glucose numbers, no light for convenient night time testing and more. It seems that OneTouch has addressed these issues with the Verio line. So let's take a look at the features that many have grown to love with the OneTouch brand and even the new features you can expect with the OneTouch Verio meters.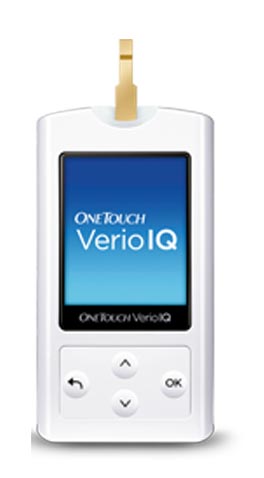 One of the first OneTouch Verio meters introduced, the Verio IQ offers a unique variety of features that can spot patterns and monitor any fluctuations in your blood sugar levels.
Features
ColorSure Technology: The messages on screen offer ColorSure technology to help you spot repeated low and high blood sugar levels.
Large Readable Numbers: One of the biggest complaints of other systems are that it is difficult to read the numbers. The colored screen and large numbers makes this process much easier.
Illumination: The test strip port is equipped with a light to help you see in the dark. This makes night time testing much more simple for both PWDs and parents of Type 1 kids.
Meal Tagging: Meal tagging allows you and your meter to learn trends in your blood sugar levels to make it easier to determine periods of hyperglycemia and hypoglycemia. This helps to provide a detailed look at when insulin dosing adjustments or medication adjustments may need to be made.
Rechargeable Battery: If you HATE going through batteries like crazy, the OneTouch Verio IQ features a rechargeable battery. I can attest to the fact that it doesn't take long at all to get a full charge. Simply plug it in and by next test, you'll be surprised at how charged it is.
No Manual Coding: Previous OneTouch brands often required manual coding on the patient's part, but the OneTouch Verio does not. Place the test strip into the meter and it's ready to go.
Pros
Great for night time testing
Rechargeable battery keeps your meter ready at all times
Comes in a convenient and organized locking case
Easy to read display
Color coded system helps to keep track of in-range numbers, lows and highs.
Holds up to 750 readings
Free downloadable management system
Great for learning trends
Cons
Costly test strips (A pack of 100 costs on average $121)
Accuracy issues (sometimes lower than actual reading)
Data cable for software use is not included (must be purchased separately)
Does not support alternative testing sites
The Verio IQ works on a rechargeable battery. Included in the Verio IQ kit you will find an AC adapter as well as a USB cord for recharging. While a data cable does not come included for use in uploading your meter information onto the software system, you can use the included USB cable to link your meter to your computer.
If you are wanting to gain valuable insight into your trends, the Verio IQ is great for doing so. While there are a few cons to the system and the accuracy is a big one to note, this blood sugar meter does still have a lot to offer. Order yours on Amazon.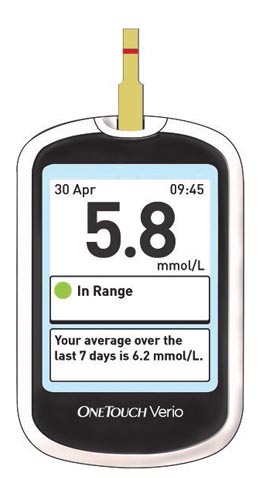 OneTouch came out with the Verio system as a simpler alternative to their IQ system. The meter is built with simplicity in design. Easy to read results help provide you with regular reports on your trends. Because of the accuracy flaws noted in the IQ system, OneTouch exceeded the 2013 ISO standards for accuracy with over 99% of their results with the Verio system.
Features
Simple Design Style: Only one screen with a simplified menu. Three buttons are available to make the meter as easy to use as possible.
Reading Log: The meter will log your readings so that you can view them whenever you need to.
Tracks Averages: Offers the capability to track averages in 7,14, 30 and even 90 day increments
Trend Spotting: Spots trends in high or low blood sugar levels and signifies the frequency of these
Result Signals: Immediately signals if any of your results are above or below your target levels, which you set in advance.
Pros
Improved accuracy over the IQ
Ability to spot trends
Minimal blood sample required
No coding
Cons
Uses AA batteries, no longer a rechargeable option available with the Verio
Test strips are expensive (still one of the most expensive strip options on the market)
The OneTouch Verio still overs ColorSure technology to express if your numbers are high, low or in range. It checks to see how your control is improving by reviewing your past number logs and even gives you words of encouragement with in-range messages. Those who've used the OneTouch brand in the past may be turned off by the amount of blood that previous meters have required. But the new OneTouch Verio uses the smallest sample size which can be applied on either side of the strip.
Overall, the Verio is a great upgrade to the IQ system, however the lack of rechargeable batteries is one big disappointment. Order yours on Amazon.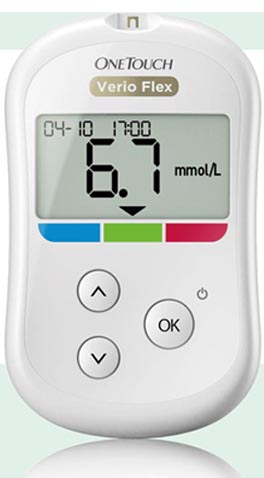 Everyone gets excited when new technology is brought to the market. When you live with diabetes, you can't help but get excited about the new devices and gadgets created to make life much simpler. But as much as we love to have new technology, removing basic features that make our diabetic life much more convenient is just unacceptable.
While the newest OneTouch verio Meter, the Verio Flex was launched in February of 2016, it feels as if it's going back in time instead of forward. Let's find out why.
Features
Large Display: Yes, we loved the large display and easy to read numbers from the previous meters in the Verio line, so this is nothing new but still welcomed.
Simple to use three button design: This meter was created with simplicity in mind and they definitely hit a home run here.
Color range indicator on the meter: The Color range indicator is not a new addition, but they now include it on the meter instead of as a colored circle like with the Verio.
Bluetooth connectivity: OneTouch boasts that this meter is the first to include Android and iOS compatibility for their mobile application that allows you to sync your blood sugar information.
Pros
Slim design that easily fits into pockets
Large display with easy to read numbers
Stores up to 500 test results
Improved accuracy
Bluetooth connectivity
Pattern and trend recognition
Low cost
Cons
No backlight
No light in the port
Non-rechargeable watch battery
No averages like previous versions
The OneTouch Flex was created with flexibility in mind. It was featured as a way to provide those with diabetes an easier way to manage while they are on the go.
Overall, the Verio Flex seems like it's taking a step backwards in time. The mobile application is amazing and definitely gets a thumbs up. But the meter was rather disappointing when compared to the other two models. Order yours on Amazon.
Best in Comparison
Having had the opportunity to use all three types of Verio meters, I have to put my verdict on the IQ. I love having the ability to recharge the meter, which I'm sure there may be a differing opinion out there by others, but it's one thing I enjoy immensely. Additionally, I love being able to upload the data stored in the meter instead of having to hand write everything.
Coming in close second is the OneTouch Verio. I really do enjoy the improved accuracy from this meter. It's refreshing to know that LifeScan listened to their consumers and helped to implement features they wanted to see and also help to provide better accuracy.
As for the OneTouch Flex. Even though it is the newest meter from Verio it definitely seems lie it took a step back to the past. The removal of the back and port light was a fatal mistake on the part of LifeScan.
TheDiabetesCouncil Article | Reviewed by Dr. Jack Isler MD on June 21, 2020