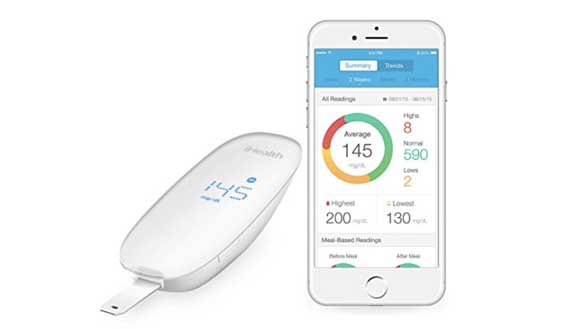 If you have difficulty keeping track of your blood sugar readings, or often times forget to write in your numbers into your logbook, don't worry, you are not alone.
In fact, that is one of the biggest challenges that many people with diabetes face.

As part of your diabetes management routine, keeping track of your blood sugar levels is important. It may seem like it's a hassle and time consuming, but keeping a record of them is vital to making sure you are doing the best you can for your overall management. Your diabetic care team, or family doctor will want to take a look at your most recent levels to see how well your current treatment regimen is working or where you possibly might need to make adjustments.
Data Record Keeping with Ease
So let's talk about how the iHealth Smart Wireless Gluco Monitoring System can help to take stress away from remembering when to write down and keep track of your numbers. Why is that? Well it's simple, and also really exciting. It adds a digital touch to the traditional way of checking your blood sugar levels. It connects you to your own logbook on your smartphone.
Okay, so you're probably thinking, how is this really different than having to remember to write down or log my blood sugar numbers? Well, with Bluetooth connectivity, your results will be sent wirelessly to the cloud version of your digital logbook.
I suggest reading the following articles for more diabetes related products:
Cloud Based Recording
All blood sugar readings are kept securely in the cloud. You will have the options to export your results as a PDF, CSV or Excel file. This makes it easier for you to send this information over to your doctor, health care team, or even a friend or family member who supports you in your management.
Personal Diabetes Assistant
It's probably already intriguing you to find out that you no longer have to worry about remembering to track your blood sugar readings. A detailed log of your blood sugar readings is great, but what makes the Smart Wireless Gluco Monitoring System's digital logbook stand out above others is that it's not just a blood sugar logbook, it's like your very own personal assistant.
A Reading is More than A Reading
A blood glucose reading can be high or low as a result of many different reasons. Factors like exercise, food, stress, illness and more can really take a toll on your blood sugar. Your digital logbook offers you the ability to notate what was happening during the reading.
Color Coding
Take one look at your logbook and you can see what is happening with your blood sugar levels. Color coded summaries will give you a live visual glance at whether or not you are within your target range, or being affected by high or low trends. This detailed, documented view can help to give you a better understanding of your diabetes and management much more than you had before.
Always On Track
Push notifications can be enabled to help you stay on track of testing your blood sugar. You can set reminders for when it's time to test your blood sugar, or take your medications.
Small, Sleek and Portable
The Smart Wireless Gluco Monitoring system is the perfect size for your pocket, purse or backpack You can take it with you anywhere you go. It comes with its own convenient traveling case that fits all your necessary testing supplies.
Affordability
Another concern for many people with diabetes is that the cost associated with making sure you test as often as your doctor and care team wants, can become too much. Most top brand meter companies charge upwards of $1 or more a test strip. The Smart Wireless Gluco Monitoring System test strips only cost around $0.25 per test strip. For a container of 50 test strips that equals to around $12.50. If you have been searching for a more affordable option for those out of pocket costs, you might want to consider giving this meter a try.
What Comes in the Box?
iHealth Smart Gluco Monitoring System
Lancing Device
Clear Cap for Lancing Device
(10) Lancets
USB Cable for Charging
Owner's Guide
Start Guide
Travel Carrying Case
Bottom Line
Aside from the affordability and portability of the iHealth Smart Gluco Monitoring System only takes 5 seconds until you receive a test result, and also offers a small sample size of 0.7 microliter. Another amazing feature of this meter is that it features a rechargeable battery. This is another pro in the column of affordability. The battery takes only one hour to fully charge.
In addition to the cloud based data storage, you can store up to 500 readings in the meter's internal memory. In terms of accuracy, this meter measures up to all the top meters on the market. If you are in need of a meter that makes it easier to keep track of your blood sugar levels while still being affordable then this is the meter for you. You can order it on Amazon.