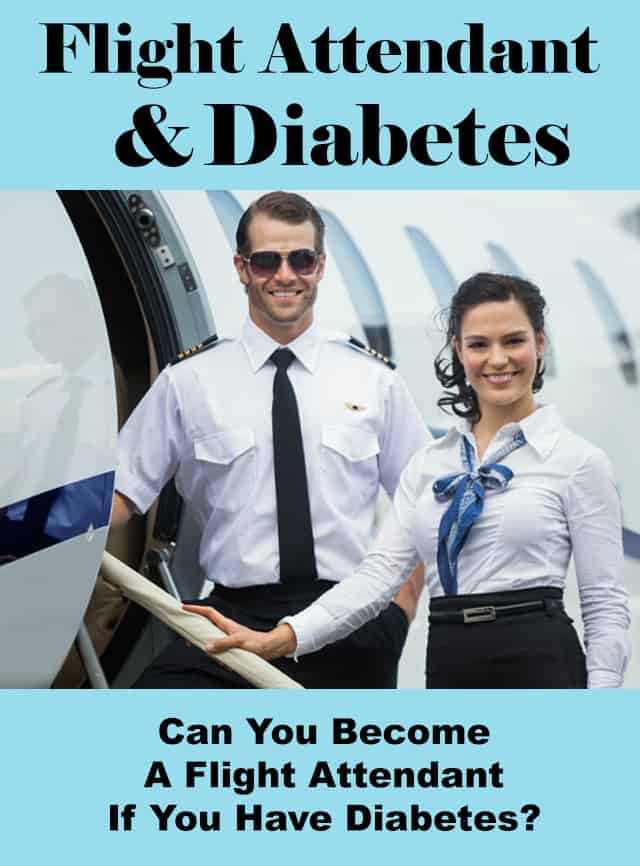 Melissa contacted The Diabetes Council. She had been a flight attendant for the past three years. She had just celebrated her 26th birthday when she was diagnosed with diabetes. She feared her airline would ground her, or that she might lose her job.

We had some good news for Melissa – you can be a flight attendant if you have diabetes.
You just have to have good control of it. Even with Type 1 diabetes, you can get a medical clearance if you are self-managing your diabetes and it is in control. You will have to maintain this control throughout your career, or you can possibly be grounded.
That is not to say that you cannot have an occasional low blood sugar, but you will have to show the Federal Aviation Administration that you have dealt with the issue, and have taken steps to prevent it from happening again.
While some airlines are not rigid about rules surrounding diabetes, others have strict regulations. For example, Lufthansa airline considers diabetes to be an exclusion criteria for becoming a flight attendant.1
Meet Flight Attendants with diabetes
Watch the following YouTube video to see how one American Airlines flight attendant manages her diabetes while working in the air:
In the video, you can see that being a flight attendant with diabetes takes quite a bit of planning, organizing and preparing. A flight attendant with diabetes must:
always have supplies available in the air while working
always have extra pump sets and supplies, and insulin (in case of a pump failure)
have packed food and needed snacks for shifts
refill supplies before each shift
let other cabin crew know of their diabetes
Besides having to be super organized, you must also take into consideration the time zone changes, irregular hours, being in parts of the world which may not have adequate medication, long shifts, and lack of sleep.
Anne Elfant, 60 years old. Ten years ago was diagnosed with Type 2 diabetes and here is what she has to say: I was working for 8 years before I was diagnosed with type2 diabetes. I never notified the company as I watched my father live a full and active life with type 2 diabetes. My sugar levels never tank actually rise in sugar levels are more a problem for me. as the flight attendant in the video states packing is the key. I hope this helps let me know if there is anything else I can offer.
Woman of Inspiration
The Diabetes Sisters honored Lynn Statham, who is a flight attendant with diabetes for a major airline, with the Women of Inspiration award. She received her diagnosis of Type 1 diabetes in her 20's while already working for the airline, and having just returned from an international flight.
Lynn set out to find Diabetes Self-Management Education, and found her certified diabetes educator inspiring. She has also has been politically active in her Flight Attendant Union, and even ran for Vice president for LAX AFA flight attendants. 2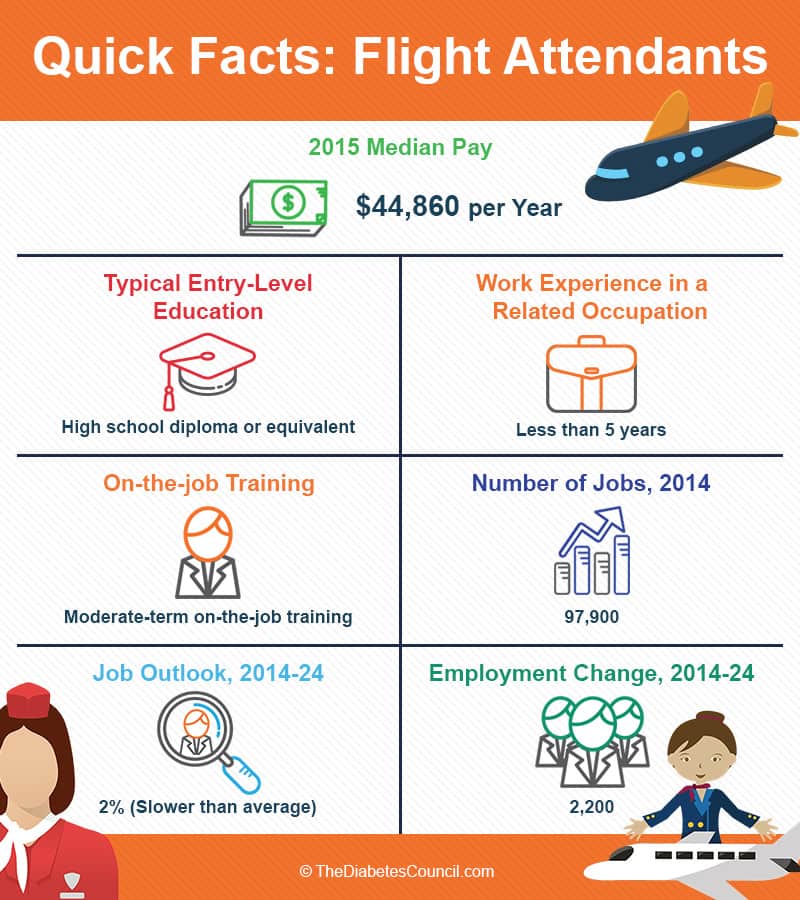 Being a flight attendant with diabetes in other countries
After doing a lot research, there were very few articles available about flight attendants with diabetes. There were, however, some active Flight Attendant forums, and some chatter from people with diabetes who are working in European airlines. There seems to be a green light to be a flight attendant with diabetes in certain European airlines if you control your diabetes as well.
I advise reading the following articles:
Emirate Airlines lists diabetes requiring insulin as unacceptable. There may be exceptions based on the level of control that you have over your diabetes. If you are unsure, you will have to contact each specific airline for their specific regulations regarding diabetes.
General requirements for becoming a flight attendant
Though it does not take more than a high school degree to become an "air host/air hostess," as some call the job, it does help to have a college degree that is related to public relations, communications, or another degree that requires working with the public.
Speaking another language may also be in your favor. There are several languages that are in high demand within the airline industry. If you speak Arabic, Chinese, Russian, or Japanese, you are more likely to be successful when you apply for a cabin crew position.
Major airline job openings for flight attendants
Delta Airlines
When I checked for Delta Airlines, they had 7 openings, all of which required a foreign language speaker. So if you are a person with diabetes, and you speak Italian, Mandarin, Danish, Dutch, French, Greek or German, you can apply for one of Delta's current openings.
Delta lists on their website: Accommodation for Applicants With Disabilities: Delta Air Lines, Inc. is an Equal Employment Opportunity / Affirmative Action employer and provides reasonable accommodation in its application process for qualified individuals with disabilities and disabled veterans. If you have difficulty using our online system due to a disability and need an accommodation, you may email us at Accommodations@Delta.com or alternatively send a fax to 404-677-3851. In order to quickly respond to your request, please use the words "Accommodation Request" as the subject line of your email or as the title of your fax document.3
American Airlines

American Airlines had five openings listed, also seeking foreign language speakers. If you are a person with diabetes, and you speak Japanese, Chinese, Dutch, Italian, or Cantonese, you can apply for one of American Airline's openings.
I found no current openings at Delta or American Airlines for those who do not speak a foreign language, whether for a person with diabetes or not.
Due to the need to move through narrow aisles on the airplane, airlines prefer people who are at an average weight. Tattoos are generally not allowed, especially those that are visible on the body when wearing a flight attendant uniform. Some airlines will not allow tattoos in general for cabin crew.3
Rejection based on diabetes may be different across airlines. There are differences in the United States versus Europe. The best thing to do is to contact your preferred airlines and find out their rules on accepting persons with diabetes to work for their airlines.
Only one percent of those applying for a position of cabin crew are generally hired. Therefore, airlines only hire the best of the best and the most efficient people to represent their airlines as flight attendants.
However, remember that while they can deny you a job because you do not have good control of your diabetes, they cannot discriminate against you because of diabetes.
If you are already working as a flight attendant and you are diagnosed with diabetes, you will be grounded until you can show the airline that you are self-managing and you have received your diabetes education.
Medical Evaluation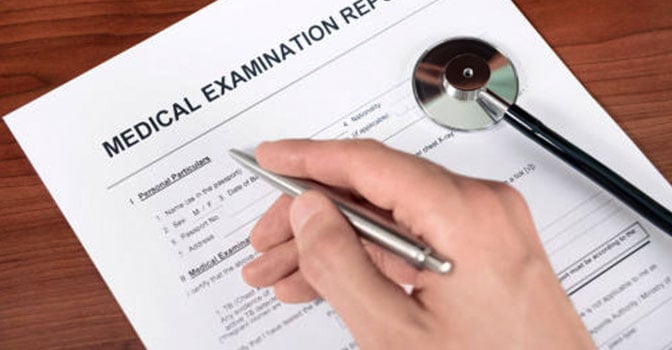 There is a medical evaluation that most airlines require potential flight attendants to pass. The medical fitness checkup may be where a person with diabetes gets tripped up. This is where they must show the airline that they have their diabetes under control, and not the other way around.
I just filled out some applications recently, and one is still not required to list his or her disability on applications. You can check "yes," "no," or "wish not to answer." This could get you through the initial application process. The airline is going to find out that you have diabetes when you go for the medical examination.
Airlines do not have to give you a reason as to why you were not hired. That is why the "wish not to answer" box may be your best bet at getting an interview. This will enable you to show the airline that you can be an efficient and highly educated bilingual flight attendant if given the opportunity.
Discrimination as a flight attendant with diabetes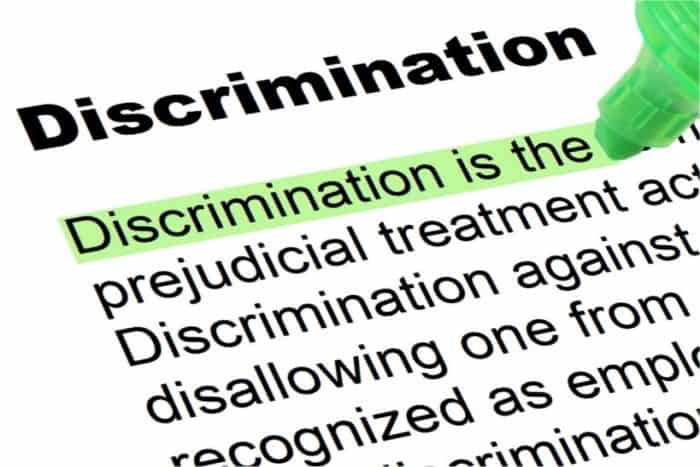 If you feel that you have been discriminated against because of your diabetes while applying for a flight attendant position, or have been discriminated against by an airline because of your diabetes, the American Diabetes Association may be able to help.
If you contact the American Diabetes Association, they can assist you and put you in touch with a lawyer with expertise in anti-discrimination cases. You can read more about the American with Disabilities Act and discrimination issues at the following links listed below:
Now you know that you can be a flight attendant with diabetes, should you?

The National Institute for Occupational Safety (NIOSH) that works to protect the safety of American workers conducted a study on the cause of death for flight attendants. Due to the fact that flight attendants work long hours, often overnight, the job can be stressful. Additionally, they travel through time zones and experience jet lag in the same way that passengers do.
These factors cause health concerns for flight attendants. It was hypothesized that due to higher levels of radiation from outer space, flight attendants are prone to experiencing more health problems, including cancers.
11,311 flight attendants, both men and women, were part of the study from several major airlines. Their death records were reviewed through 2007.
Interesting findings from this study include:
fewer deaths among flight attendants than in the general public
fewer cancer deaths among flight attendants than in the general public, with radiation levels in these flight attendants also low
alcohol deaths were 2.5 times higher in flight attendants than in the general public
death from rail, water and aircraft accidents were 3.5 times higher than in the general population
deaths from HIV illness was 16 times higher among male flight attendants
suicide deaths were 1.5 times higher than the general public
Tips for flight attendants post-study
keep regular sleep and wake schedules on every day of the week, including weekends (ear plugs and masks for your eyes may help)
keep alcohol and caffeine to a minimum, especially close to bedtime
if you are still having problems with sleep, try to change your selected lines of flight to include daytime flights and minimal time zone crossing4
Did you know?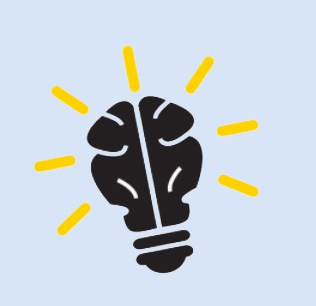 In one study, flight attendants who were sexually harassed were three times more likely to rate their health as poor. This is also a contributing factor to the increased suicide rate for flight attendants.
In this study of American female flight attendants, researchers found that "job stressors such as mental and psychological demands, imbalance between job demands and outside obligations, low supervisor support, and job dissatisfaction were indications of psychological distress."
A similar study of Italian flight attendants showed that the job can have particular stressors such as difficult passengers. Flight attendants also express difficulty with balancing their roles as mothers, committed partners, and community leaders.
This study further found that the stress of being a flight attendant can lead to increased depression, anxiety and more frequent suicide among this population.5
Another study was conducted on several male and female flight crews from India. According to this study, there are five major problems faced by the FAs:
Stress (88.85%)
Back pain (72.65%)
Loss of memory (67.47%)
Headaches (58.42%)
Loss of hearing (51.37%)
88.85% of FAs has reported feeling stressed `often' or `sometimes.'6
Health of flight crews
The health of flight crews survey that is ongoing at http://healthforflightcrews.com/ shows the incidence of certain health complaints for flight crews. Refer to the graph, to see how the percentage with which different health concerns afflicts flight crews. The survey is for flight crew, including pilots and flight attendants. To read more about the survey or take the survey, visit the website.7
No reason to let diabetes stop you from pursuing your dreams!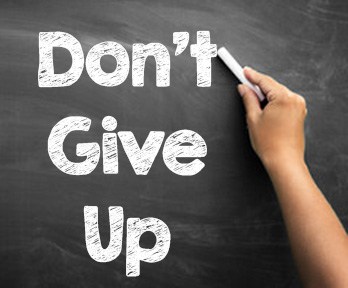 Now you know that you can be a flight attendant with diabetes. You should probably be watching out for alcohol, HIV, and depression leading to suicidal thoughts, but there really is no reason why you should let your diabetes stop you from pursuing your dream career as a flight attendant.
If you feel that you have what it takes to manage your diabetes in the sky, then go for it! The sky is the limit!!!
Over to you
We invite our readers to share their experiences as flight attendants with diabetes.
In researching, the only information that was found was related to people who are currently flight attendants and were diagnosed with diabetes after being hired, and not to those who are applying to become a flight attendant who already has diabetes.
We could use the input from those persons with diabetes who have managed to make it through the strict hiring process for becoming a flight attendant.
So please do share your input in the comment box below, we appreciate it.