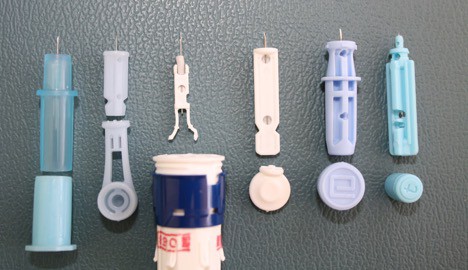 Lancets are small needles that are used to prick the skin to obtain a blood sample. Many lancets can be used with a lancing device that helps to make it more effective and less painful, however they can be used without one by just sticking the skin with the needle. Once a small blood sample is available, it can easily be put into a machine to run a test. As you can see from the image above, there are many different brands of lancets available.

Before we continue with this article, I wanted to let you know we have researched and compiled science-backed ways to stick to your diet and reverse your diabetes. Want to check out our insights? Download our free PDF Guide "Power Foods to Eat" here.

There are a few tests that can be done using a small drop of blood that the lancet provides. For people with diabetes, they can easily check their blood sugar levels. Using a glucometer, which is the machine that tests the blood sugar, they can quickly find out if their sugar is at a good number or not.
How do the lancet and the lancing device work together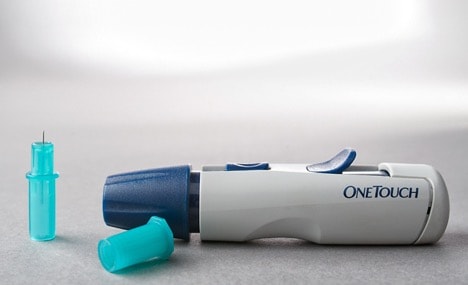 Although the lancet can be used alone to get a sample, it is much easier to use the lancing device along with it. The device provides a quick "punch" of the needle into the skin to make an effective and less painful stick. OneTouch, which is a popular brand of diabetic supplies, has a device that is easy to use. Each brand's device will be a little different, but the general idea is the same. The following steps demonstrate how to use the OneTouch device.
Step 1. Always wash your hands before checking your blood sugar. If there is bacteria on your hands and it enters into your blood, it can cause a major infection! First, take the cap off of the device and insert a new lancet with the safety cap still on. (If it is removed first, you can poke yourself!) When you insert the lancet, do not twist it around. It should easily fit. See the image below for a better description.

Step 2. Take the safety guard off of the lancet to expose the needle. This can easily be done by simply twisting the small circle and pulling it off. Then put the cap to the lancing device back on carefully without poking yourself.

Step 3. Many devices have different depths that you can choose from. This allows you to have a less painful finger stick. (This will be discussed later!) Based on your needs, pick the depth that is best by twisting the cap to the appropriate number. On the OneTouch device, there are 9 different settings to choose from, with 1 being the shallowest and 9 being the deepest.
I suggest reading the following articles:
Typically, children and those with thin skin will do better with the lower settings than individuals with thick or callused skin. Unfortunately, trial and error may be the best way to find out which depth is best for you. You need to find a depth that is the least painful and that gets the right amount of blood for your glucometer. Start with the lower numbers though to avoid any unnecessary pain.

Step 4: Slide the button on top of the device back until it clicks. This loads the lancet so that it is ready to puncture when prompted. If it does not click, then it may have already been pushed back and be ready for use.

Step 5. Press the device evenly and firmly along the fingertip. Press the button and let the lancet stick you and then pull the device away from your finger.

Step 6. Wait until you have a drop of blood before you put it into your glucometer. Trying to give a sample that is not big enough can cause the machine to have an error and you will have to use another strip, which can get costly and is wasteful. You may have to gently "milk" your finger, which means to squeeze blood towards the puncture hole to get it to bleed a little more. Once you have put the sample into your glucometer, apply pressure to your fingertip using a small piece of gauze or another absorbent fabric. You should then properly dispose of your used lancet.

Once again, every lancet device is different, and you should read the instructions before using it. A great video that shows how to use one is below:
Are all lancets the same?
All lancets are not the same. Lancets have different size needles. The smaller the needle, the less pain for the finger stick. It is important to know that the larger the number for the gauge of the needle, the smaller the size of the needle actually is. Some lancets are made for children, and some for adults. Also, many brands have their own lancets that will only work with their devices. Always read the instructions on which lancets can be used.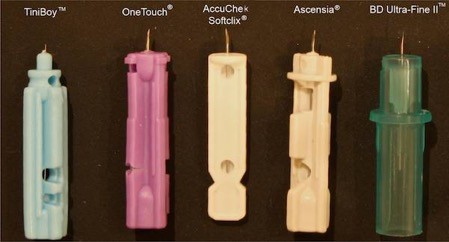 One brand of lancets is the tiniBoy. They make the thinnest and shortest lancets on the market, while still being strong enough to get a good sample. You can look at the image above and see how much smaller their needle is. (It is the one on the left.) They are compatible with many different lancing devices too! For more information, check out www.tiniboy.com.
Are all lancing devices the same?
All lancing devices are not the same. However, the general purpose of their use is the same. They use lancets to prick the skin to collect a sample.
The ways in which they vary include:
The brand of lancets that they take
The gauge of the lancet needle
The size of the device
The ability to check your blood sugar on body parts other than the fingertips
The diverse selection is great for consumers because it means that they have options, but it can also cause some confusion. It can make it difficult to know which one to choose as well as how to use the different kinds. It is important to read the instructions for each lancing device. Also, like I mentioned before, different devices may only work with certain lancets. Make sure you know which lancets fit with your device.
There are numerous websites that breakdown the pros and cons of each device to make it easier to choose which one is right for you.
Here are some lancet devices and the best part about them:
If you have a hard time changing the lancets, then you should try the Accu-Chek's FastClix because it can hold 6 lancets at one time, which decreases the number of times that you have to change it.
If you want a very small one, try the LifeScan's OneTouch Delica. This device is just over 3 inches long and con be operated with just one hand.
If you are having a lot of pain with prinking your finger, then try the Autolet Impression. It has a total of 21 different lancing options so that you can find the least painful option that gives you a good sample.
If you want a larger device, then choose the Truedraw. It is longer and is easier for patients to hold on to if gripping small things is a problem.
Reading reviews will help you find the device that will best fit your needs.
What is a FreeStyle lancing device?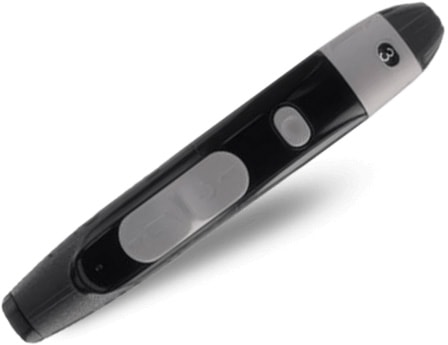 FreeStyle is a brand of diabetic supplies. They sell glucose monitoring devices, but they also sell lancets and lancet devices. There are currently two different lancet devices that they sell. They are the FreeStyle Lancing Device II and the FreeStyle Lancing Device.
The FreeStyle Lancing Device II (pictured above) costs approximately $18.
The perks of this device include:

Ability to adjust the depth of the finger stick
Easy, gentle release of the lancet for a safe disposal
Comfort Zone Technology that is proven to reduce pain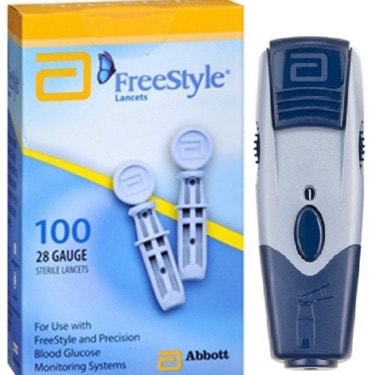 The FreeStyle Lancing Device (pictured above), costs around $26.
The benefits of using this one include:
Four different depth settings for customized finger sticks
An Alternate Site Testing Cap for individuals that like to check their blood sugar in places other than their fingertips (such as their palms or forearms)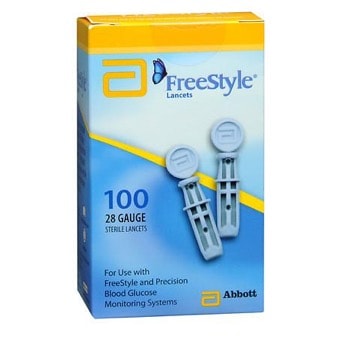 The FreeStyle lancets must be used with the FreeStyle Lancing Devices. They cost about $15 a box (if you buy them without insurance), and there are 100 lancets per box.
The pros of using these lancets are:
Four different depth settings for customized finger sticks
An Alternate Site Testing Cap for individuals that like to check their blood sugar in places other than their fingertips (such as their palms or forearms)
For more information about the FreeStyle brand products, visit https://www.myfreestyle.com/. There is information about their products as well as diabetes.
What are the best lancet devices on the market?
Some of the most popular brands of lancet devices include:
Each brand has different devices that they offer.
Check out each brand's website to see the different options and the benefits to each one.
You can also refer to the previous section of this article that lists some of the benefits of popular devices.
How do I know which lancet device is best for me?
The ideal lancet device will get a great blood sample with causing the least amount of pain. Finding the device that works for you may take a little while, but it will make it much easier to manage your diabetes. If checking your blood sugar becomes a hassle, you are more likely to avoid checking it. That can lead to blood sugars that are out of control and complications that come with having diabetes.
Educate yourself on the different devices that are available, and talk to people that you know about what they use. Just like when you would buy a car, you want advice from other people about what their experiences and the pros and cons. This can give you a good idea of what you should choose for yourself.
Things to look out for when getting a lancet or lancet device
When you are choosing a device, it is important to make sure that your lancets and your device work together. Some devices and lancets are universal, but some are made specifically for each other. It is also important to look at the price of the lancets that are required and if they are covered by your insurance.
You should look for lancets and devices that work with small needle gauges. The larger the number, the smaller the needle. Unless you have extremely thick or calloused skin, smaller needles should work for you. This will decrease your pain level with finger sticks.
Read the reviews of the devices and see what other people liked and disliked about them. For example, if you know that you need a device that you can carry easily in your purse, then you would want to read about the sizes.
Why does the lancet that I am using hurt so much?
Things that could cause the lancet to hurt more than it should are:
Reusing the lancet so much that the needle is dull
Using a large gauge needle (Remember the smaller the number, the bigger the needle)
Using a high depth setting on the lancet device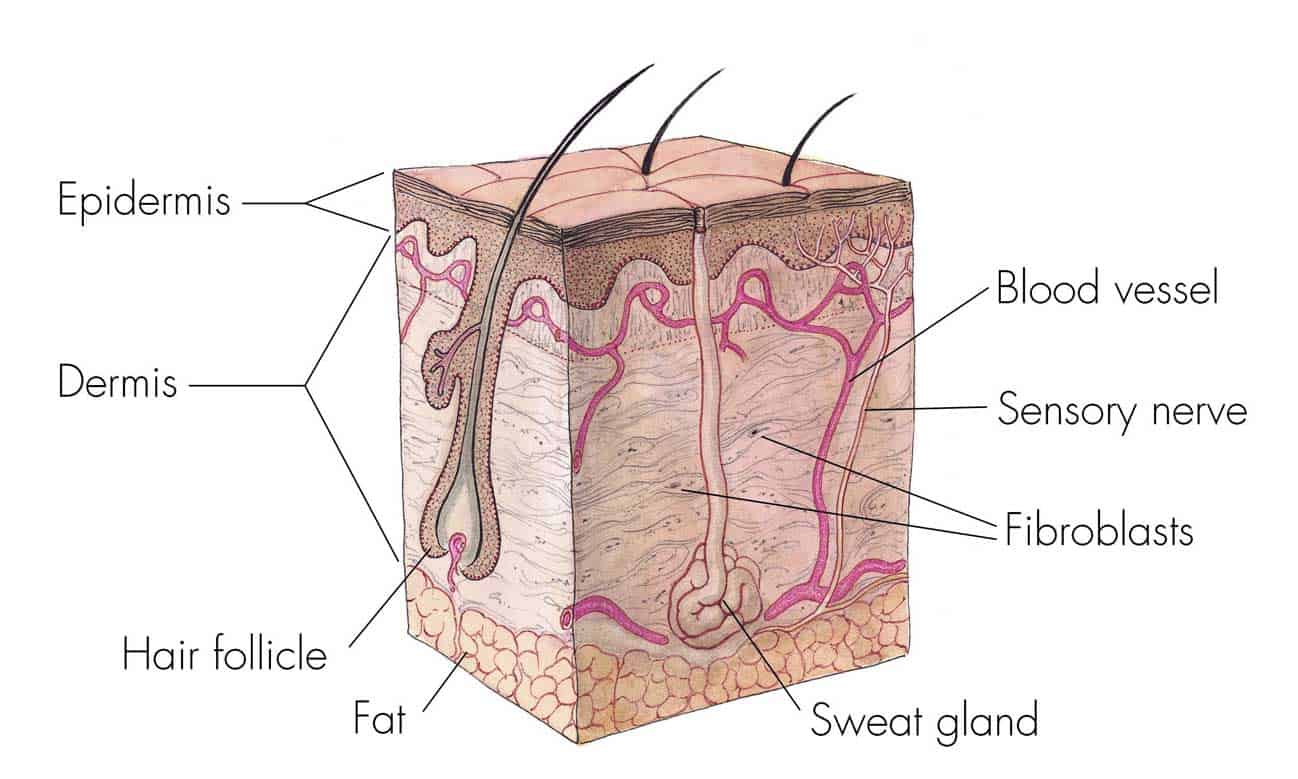 Look at the image above.
When you use the lancet to collect a sample, you need to get to where the blood vessels are. If you go past the blood vessel, you will hit the sensory nerve, which causes more pain. By choosing a depth that will only go to the blood vessel level and not to the nerves, you can avoid unnecessary pain.
Reusing the lancet so much that the needle is dull
Using a large gauge needle (Remember the smaller the number, the bigger the needle)
Using a high depth setting on the lancet device
If these things still do not work, then talk to your doctor about what else you can do to decrease pain. If you are having a lot of pain with your sticks, then you are less likely to be compliant and check your blood sugar as often as you should.
What supplies do I need other than lancets?
Other supplies that you need to check your blood sugar are:
A glucose meter
Test strips
Control solution (to make sure that the meter is reading correctly)
Gauze or something to apply pressure with afterwards
A proper way to dispose of your needles
These items can be purchased from drug stores or wherever diabetic supplies are sold. You should check the prices and shop around before making purchases.
Why am I getting an error message?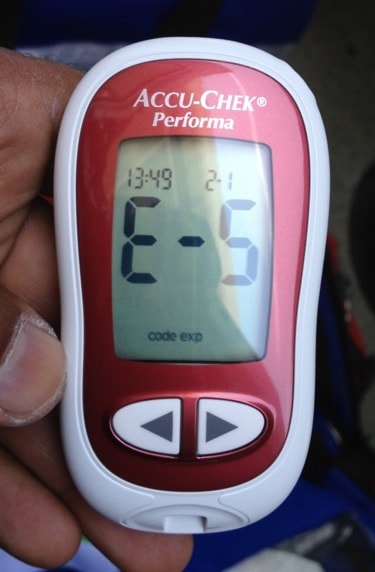 If you ever get an error message, check the manual that came with your glucose meter to see what the error message means. Some meters give An Error "1" or "2", which would correlate to a problem that is listed in the manual.
Things that can cause an error message include:
A sample size that is too small
The blood sugar is very low (as in under 20)
The test strip is bad
The blood sugar is very high (as in over 500)
Blood was put onto the test strip before inserting it into the meter or before you were prompted to
There is a problem with the meter
If you do receive an error message on your meter, you should first read the manual and try to find the code that it correlates with. You should also run a new set of controls on the meter to make sure that it is reading accurately. If it does not pass the control test, then you know that there is a problem with the meter.
If the problem code is a low or high blood sugar, and you are symptomatic, please treat your blood sugar appropriately. For example, if it shows a low blood sugar error, but you cannot get it to give you an exact number and you are feeling weak and shaky, please eat something or drink some juice. Do not wait for the meter to give you an exact number.
What do I do if my lancet device stops working?
The first thing that you should do if your device stops working is to read the manual and troubleshoot ways to fix it.
Take the lancet out and try to reload it again. If that still does not work, then you may need to purchase a new device.
In the meantime though, you can still use a lancet without the device to collect a sample to check your blood sugar. Do not stop checking your blood sugar because your device is not working. That could lead to complications.
Can I reuse my lancets?
You should not reuse your lancets.
When the needle hits the skin, it makes it less sharp. Having a dull lancet can be more painful. Many lancet needles are coated with a lubricant that makes the stick less painful. After one stick, that lubricant is no longer present. Also, there is a greater risk of infection when a needle is used more than once because bacteria or a small amount of blood can still be on the needle.
However, after reading several blogs and talking to people with diabetes that I know, I have learned that changing a lancet after every use is not usually done. This is because it takes extra time to change it after each use and it also gets expensive.
Review the graph below to see how a sample of people with diabetes answered about changing lancets. You can read more about the graph at MyGlu.org.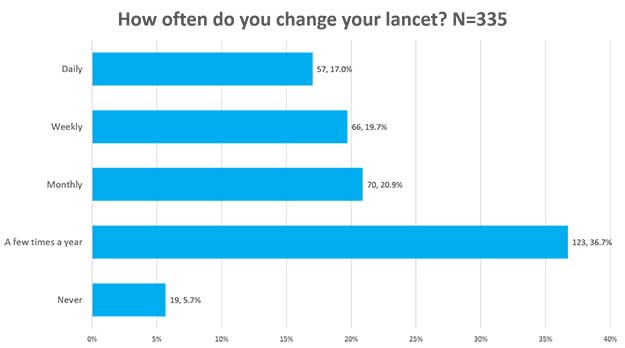 It is VERY important to never share needles with other people. This can cause a spread of blood borne pathogens such as HIV/AIDS, Hepatitis B, or Hepatitis C that can lead to death.
Dr. Otis Brawley, Chief Medical Officer at the American Cancer society, warns against the reusing of insulin syringes and lancets. He says that the habit can be deadly, as it can cause several skin infections. Other complications include an increased risk of heart attack, stroke, kidney problems or diabetic eye disease. He suggests that sterile procedures should always be followed when administering tests.
How can I dispose of my lancets and test strips safely?
Because of the risk of blood borne pathogens, it is very important that lancets and test strips are disposed of properly. The safest thing to do is to put the used items into a container that will make it nearly impossible for another person to come in contact with it.
You can buy a household sharps container like the one below on Amazon.com: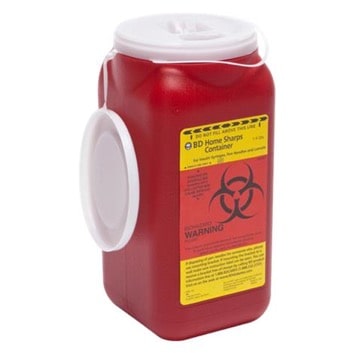 Also, there are programs that are designed so that when you fill the container up, you can ship it back to the company and they will dispose of it for you. Look at http://www.sharpsassure.com/shop/sharps/1-quart-sharps-retrieval-program/ for more information about a program.
There are also places that claim that they will deliver free sharps containers to you. Just make sure that you read the fine print when signing up for these programs, because there may be a fee involved.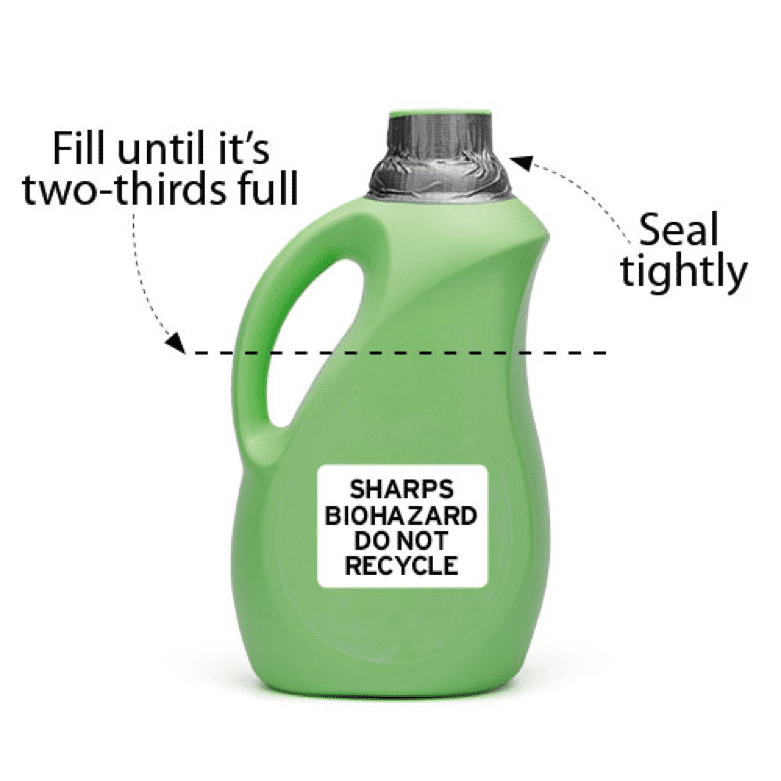 You can also use heavy plastic bottles that close properly such as the laundry container that is pictured above. It is very important that you label the container with a "USED SHARPS. DO NOT RECYCLE" sign. This will alert the person that is disposing of it how to safely handle it. When you have filled up the container, close it tightly and tape the lid on.
Do not place these containers in the trash can. When you are ready to dispose of it, check in your local community for the best way to do so. You can check out information on bd.com to learn more.
Where I live, you can take the sealed container to the Transfer Station for disposal. If you have any further questions about disposal, contact your local environmental waste department.
Why can't I get blood out of my finger?
If you are unable to get blood out of your finger after using the lancet, you may need to change the depth on the lancet device to a higher number. If you are reusing a lancet, it may be too dull to get a good puncture.
Other things that make it easier to get a sample are:
Wash your hand with warm water before trying to collect a sample
Hang your hand down by your side before sticking it
Shake your hand like a polaroid picture before pricking
After the stick, you may need to gently massage around the finger to encourage the blood to come out
If these things still do not work, you may need to prick your finger again.
Are lancets covered by my insurance?
Some diabetic supplies are covered by insurance. For a rough estimate of One Touch supplies, you can check out http://www.onetouch.com/support/services/insurance and enter your insurance information to see what will be covered and what your copay would be.
Just like prescriptions and appointments, many supplies require you to pay a copay. The best thing to do would be to call your insurance company and see what they cover. Buying all of the supplies can be expensive, so always check to see if insurance will pay for it.