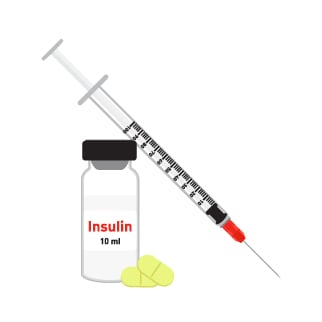 For my patients who have no insurance, ReliOn products at Walmart are a lifesaver. In North Carolina, we never funded Medicaid expansion. Some people could receive Obamacare through the federal marketplace, but others were left in the gap where it was too costly for them. The tax penalty was less, so they took the penalty instead of buying coverage.
For those with Type 1 and Type 2 Diabetes in the no insurance gap, for those in the "Medicare donut hole," and for those in disaster situations, ReliOn insulin is available at a very affordable cost. If you want insulin at a cheaper cost, it is important to be aware of some of the differences between ReliOn insulin and name brand insulins.
Renee's story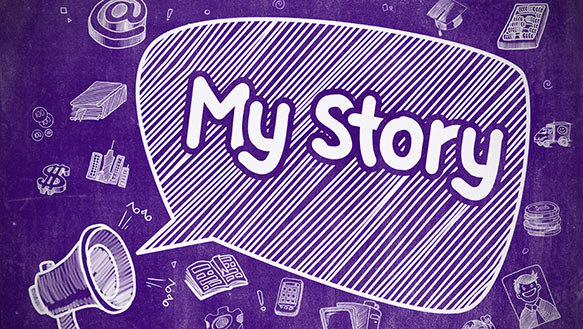 Renee had Type 1 Diabetes, and couldn't afford her insurance coverage here in North Carolina. After running her insurance cost numbers on the Federal Marketplace, she would have to pay $300 per month for catastrophic coverage that wouldn't even cover her diabetes medications. Her husband had lost his job, and she worked at a grocery store, where she didn't make a living wage, or have any insurance benefits.
She came in crying. She needed help, because she had lost her insurance coverage, and she was about to run out of her insulin. She was afraid of what might happen to her, and what might happen to her little boy, if she ran out of her insulin.
We referred her to a social worker who could help her with needed resources, and see if she could qualify for Medicaid, or start social security disability determination so she could get insurance when determined disabled. In the meantime, we spoke with her doctor, and he gave us conversion doses for Renee to switch to the ReliOn brand of insulins at Walmart.
She had to take a combination of ReliOn Humulin N injections twice daily, and shorting acting, regular insulin with meals. We discussed the increased risk of low blood sugar that she could have by switching from her Lantus basal insulin once a day, and moving to the new intermediate acting insulin. The new short acting, regular insulin was a little slower to bring down blood sugars than her usual rapid acting meal-time insulin, so the doctor made some adjustments for that.
With a little help, Renee switched to a very inexpensive brand of insulin, which she could afford it at the low price of $25 a vial. ReliOn fits that bill for times when people with diabetes will need a cheaper brand of insulin.
Renee had a little more to do. She had to draw up her doses instead of using a more convenient insulin pen like she had before, but she got used to it. Her doctor later helped her to get some insulin pens that were similar in action to use when she went on trips, or out in public and needed a more convenient option.
While using ReliOn, she didn't do half bad. Her A1C during that time only went up a few tenths of a point, and her blood sugar ranges were like when she was on name brand insulin.
With extra instructions, and careful consideration, Renee avoided low blood sugars from switching to ReliOn older generation insulins. She could also manage her blood sugars to avoid high blood sugars as well. For Renee, ReliOn was a good choice, and may have been her only choice.
For more informative articles like this I recommend the following:
Is ReliOn insulin different from other name brand insulins?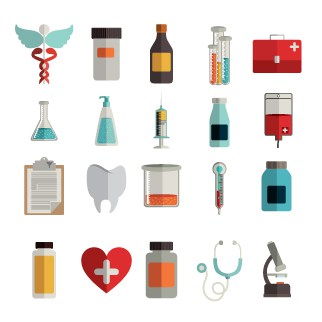 The Walmart brand of insulins are the older generation of insulins, and so they don't provide quite the same coverage for blood sugars. They have a shorter half-life than name brand insulins. They are still human insulin. When you need insulin, and have few resources, ReliOn insulin may be one of the options for you. You will need to speak with your doctor, and be honest with him or her about your ability to afford your diabetes medication. Discuss all options, and determine together the best course of action.
There are other options besides switching from your name brand, such as rural health center programs that may cover medication, senior centers with drug programs, drug company indigent programs, and churches and organizations who have funding for medications. Churches and some organizations may offer help on an one-time emergency basis.
There are also other ReliOn products that I recommend to my patients with no insurance coverage.
In this article, we will discuss ReliOn insulin, and learn how effective it is for the treatment of diabetes. We will also learn about the other products that patients with limited financial resources, and no insurance or under insured, can use to help manage their diabetes at a low cost.
What kind of insulin is ReliOn?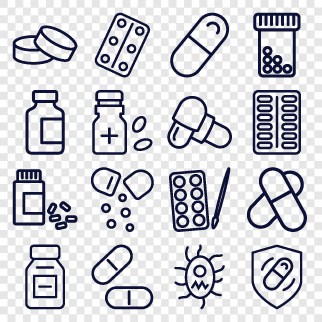 ReliOn insulin is a type of Novolin insulin that Walmart and Sam's Club Pharmacies carry over-the-counter. They only have vials available, so you will not have the option to use an insulin pen with this insulin. Walmart has switched back and forth between Novo Nordisk and Lilly (Humulin) through the years.
Currently, there is a corporate partnership between Walmart and Novo Nordisk. Walmart has the ReliOn brand of Novolin insulins exclusively, and at a reduced rate. ReliOn Novolin is a human insulin, and it works to bring blood sugars down in a similar way as do other insulins. Each vial contains 10 mL of insulin. When you change the strength of your insulin, the manufacturer, the type of insulin, or the species of insulin, it can make a difference in how your blood sugars react to switching to ReliOn insulin. Even the method of manufacturing can make a difference in the effectiveness of your insulin.
ReliOn insulin products, and other diabetes products, are estimated to save people with diabetes sixty million per year. Walmart also has some of the lowest prices on name brand insulin products, of the newer generation of insulins, due to their great buying power.
Types of ReliOn Insulin
There are three different kinds of ReliOn Novolin insulins available. There is regular, or short acting, intermediate (N), and a mixed 70/30 available in the ReliOn line of insulins.
Novolin R – $24.88 per 10 mL vial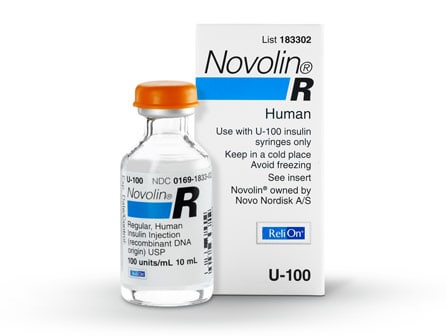 Novolin R works like regular, short acting insulin. It is a regular, short acting insulin, but the half-life is a little different on this version of short acting insulin than it is on the newer generation of insulins available.
Novolin N – 24.88 per 10 ml vial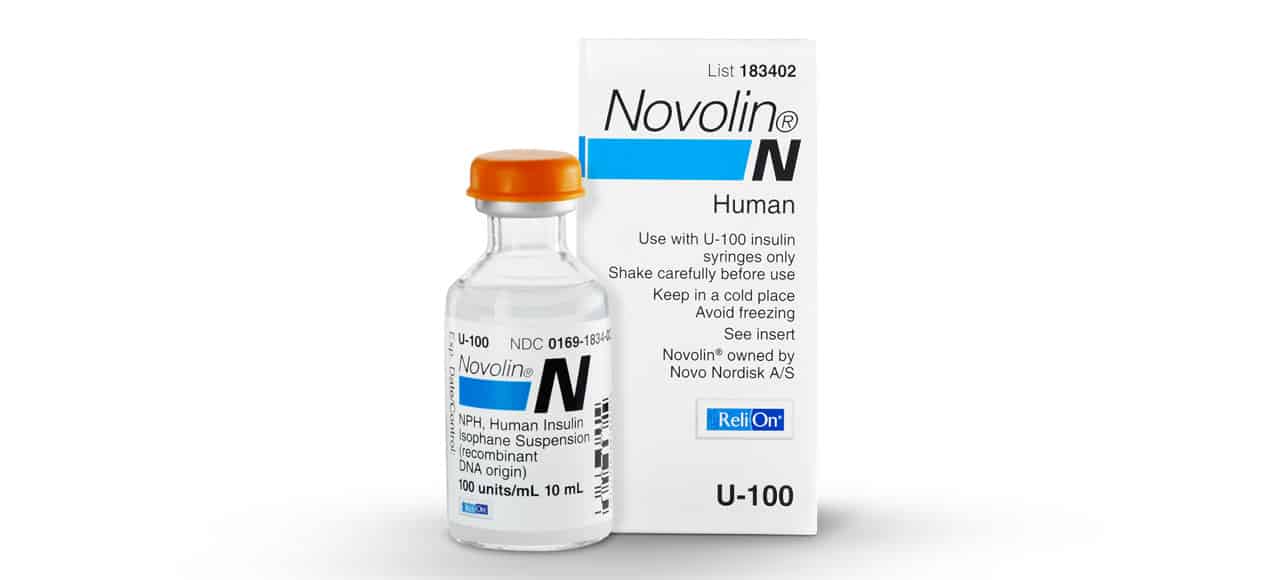 Novolin N works like the intermediate acting insulins on the market, though it is also from the older generation. If you switch from a long-acting insulin to an intermediate acting insulin, you will need to take two, instead of one injection per day. Talk with your doctor about how taking the cheaper insulin may affect your diabetes management.
Novolin 70/30 – $24.88 per 10 ml vial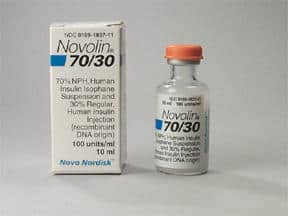 Novolin 70/30 is a mix of intermediate, and short-acting, regular insulin. Also of the older generation, you will need to watch your blood sugars carefully if you switch to this from a name brand insulin. Again, keep in close contact with your healthcare provider. The percentage of each type of insulin in the mix causes this insulin to start working quickly, in 10 to 20 minutes. It peaks in a time span of two hours, and will work some for the entire day, up to 24 hours.
It's important to remember that this mixed insulin is only approved for those over the age of 18 years old. If you have any of the following, notify your doctor:
Kidney or liver problems
Low potassium in the blood
If you take TZDs for diabetes (Rosiglitazone, Pioglitazone) – may cause heart problems
Main side effects of all ReliOn insulins
The main side effect you could get from all these insulins is a low blood sugar. Keep a source of fast-acting carbohydrates with you at all times, such as glucose tabs, gel, hard candies, or juice boxes. If you experience any episodes of hypoglycemia, you will want to tell your doctor. It's the most dangerous acute complication of diabetes, and even just a few episodes can increase your risk for death.
Your doctor may want to prescribe a glucagon injection pen kit for severe episodes of low blood sugar. Your family and friends may have to learn to give the injection in the kit, and why they are giving it. Low blood sugar episodes are another reason why you shouldn't switch to ReliOn insulin without careful consideration, and a good heart-to-heart talk with your doctor.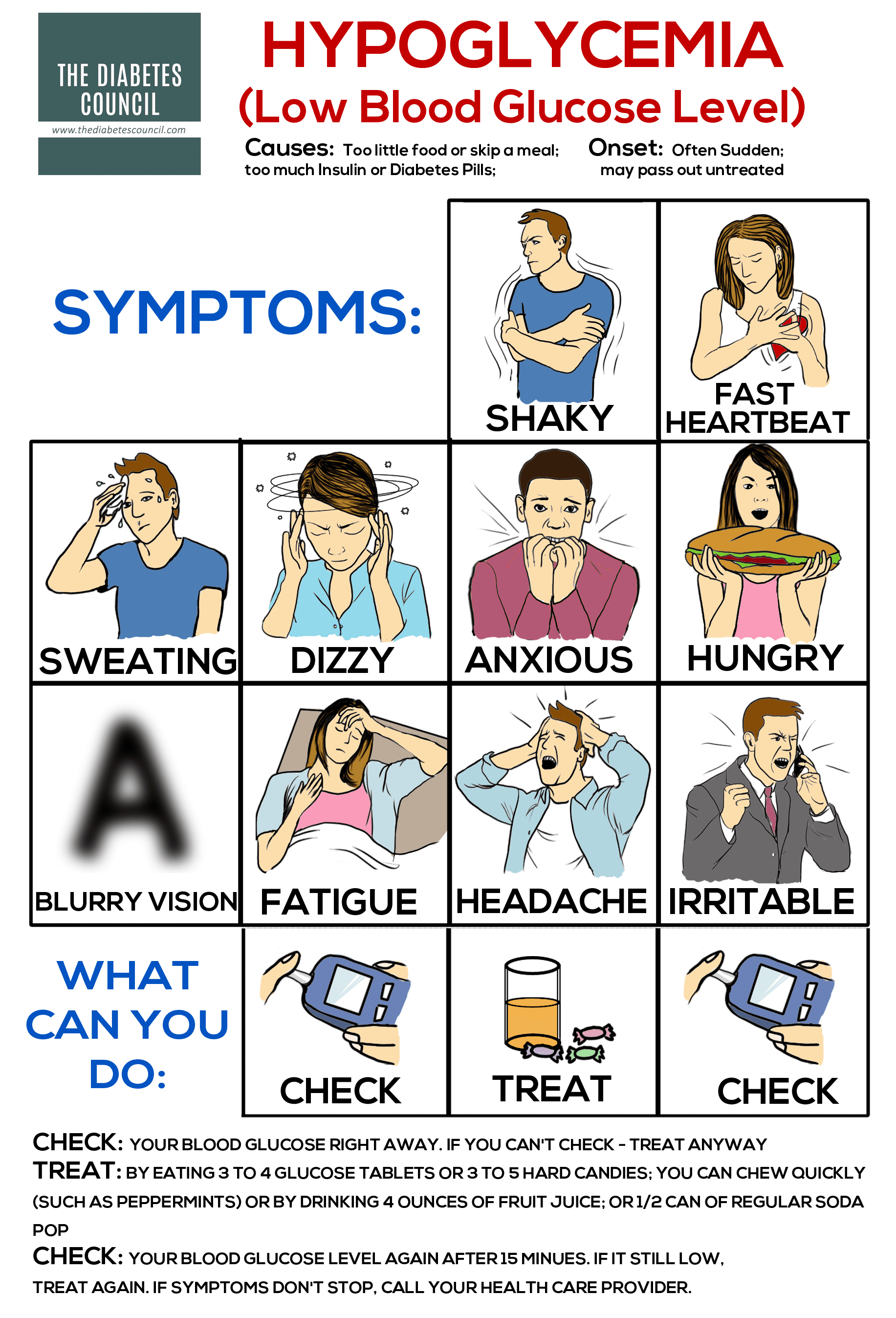 What else should I be watching for with ReliOn insulin?
Switching your insulin to an older generation can affect your blood sugar regulation. Other things that can affect your blood sugar levels are illness, stress, exercise, skipping meals, drinking alcohol, or infections and surgeries. You still need to manage your diabetes by following a healthy diet, counting your carbohydrates, not skipping meals, and getting some activity – about 30 minutes, five days a week.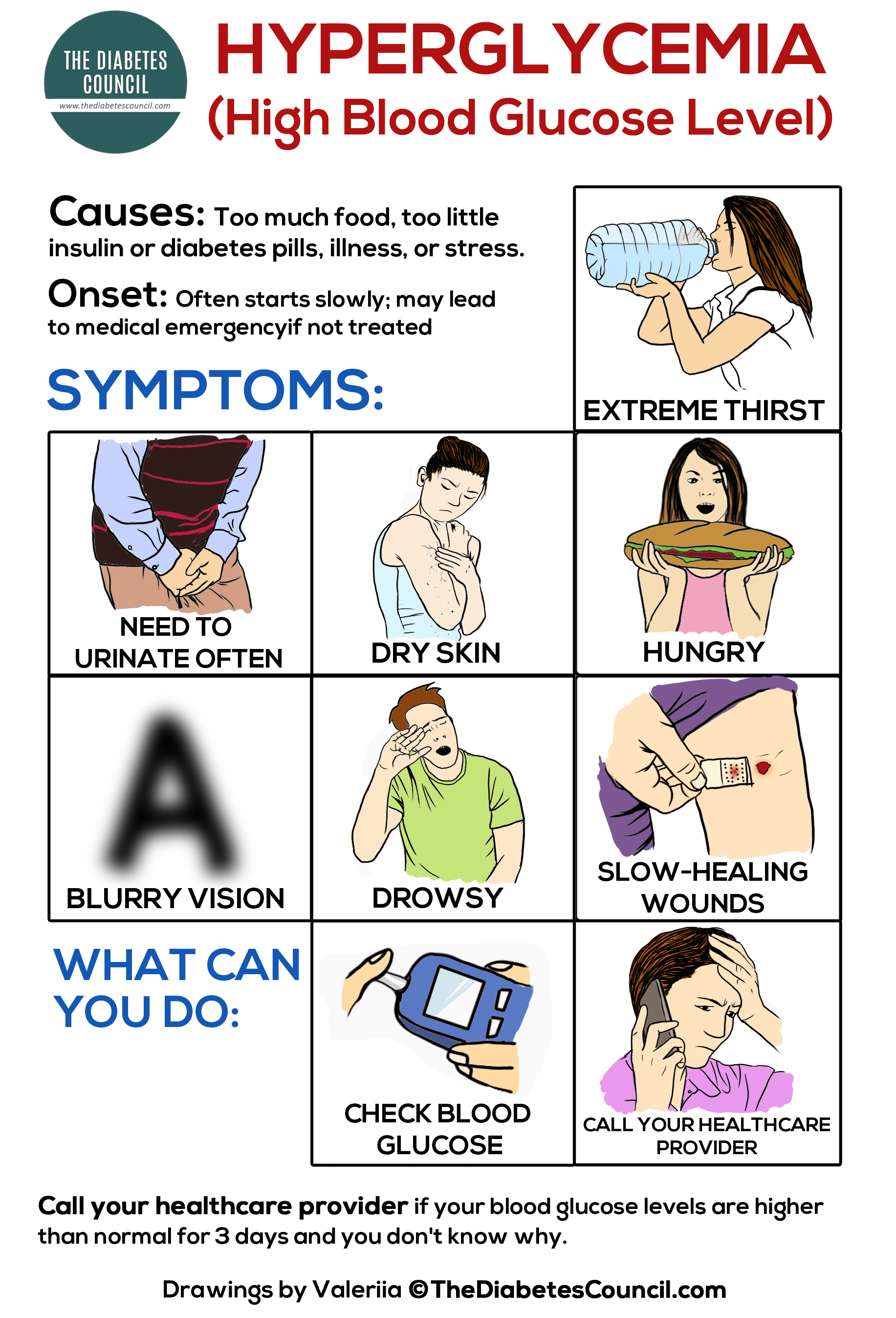 ReliOn Novolin N and 70/30
Both ReliOn Novolin N, and the mixed insulin, Novolin 70/30 (which is a mixture of Novolin N and short, regular, ReliOn Novolin R insulin), have a cloudy look to them. If you see any particles in the vial, call the pharmacist and return the vial. Don't inject the insulin.
General safety with ReliOn insulin
Read your medication and safety instructions that the pharmacist gives you. If you have questions, be sure to ask the pharmacist, and always wear a Diabetes Alert tag, or alert, to clue in emergency workers about your condition. Since you take ReliOn insulins with meals, you should make sure not to skip meals, and to eat a meal after taking your medication.
Don't double up doses, or try to make up for any missed doses of ReliOn insulin. Always keep your insulin on hand, and make sure to get more before you are close to running out.
The symptoms of life threatening low blood sugar include:
Confusion
numbness, tinging in mouth
weakened muscles
blurry vision
difficulty speaking
seizure, jerking, convulsions,
loss of consciousness
Other Side effects
Other side effects of ReliOn insulins can include the signs of an allergic reaction to insulin, which include:
Rash
Itching
Fever
Hives
Wheezing
Chest tightness
Throat tightness
Difficulty breathing
Difficulty talking
Hoarseness in throat
Swelling in mouth, face, tongue, lips
Signs of a local reaction at the injection site may occur within two weeks of initial insulin therapy, and may include:
Redness
Swelling
Subcutaneous nodule
Warm or hot skin
Other symptoms related to low potassium levels include:
Muscle weakness or pain
Muscle cramps
Skipping heartbeat, unusual heartbeat
Fast heartbeat
Drop in blood pressure
Injection site irritation or infection
Visual changes
Dizziness, fainting
Chills
Moodiness
Slurred speech
Large amount weight gain
Swelling in arms, legs
Shortness of breath
Thick or thin skin at injection site 1,2
How do they work for the treatment of diabetes?
Novolin is a synthetic human insulin of the natural hormone, insulin, that is produced in the beta cells in the pancreas. Insulin regulates blood sugar, but it's either missing or has decreased in production in people with diabetes. It works in the same manner as the body's human insulin, but not quite as well. It also doesn't work quite as well for the treatment of diabetes as the newer analogue insulins do, though there has been one study that found differently.
In short, ReliOn insulins are human insulins, but they are made in a lab. Therefore, it's not quite the same as the insulin our beta cells make, or the same as some of the newer insulins available on the market. With some education about how to use it correctly, it can work quite well. You just have to work closely with your Diabetes Care Team  to make sure you understand how to avoid low and high blood sugars. Monitoring your blood sugars more often, while you find out how your blood sugars will react is very important.
Benefits
Besides low cost, achieving goal is possible with ReliOn insulins. It may take a little extra work to adjust dosage, and figure out how your blood sugars react to ReliOn.
Drawbacks
We have looked at just about everything that there is to know about ReliOn insulins, including the benefits. But what are the drawbacks? We know they are cost effective, and that's a good thing, and that we can get similar coverage for diabetes if we work with our provider on dosing.
Basal insulin analogs work for a longer period
The new analog long-acting basal insulins (ex: Levemir, Lantus) work longer than older insulins like ReliOn. They keep an even blood sugar level throughout the day, and they don't ever hit a peak in action. Intermediate-acting Novolin N ReliOn insulin from Walmart must be taken twice daily, and you must be more flexible with your meals and activities. You also need to know how to use it safely.
Increased risk of hypoglycemia
Another drawback is the increased risk of low blood sugar, and the weight gain that can go along with the older insulin versions such as ReliOn. With newer, name brand analog insulins, you can take your insulin with your meal, but with the older ones, you have to take your insulin 30-45 minutes after a meal. The Novolin N NPH insulin ReliOn brand will have a slightly higher risk for a low blood sugar due to the peak of the insulin. 3
How to take them or how should they be used?
ReliOn insulin is taken in the exact same way as other name brand insulins. It is given subcutaneously, under the skin, in a site where there is some subcutaneous fat tissue to pinch up. The insulin injection sites are shown below, and include subcutaneous tissue in the arms, abdomen, and sides, and the front of the thighs. Tissue on the back may also be used with assistance.
Insulin injection sites are the same for ReliOn insulin:
Make sure you follow directions on the prescription label, and use the insulin just the way your doctor told you to. Properly dispose of your dirty needles in a puncture proof container, and when full, cap the lid. Write "Biohazard" on the label, which you can throw in a regular trash. This is to protect sanitation workers from being stuck with dirty needles.
Keep the sharps container away from children and pets. You could use a two-liter coke bottle, a Clorox bottle or a coffee can with a lid, or you can buy a ReliOn sharps container at Walmart. You also shouldn't ever share insulin needles, or use them again after the first injection.
ReliOn insulin can never be used in an insulin pump, or mixed with any other insulins. Always give it in the subcutaneous fat, and never inject it into a vein or a muscle. Your diabetes educator or healthcare provider will show you how to draw up and administer your injections, and where the best places to give them are. You should rotate your sites around, so that you don't get lipodystrophy.
After taking the Humulin N and regular 70/30 mixture of ReliOn insulin, a full meal should be eaten within the next half hour to 45 minutes.
How many times do you take ReliOn insulin a day?
You will take ReliOn based on the dose given to you by your doctor and your pharmacist. If you don't understand your dosage, make sure you talk to them. There are many different doses, and combinations of insulin that can be prescribed. Generally, Humulin 70/30 or N could be given two times per day, and Humulin R could be given three times per day with meals.
Who can take Relion insulin?
People with Type 1 Diabetes must take insulin to survive. People with Type 2 Diabetes may need to take insulin, along with other oral diabetes medications. Both people with Type 1 and Type 2 Diabetes can take ReliOn insulin. It is just another type of insulin, from the older generation, and less costly. To take the ReliOn 70/30 mixture of Novolin N intermediate acting insulin, and Novolin R regular, short acting insulin, you must be over 18 years of age.
Can you take them during pregnancy and breastfeeding?
Insulin by far has the longest history of safety when used during pregnancy and breastfeeding. It's likely that your OB/GYN will prefer for you to be on the newer, name brand analog insulins while you are pregnant. You need to make sure that you control your blood sugar tightly while you are pregnant, so that the baby will be healthy. Be sure to talk to your doctor before switching to ReliOn insulin during your pregnancy.
We still have Title X Family Planning funding available. If you are having trouble paying for your name brand insulin when pregnant, you can then get on a Family Planning Medicaid waiver to cover your pregnancy, and insulin needed. Insulin doses can change during your pregnancy and breastfeeding, so be sure to keep in close contact with your healthcare provider.
How do they work with other diabetes medications?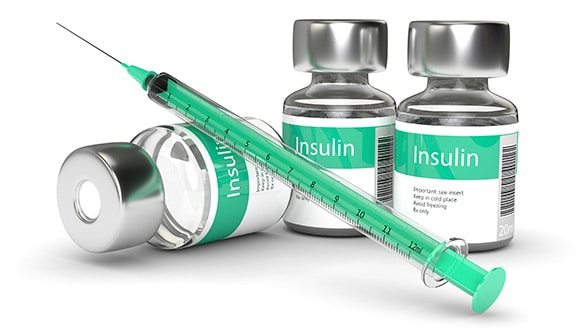 ReliOn insulins may be taken with other oral diabetes medications and injectables. However, some combined with insulin increase low blood sugar risk. There are so many different combinations of diabetes medications and insulin, that it would be difficult to list all drug-to-drug interactions here. One example is that when taken with Pioglitiazone or Rosiglitazone, which are TZD medications for Type 2 Diabetes, ReliOn insulin (and insulin in general) can increase risk for heart problems and low blood sugar.
How effective are ReliOn insulins?
ReliOn insulins are more effective than having no insulins. In the past, many patients have shown up with crazy A1C's and blood sugars, and you suspect they aren't taking their insulin. Often, they don't want you to know that they can't afford their medication. An open line of communication often reveals that they are unable to afford their medication.
A lady that I worked with had a brother with Type 2 Diabetes. He lost his job, and was ashamed to tell his wife that he ran out of insulin. After running out of insulin, he ended up in the hospital with diabetic ketoacidosis, and later died as a result. Not having insulin when you need it can be serious business, so cheaper, older insulin will have to suffice.
You will see patients who either don't fill prescriptions, or they will take medication several days a week, and skip the rest to try to save money. In these situations, certainly older insulins are effective, and without them, where would these patients be? Many diabetes drugs are so expensive now, that people can't afford them, even with a co-pay on their insurance. For most people, the effectiveness of cheaper insulins like ReliOn can be similar.
For the older biosynthetic insulins, such as ReliOn, they are going to take longer to work, and the NPH insulin (Novolin) peaks in 4 to 10 hours.
The new generation of brand name insulins are called analog insulins. These insulins have a different sequence of amino acids. Genetic engineers have changed them up a bit, so that they are available to our body, but they take some time longer to absorb.
For patients without the means, ReliOn "old style" insulins may be the best and most cost-effective strategy. They are very effective in certain situations, with the right dosing, monitoring of blood sugars, and avoidance of hypoglycemia, or low blood sugar.
For some research related to the effectiveness of ReliOn insulins, a study published in Diabetes Care in 2009 concluded that NPH and regular insulins could be just as effective to manage blood sugars in patients with Type 2 Diabetes as the newer insulin analogues. People with Type 2 Diabetes were capable of achieving A1C and blood sugar goals with older insulins.
Given that ReliOn insulins are so much cheaper, this is something to consider. Especially with the rising rate of Type 2 Diabetes, and the increasing expense of insulin and medications. Why wouldn't you use a cheaper brand if you could get comparable results? 4,5
Where can you get it?
You can't get ReliOn insulins online. You must go into the Walmart or Sam's Club Pharmacy, and ask for it. The pharmacist keeps them behind the counter. This is so that they can confirm with your doctor to ensure the switch is recommended. Still, the pharmacist would sell you the insulin over-the-counter, such as in emergency situations (hurricanes, floods) where insulin may be destroyed.
How do you store it?
Once you use your vial of ReliOn insulin the first time, you don't have to refrigerate it. Store any unused vials in the refrigerator to be used by the expiration date. If you store vials at room temperature, you must use them within 31 days. Discard any unused insulin after 31 days, whether stored outside or inside the refrigerator.
Don't ever freeze insulin. In the refrigerator, keep it away from the cooling component. If your refrigerator malfunctions, and somehow freezes your insulin, don't use it.
The patient information leaflet that comes with your ReliOn insulin in the box will have further instructions, so be sure to read it. Your ReliOn insulin, like other insulins, must be kept away from direct sunlight and heat. Don't pre-draw syringes of insulin. Wait until it's time for your injection to draw up your insulin.
Prices
All ReliOn insulins are $24.88 a vial.
Do I need a prescription to buy it?
Technically, ReliOn is an over-the-counter insulin, which doesn't require a prescription. This is in part why it has been used so much during the recent disaster situations in Texas and Florida. When your primary supply of insulin is ruined, you should be able to get it with no prescription over-the-counter.
If it's not an emergency, the best thing to do is to talk to your doctor about your current dosage and brand of insulin, and discuss how you could switch over to the cheaper insulin if necessary. In fact, Walmart has a system set up, so that people don't switch to the cheaper insulin without first checking with their doctor, and obtaining a new prescription. Even though ReliOn insulin is over-the-counter, and you can get it without a prescription, the pharmacists still want to make sure that you have looked at how the new insulin will affect you, and discussed doses with your doctor.
Walmart offers the services to call the doctor on the patient's behalf, so you could walk in and ask the pharmacist to consult your doctor for a prescription and doses for your switch. These are safety precautions that you need to follow. You really don't want to be playing around with insulin, and you need someone to help you understand how the switch might affect you.
Is it covered by my insurance?
Over-the-counter ReliOn insulin from Walmart and Sam's club is not covered by insurance. You may still need a prescription to switch from name brand insulin. This is for your safety when switching brands and types of insulins.
Who do I contact in case of emergency?
If you think you took too much ReliOn insulin, or any kind of insulin, you should call 911, and call the poison line at 1-800-222-1222.
What other products does ReliOn offer, and the prices?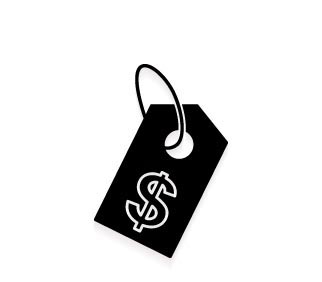 The following is a list of some of the products that Walmart and Sam's Club carry for diabetes self-management. This list includes their most inexpensive glucometer, the ReliOn Prime. The Prime meter by far is the least expensive meter and supplies, and strips are very affordable.
There are some other glucometers available. The ReliOn Ultima monitor is a little more expensive than the Prime monitor at $14.98. Strips and supplies for this glucometer are on the pricey side as well.
The ReliOn Confirm meter is at $14.98, but the strips are much more expensive at $35.88 for 50 strips. There is also a ReliOn All-in-One Compact blood glucose meter for $19.97. Below, we have compiled a list of ReliOn supplies, including the prime meter, and related supplies to go with it, along with the current prices as of November of 2017.
Also included in the list are ReliOn insulin needles, A1C rapid test, pen needles, and gloves. The pen needles were out of stock at press for this article, as were the A1C test. They also have ReliOn ketone testing strips for $7.85, alcohol pads for $4.66, and a variety of other useful products for diabetes management.
For a full listing of ReliOn Products for diabetes management on Walmart's website, visit: https://www.walmart.com/search/?query=relion&cat_id=0 , or visit your Walmart Pharmacy, and speak with a pharmacist about what products may be right for you. Note that you can't order insulin online. You must go to the store for over-the-counter ReliOn insulin.
The pharmacists and staff are also very helpful in helping you get the supplies together for a new set-up, so that you don't have to make special trips back for forgotten items.
Meter only - $9.00. Click here to learn more.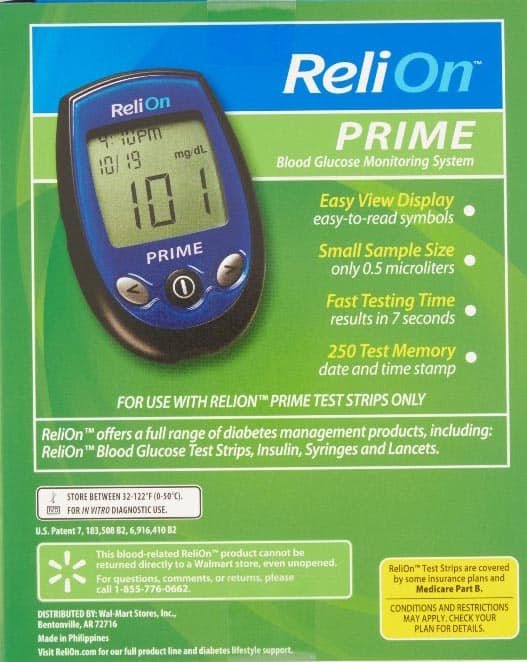 100 count – $17.99
50 count – $9.00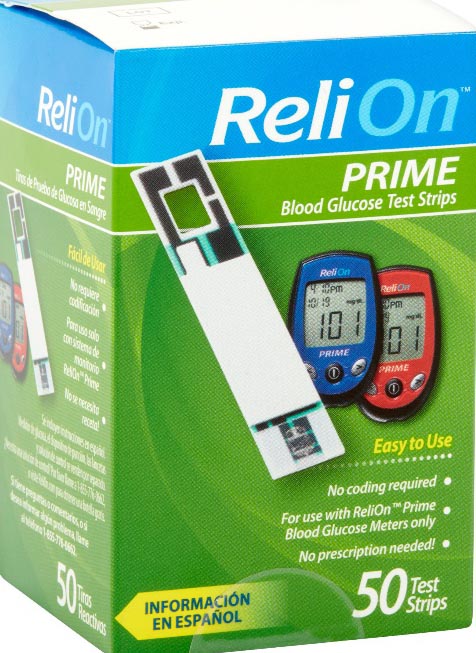 Lancing device - $6.97. Click here to learn more.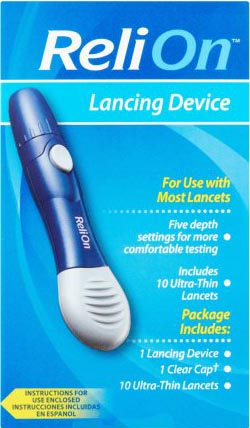 Lancets – 200 count $2.18. Click here to learn more.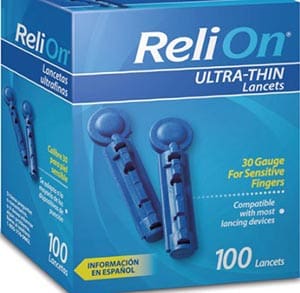 Syringes – available behind counter, ask pharmacist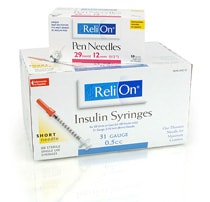 Short pen needles - $9.00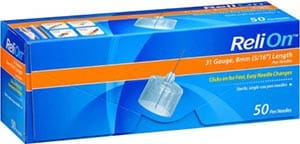 A1C test – $22.88. Click here to learn more.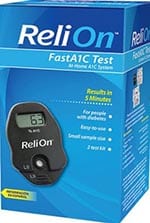 Gloves - $9.24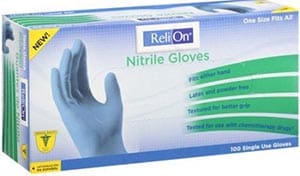 Over to you
We hope you have learned a good deal about cheaper, older insulins available by reading this article and good luck with your diabetes expenses. If you have any questions, or if you have tried the ReliOn insulins, and would like to share your experience with us, please do so in the comments box below.
TheDiabetesCouncil Article | Reviewed by Dr. Jerry Ramos MD on May 28, 2020