Would you like to find cereal options with fewer carbohydrates so that you can have some fruit or milk in the morning without breaking the carb bank? Do higher carbohydrate cereals run your blood sugars up every time you eat them?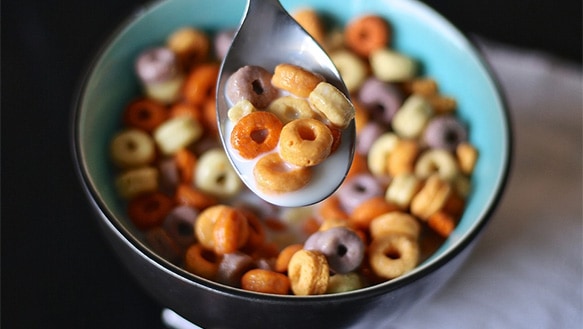 We can help. We've put together a list of the top 10 healthiest and lowest carbohydrate options for diabetes. Whether you are on an American Diabetes Association (ADA) Diet or a Ketogenic diet, you can enjoy them with diabetes guilt free. If you are on a ketogenic diet, we hope that you are being followed by your doctor and nutritionist for needed lab work.
Which cereals made our list of the top 10 healthiest for diabetes?
We will break down each product for you that we've listed in the table below. You can find them on Amazon by clicking the link. You may also find some of these brands at your local grocery store.
They are all made from plant sources including nuts and seeds that have a high fiber content. A high fiber content cancels out natural sugars and helps people with diabetes manage their blood sugars.
High fiber foods are great for diabetes due to their low Glycemic Index. They don't raise blood sugars as fast as non-fiber foods do. You will experience stability of blood sugars more often when you eat high fiber foods.
They are granola cereals. If you don't like granola, hang on until the end of the article and we will provide you with some grain-based choices. While higher in carbohydrates, the ones on our grain-based list are high in fiber also.
These will be found in your community grocery store, so we won't link those to Amazon. We know you will find a healthy breakfast option that also tastes delicious while helping you to manage your diabetes after you have read this article.
1. ProGranola
2. Keto & Co Hot Breakfast
3.  Bubba's Fine Foods
4. Lark Ellen Farm
5. Kitchfix
Total Carbs
14
13
9
9
10
Net Carbs
2 grams
5 grams
6 grams
7 grams
8 grams
6. Wildway
7. CleanPaleo Manuka Crunch
8. The Fermented Farmer
9. Wildway Gluten-free
10. Steve's PaleoGoods
Total Carbs
15
11
11
12
16
Net Carbs
 8 grams
9 grams
9 grams
9 grams
12 grams
#1 ProGranola 12g Protein Cereal
ProGranola 12gram Protein is our top pick for its low net carbohydrates, high fiber, and high protein. It's gluten-free, contains no grains, is soy free and has a low Glycemic Index (GI).
The high fiber will keep you feeling full for hours. The product contains mostly soluble fiber, so you won't feel as much bloating as with insoluble fibers. The manufacturers claim it's GMO free. For sweetener, they use the popular monk fruit.
The granola in the product is made from all organic seeds. It's crunchy and has a vanilla and cinnamon flavor. Egg whites are the protein ingredient for about 12 grams of protein building amino acids.
The product also contains tapioca fiber, pumpkin seeds, chia, flax and sesame seeds. It also contains some coconut oil, shredded coconut, and cinnamon.
At 14 total carbohydrates, 12 grams of fiber and 2 grams of net carbohydrates, it's a diabetes-friendly wake-up call.
#2 Keto and Co Hot Breakfast
For those hot mornings when cold cereal doesn't give you that cozy feeling, try Keto and Co's Hot Breakfast.
It's got the taste of oatmeal, or grits (if you are from the South), without grains. It's sweetened with coconut, stevia, and sucralose.
At 13 total carbohydrates, 8 grams of fiber and 5 grams net carbohydrates, warm it up on those cold mornings. It comes in three flavors of maple and brown sugar (plain, with Stevia and with Sucralose, depending on your choice).
#3 Bubba's Fine Foods Paleo Grain Free Granola Cereal
Bubba's is extra crunchy. You will find coconut, almonds, and cashews with true vanilla baked in. Egg whites are the protein base for this tasty option, and it uses natural honey to sweeten the delicious, crunchy mix.
Use it in your smoothie, with yogurts or for your morning with milk, almond milk, soy milk, or your choice. It's also great as a low carbohydrate ice cream topping.
It's non-GMO, contains no gluten or grains, and is dairy and soy free.
At 9 total carbohydrates, 3 grams of fiber and just 6 net carbohydrates, it's a crunchy good choice to start your day.
#4 Lark Ellen Farm Grain Free Paleo Granola Bites Cereal
Made from activated seeds and nuts that are sprouted, ground cinnamon and real vanilla beans, Lark Ellen Farm makes a great low carbohydrate all-plant sourced granola to jump start your day with proteins and fiber.
You can use it as snacks on the go that are low GI. It's gluten-free and free of oats and grains. It's non-GMO, Paleo-friendly. It's crunchy and made in America. All natural and sweetened with all-natural ingredients, it fits in with a vegan diet, ketogenic diet, or use it on an ADA diet for a low carbohydrate protein boost.
It comes in at 9 total carbohydrates and 7 net carbohydrates, so it's a bit lower in fiber than some other choices here.
#5 Kitchfix Grain Free Paleo Granola
Cinnamon spices up this low carbohydrate nut and seed crunchy granola blend, while maple syrup gives it sweetness. There is also some raisins added in with a few coconut chips into the mix.
There are not any grain in there, so if you're going gluten free, this granola has your breakfast covered. Use it as your breakfast meal, try it in smoothies or even on salads.
The makers slow roast it in small batches, with a bit of coconut oil. It's got the good fats in there. Try it also with some chia yogurt or pudding.
Get all your needed monosaturated fats, complete with vitamins and minerals, including selenium and Vitamin E.
There's some different flavors to choose from, including honey pecan, lemon berry, cocoa sea salt and honey pecan. Yum!
Some of Kitchfix's ingredients include almond flour, walnuts, flax seeds, coconut flakes, pumpkin seeds, and more. Every ingredient is all natural and there are no preservatives in the product.
At 10 total carbohydrates, 8 net carbohydrates and 2 grams of fiber, it's a healthy low carbohydrate choice to include when you open your eyes in the morning.
#6 Wildway Grain-free Hot Cereal
How about a hot cinnamon roll on a cold morning? This meal will fool you into thinking you've fallen off the low carbohydrate wagon.
You're still riding that train because this "cinnamon roll" hot cereal is still low in carbohydrates. It's also a gluten free, Paleo and Vegan friendly product with no GMOs.
There's no grains in this cinnamon roll either. Mix it with hot water, use milk, almond milk, or your choice to give it a rich flavor. It's a lot like oatmeal but without any grains.
The makers suggest you try it with some nut butter, too. It's high protein and high fiber to keep you full all morning. At 15 total carbohydrates, 7 grams of fiber and 8 grams net carbohydrates, your morning carbohydrate guilt floats away.
#7 CleanPaleo Manuka Crunch Paleo Breakfast Cereal Blend
Another appropriate grain free option for your morning is CleanPaleo breakfast cereal. It's over 80% nuts and seeds. This provides plant protein, fiber and satiety. You won't need your next meal or snack for hours.
It's loaded with almonds, macadamia nuts, sunflower and pumpkin seeds. Sweetened with honey and coconut oil, it's still clean eats while curbing cravings for that sweet taste. It's also got some cinnamon.
The product is grain and gluten free. The manufacturers don't use preservatives or artificial flavorings or colors in the product. It's non-GMO and is sweetened naturally.
To keep it dairy free, use almond milk with it, or mix it with plain or coconut yogurt for your wholesome breakfast. You can also use this high protein granola to top desserts, or mix them up in a healthy trail mix for a snack.
When you order this product, it comes with recipes as a bonus. The label is in grams, but a quarter cup size has about 9 net carbohydrates. Fiber comes in at about 5 grams.
#8 The Fermented Farmer Grain Free Paleo Granola Cereal
Sprouted and fermented granola from The Fermented Farmer is a great grain free cereal that's also non-GMO, gluten free, soy free and all-natural. If you don't like it, it comes with a 100% satisfaction guarantee.
For fermented and sprouted ingredients, the makers loaded in sunflower seeds, walnuts and pecans, whey protein, raisins, grass-fed butter, some coconut, a pinch of cinnamon  and some nutmeg. Sounds tasty, doesn't it?
Eat this for breakfast or for added energy before a work out.  Made in America in small batches, the fermentation process opens up the nutrients to be readily absorbed and introduces gut prebiotics to keep your gastrointestinal system running smoothly. Try this fermented option for thirty days. The makers state that you will experience improved digestion and increased energy levels.
With just 11 total carbohydrates and 9 net carbohydrates, the two grams of fiber is a lower amount than some of our choices for low carbohydrate cereals.
#9 Wildway Gluten-free, Paleo, Grain-Free Granola Variety
For the dry variety from Wildway, this grain free option for low carbers is all-natural and gluten free. It's only a whole food blend of nuts and seeds, organic fruits and spices. Again, it's non-GMO.
It comes in three varieties of flavors: banana nut, coconut cashew and apple cinnamon. At just 12 total carbohydrates, 9 net carbohydrates and three grams of fiber, it's lower down on our list for the decreased fiber content and the added sugars from the dried organic fruits. Still, it's a healthy choice.
#10 Steve's PaleoGoods PaleoKrunch Cereal
For a truly cinnamon taste in each bite, try Steve's PaleoKrunch. This is another great grainless granola breakfast meal with not so many carbohydrates to spike your blood sugar.
Ingredients include nuts and seeds, coconut and honey for sweetness. It's manufactured in New Jersey since the late 2000s, in small quantities for freshness. If you're socially conscious, 15% of your purchase goes to youth at risk across the US.
It's our final choice in this low carbohydrate category for diabetes, due to the total carbohydrate content of 16 gram, and 9 grams net carbohydrates. It packs a lot of fiber at 7 grams. All of the options on our top 10 list are great for diabetes, so enjoy!
If you don't like granola cereal, try these puffs and flakes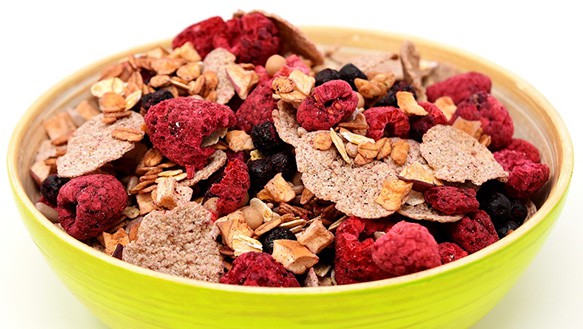 If you're on an ADA diet, you can choose some grain cereals, including puffs, flakes and other varieties. If you pick one that we list here, you can keep your carbohydrate contents at the right amounts for your healthy breakfast with diabetes.
Rather than choosing a high sugar frosted flake or another high glycemic food, learn which ones are low glycemic, and therefore the best for you with diabetes. That way, your meal won't shoot your blood sugars sky high in the early morning, just when you needed your energy. Your overall diabetes management will be the better for it.
Learn what constitutes a low Glycemic Index (GI) food
Look for ones with a low glycemic index to keep your blood sugars from spiking right after eating. The GI is divided up into three categories:
55 or less is a low GI food
56-69 is a medium GI food
70-100 is considered a high GI food
When you eat carbohydrates with diabetes, eating them with some fiber that slows their absorption helps to prevent quick rises in blood sugar levels from carbohydrates in foods like cereal.
Which options on your grocery shelf have a high glycemic index and are best left there?
The following list found on your grocery shelf has a medium to high Glycemic Index, and are best left alone when you have diabetes. They are:
Rice cereals
Grape nuts
Cream of wheat
Museli
Cornflakes
Options with low glycemic index, and good for diabetes?
Some cereals have a lower GI and are therefore better for you to eat with diabetes. They are:
Top for ADA diet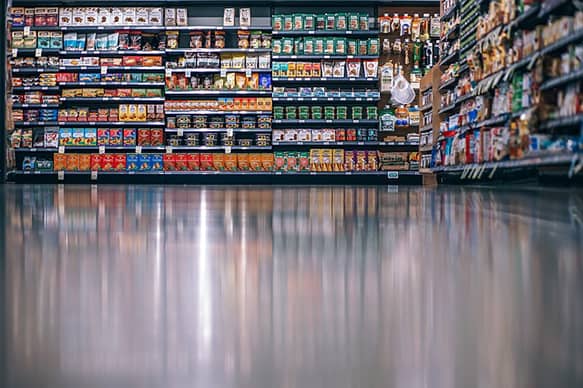 For some cereals that you can take home from your local grocery, we looked for those that came in at 150 calories or less, had less than 30% of calories from fat sources, had less than one gram of saturated fat, and had 30 grams or less total carbohydrates per serving. They also had to pass the test with 3 grams of fiber.
The following is a list of products that made the cut:
Kellogg's Frosted Flakes with fiber and less sugar
Kellogg's Special K Cinnamon Pecan
Kellogg's Special K Blueberry
Quaker Crunchy Corn Bran
General Mills Honey Kix
General Mills Multigrain Cherrios
Trader Joe's Triple Berry O's
Trader Joe's Multigrain O's
Post Bran Flakes
General Mills Wheaties
Post Grape Nut Flakes
Kellogg's All Bran Original
Kashi Go Lean
Kellogg's Fiber Plus
Great Value (Walmart) Toasted Whole Grain Oats
General Mills Cherrios
Cascadian Farms Purely O's
Fiber One
What are some good alternatives to cereal for my breakfast with diabetes?
Good options for breakfast besides cereal with diabetes include high protein whole foods like eggs and whole grain products. Protein foods along with fiber slow down the absorption of blood sugar in your system. This will also help your diabetes management.
Eating whole fruits in the place of juices on your ADA diet will give you fiber from the fruit instead of the straight fructose from the juice. This helps to minimize blood sugar spikes. 2
More hot cereal for cold days
When you love a hot cereal on a cold day, try making some steel cut oatmeal. Sweeten it with a small amount of honey. Remember that a half cup is a serving of oatmeal. You can mix it with water, milk or almond milk. You could use coconut or soy milk. It's easy to microwave it and have a piping hot breakfast in a skinny minute.
A word about allergies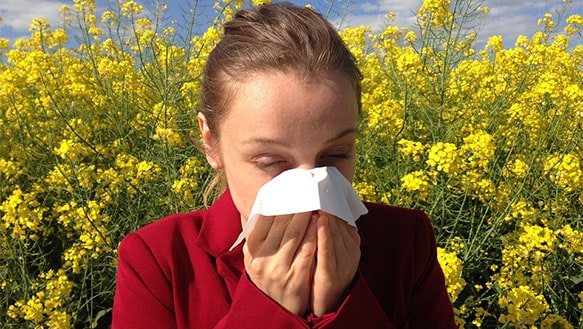 Check product for ingredients related to any food allergies that you may have to any of the ingredients, including nuts, seeds, wheat or eggs, among others.
Take home 
We all know that breakfast as the first meal of the day is the most important meal. It gets our metabolism up and provides us with needed energy for the coming day.
We also know that with diabetes, we need to self-manage our condition. Keeping our blood sugars in a target range is important day in and day out. It's good to have some tools at your disposal that help you to keep things in line.
That's why we developed this guide for you, so that you can choose the right way to start your day off  when you have diabetes. If you start the entire day off on the right foot, the rest of your day will go smoothly.
What should a breakfast for diabetes include?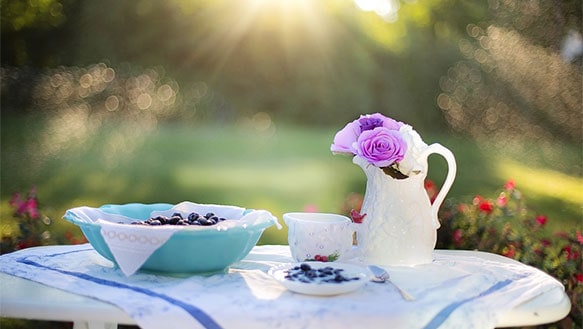 An appropriate breakfast should include plant and lean protein foods, the right kind of carbohydrates and healthy fats, without adding in extra sugars that you don't need. It should provide the appropriate amount of fiber and plenty of vitamins and minerals.
If you're on the ADA diet, then you need to eat carbohydrates along with fiber so that the sugars are not absorbed too quickly. Here, we've taken the guess work out of your cereal choices. You can take this guide and run with it virtually in your pajamas and robe to order the ones that are not found in your grocery store on Amazon using our convenient links above.
If you're on an ADA diet, and you want some more grains for breakfast, you can take a at our second list and run with it to your local grocery store to pick out some of the choices we've given you for breakfast cereals.
How to look for healthy cereal in the grocery store
In your grocery store when you're looking for one that's not on our list here, remember to pick up your labels and really pay attention to what is on them. Look for hidden sugars in the ingredients, and put those with added sugars back on the shelf.
Learn your way around a food label
Stay within your carbohydrate recommendations for your breakfast, and look at the total carbohydrates on the label. Notice the amount of fiber. How much sugar the fiber cancels out is the net carbohydrate amount. What is that number? Learning your way around a nutrition label can save you a lot of headaches (and headaches from high blood sugars).
Watch your portions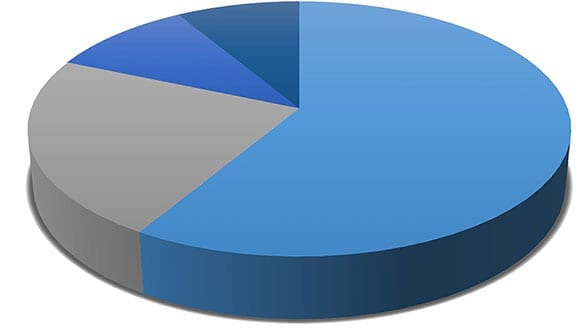 For cereals, you must watch your portions. We keep our measuring cup close by, so as not to get heavy handed. It just takes a minute to pour twice the serving without realizing it. Most grocery sold products have about a three-quarters cup portion size. Granola based ones may be one-fourth to one-half cup.
Making sure your portion is correct can save you from getting twice the carbohydrates. Never snack out of the cereal box! Measure out your snack portions into snack bags first. This will help you to keep track of how many carbohydrates you're eating.
Look at the amount of "sugars" on the label
The amount of sugars on the label tells you how much sugar the makers added to the product. Stay away from products with added sugars. Look for all-natural sugars and sugar substitutes.
If the top three ingredients are sugars, then put the product back on the shelves and chose a product lower in sugar. You may see many different words used for sugars on your box and other food product labels. They include the following, among others:
Corn syrup
Fructose
Corn sweetener
Agave
Sugar (brown)
Crystalline fructose
Glucose
Honey
Fruit juice
Cane crystal
Maltose
Dextrose
Molasses
Sucrose
Syrup
What about the salt?
If you have diabetes and have blood pressure problems, you should be paying attention to how much salt or sodium that you take in. The current state in the US is that nine of 10 Americans take in too much salt daily. We also manage to take in twice the recommended amount of 2,300 mg per day.
We don't get it from the shaker either. We mainly get it from processed foods and restaurant foods. That's why you should check the sodium level on the back of your box. Keep servings of processed foods under about 240 mg of salt or sodium per serving to help keep you within the salt guidelines.
Why protein for breakfast?
Protein and fiber combined will help you manage blood sugar levels when you have diabetes. Top off your healthy breakfast with no sugar added yogurts and eggs to help manage blood sugars well into the afternoon while curbing appetite.
Why nuts for breakfast?
Nuts with no salt are great in giving you added good fats, plant fiber and protein.
Round out your breakfast with whole fruits
Fresh fruit will add the extra sweetness that you need while adding fiber. Pick a small piece of fresh, whole fruit to cut up on top of your breakfast meal. Peaches, strawberries, blueberries and raspberries are good choices to top off cereal in small amounts.
Now that I've got the cereal, where's the milk?
Splash on the cold milk, almond milk, coconut or soy milk. Remember you've got to count the carbohydrates in the milk, also. Look for a low carbohydrate milk or non-milk product, and pour on a half cup serving.
Almond milk has quite a few less carbohydrates, so give it a try. Remember to get skim versions of dairy milks, or 1% milk at the most. Whole milk has too much saturated fat. Try the organic milk for a richer taste.
Don't have diabetes yet, but trying to prevent it?
Even if you don't have diabetes yet, you still want to eat healthy to prevent it. Refined grains increase your risk for developing Type 2 Diabetes, so it's worth it to start eating healthier now.
It makes sense that eating lower Glycemic Index foods that slow the rate that sugar enters your blood stream would help to keep your pancreas from having to work overtime. I think they just get tired and give out with all the high glycemic foods that society consumes today. 3
Whole grains matter when you have diabetes
Look for the whole grains. That's where you will find the vitamins and minerals. Refined grains are stripped of everything good in them, so stay away from them.
Look for the following whole grains in your products:
Brown rice
Barley
Wheat bran
Buckwheat
Oatmeal
Cornmeal
Wild rice
Whole wheat
Over to you
We hope our guide helps you in making healthy decisions based on your diabetes diet. If you've found any cereals that you feel like could be added to our list, please add them in the comments box below. If you try out any of our options here, let us know what you thought of them. Remember to check your blood sugar one to two hours after eating to determine a cereal's affect on your blood sugar. If you have any suggestions or stories to share post them below.
TheDiabetesCouncil Article | Reviewed by Dr. Sergii Vasyliuk MD on October 17, 2022
References