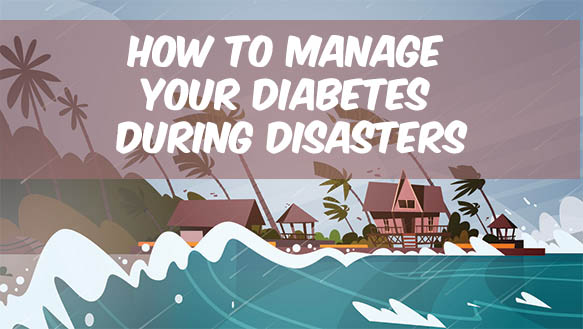 For years, I have been in the midst of disaster and shelter situations as a nurse for the State of South Carolina, and later North Carolina.
From Red Cross shelters, to special medical needs shelter, from hurricane, to tornado, to flood, I've seen them all.
A disaster always takes you by surprise. Even if the news has been talking about the hurricane coming, until the tornado from the west side of it spins off and takes your home, you don't believe that it will ever happen to you.

Disaster in the news
Though this hurricane season is almost over, there are six weeks left to go, with an active Atlantic Ocean that seems to kick up a bigger monster hurricane every week. Hurricanes, and related flooding and tornados, are only a few of the natural or "unnatural" disasters we could encounter, where we might need emergency supplies for basic survival due to diabetes.
Earthquakes, ice storms, power outages from large thunderstorms, and even wars and terrorism, can present disaster situations. Currently in the United States, active shooter situations and terrorist related events have threatened the safety of some Americans.
The time is now to prepare for a disaster, no matter what it may be. When you have diabetes, there are certain things that you need to do to prepare and plan for any disaster that might come your way.
Ten days after Hurricane Maria hit Puerto Rico, devastating the island and leaving US citizens without power, food, or water, many are still waiting for relief.
The headline on the news tonight is, "Many in Puerto Rico without power, water, medications." So many people who have lost everything. Hospitals plowed to rubble. Patients being airlifted out. Most likely, some of those patients have diabetes. I wonder if they were able to keep their insulin and supplies near them.
The health situation on the island is only going to get worse, as all hospitals now use electronic medical records, and need power for equipment. Ventilators and dialysis machines will be unable to run in homes and dialysis centers. The situation is grim, with hundreds left injured or dead, and no way to know how many yet.
A shoe on the other foot
Imagine for a minute that you are in this situation. You are on an Island, without power, except for one generator at one local hospital that was left standing.
The hurricane was a category five, and not only did you lose everything, but so did your friends and family. Cell towers are out, and relief is slow to come.
There are no communications, so you don't know if or when relief is coming. Would you be ready for 10 days, or likely two weeks, without basic provisions?
Would you have enough insulin and diabetes supplies? Would you have enough fresh water to drink, to take a bath in, or to flush a toilet? Do you have a toilet, or even a roof over your head, anymore?
What about food? 3.4 million people are in the same boat as you are, stuck on the island, with no help. Will you have what you need to survive?
What can you lose when you lose power?
Besides losing your lights, TV, and internet, a long list of problems can occur when you lose power:
lifesaving medical equipment can't be operated
waste and sewage disposal issues
loss of refrigerated food
refrigerated medications can't be stored properly
we lose the ability to control temperature
air quality is reduced
clean water for drinking and bathing
mental illness worsens because of the extremely stressful situation
communication is interrupted
transportation is disrupted
emergency services are disrupted
law enforcement may be disrupted
What diabetes supplies should I have ready in case of disaster?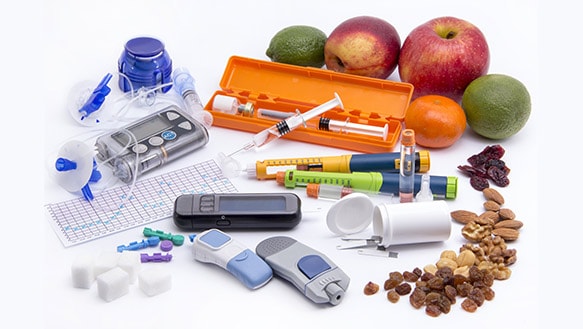 In the case of diabetes supplies and Type 1 diabetes, having enough insulin is crucial to survival during a disaster. You will need everything that you normally need, in an air-tight, floating box that you can keep with you. There are many brands available. One similar to this one from First Alert will work.
Where will I store insulin in a disaster?
Insulin pens and vials must be kept in the refrigerator once open, and should be protected from extremes of temperature. This presents an issue when there is no refrigeration, possibly for over a week or more. A cooling wallet is a good item to pick up, and it will help you to keep your insulin cool. You can put it down inside your water tight, fire tight box. There are also other products available for keeping your insulin cool. You activate them with water only, and they can keep insulin cool for up to one month. Here is the link for the Frio insulin cooling wallet.
If you don't have an insulin cooler wallet, then you can keep your insulin cool in the freezer for a few days once power goes out. You will want to place the insulin inside an insulated cooler, and not directly on the ice in the freezer. Never allow insulin to freeze, and never try to use frozen insulin. It must be discarded.
I recommend reading the following related articles:
What diabetes supplies will go in my emergency kit?
You will want to make sure to have enough insulin and supplies for a week, or even two. If you live in a remote area like on an island, you may want to plan for up to three weeks with no power. In general, if you live in an area of the United States where relief efforts have usually come quickly related to disasters in the past, it may be ok to have one week of supplies on hand. Some places will say you only need to store up to 3 days' worth of emergency supplies, but after all the natural disasters that I have worked in, my thoughts are that you should prepare for the worst. The following is a list of some diabetes specific supplies that you should include in your emergency kit:
enough insulin for at least a week or two
enough syringes for every injection with the week or two supply of insulin
an extra glucose meter
extra batteries for your glucose meter
lancets and lancing devices for one to two weeks
insulin pump supplies
extra insulin pump sets
extra insulin pump batteries
glucagon kits
ketone strips
alcohol wipes
glucose tablets, or 15 grams of quick carbohydrates (check expiration dates)
for diabetes oral medication, store at least a two week supply
copies of your medication prescription and eye prescriptions (print it out, place in a sealed plastic bag, or on a thumb drive)
current dosage and times of administration
basal rates, insulin-to-carbohydrate ratio, and correction factors for insulin pumpers
Foods to put in my diabetes emergency box (read labels for carbohydrate contents):
Whole wheat crackers
Natural peanut butter
Powdered milk
One gallon of water per day
Packaged of dry, unsweetened cereal
Granola bars in single serve
Canned diet soft drinks
Canned tuna or canned meats, such as chicken
Nuts
Canned fruit juice
Other non-perishable food items used to bring up low blood sugar
Can opener
If there were a disaster, do you have an evacuation plan?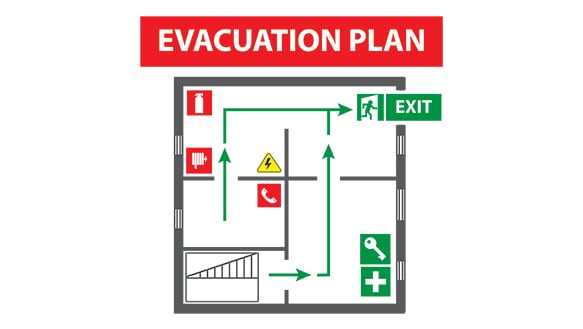 If you live in a coastal area, do you know the evacuation route? Do you know how you would get out, and where you would head to? Travel plans, and plans for pets and livestock may also present a problem when you are headed out of harm's way. Only certain hotels are pet friendly, and they may be full in the throes of a disaster situation. Do you have relatives or friends that you could stay with who may be out of the path of the storm?
Planning for these things will save you hassle when you get the evacuation order. You've already mapped out how you will drive to a relative's house, and you've filled up 3 gallons of gas in the shed in case the pumps go down. When the disaster is approaching, you watch the storm coverage to determine the best time to head out.
If you will stay in a hotel, you will have determined where the hotels are along your route. If you have pets, you will know which ones are pet friendly. It is a good idea to keep the name and phone numbers in your emergency kit, or in your phone notes. That way, you can call ahead to secure a reservation if needed.
If you will not evacuate, do you have enough supplies at your home?
On top of your diabetes supplies, you need general survival supplies if you plan to stay in your home. You will need enough water for every person in the house. Generally, count on needing 36 ounces per person per day. You will need flashlights, non-perishable food, and a whole list of other disaster supplies (check list of supplies here) that you might need if you were to be in a disaster situation.
We won't get into general disaster preparedness items much here. There is a list of things to place in your basic emergency kits at www.ready.gov .
We will concentrate on the diabetes-specific aspects of preparing for a disaster, as there are many resources for general disaster preparedness out there. It's when you have the added need of preparing for the possibility of losing needed services that may keep you alive during a disaster that preparedness takes on a whole new realm.
Will your home be secure during a storm?
You need to consider if your home is in a flood zone, or in an area to experience high impact from a disaster. A mobile home or trailer is not a safe place to stay during a hurricane, tornado, or other severe weather.
In the case of seeking shelter from a storm in your own home, stay only if your home is built to take the impact expected, and consider moving to a shelter if you are not sure if you will be safe in your own home during a disaster.
Do you have a shelter plan if you can't stay in your home?
If you decide to leave your home for a shelter, consider what type of shelter you would need. Do you have pets? If so, there are Red Cross shelters that take pets, but the pets have to be up-to-date on all shots.
Your pet will not be allowed to stay in the area of the shelter where you are located. They will be housed in kennels in a separate area, and you may need to bring your pet's kennel with you. Pet shelters fill up fast, so plans to head there should be made quickly.
A regular Red Cross shelter is staffed with a Red Cross volunteer, a nurse (usually from the local health department), and a social services person (usually from the Department of Social Services). The nurse is there to assist with check-in, triage emergencies, and help with general running of the shelter.
The nurse is not there to provide wound care, assist people to the bathroom, or generally provide patient care. The person entering the shelter with individual needs that they can't meet themselves should bring their caregiver with them.
If your special medical needs are great, a special needs shelter is usually set up in a local hospital or nursing home, where more care can be provided than in the general shelter situation. If you are on oxygen, generally they will have a hook up for that at the special medical needs shelter. Ventilator patients also go the special medical needs shelter, and these shelters always have a generator back-up.
Should I go to a regular Red Cross shelter, or a Special Medical Needs shelter?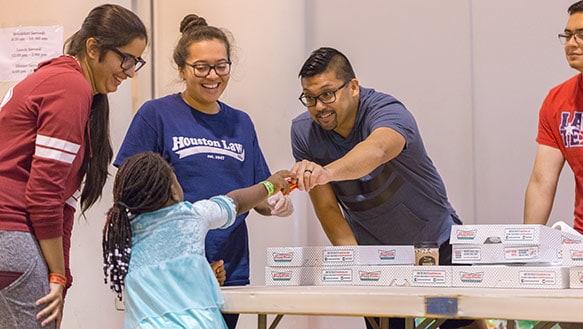 Which kind of shelter you should go to is based on your individual medical needs.
Do you have a home health nurse,
use a walker,
use oxygen,
or need assistance to get to the bathroom?
Do you require wound care or IV medication?
If you answered, "Yes," to any of these questions, then it's likely that you will go to a special medical needs shelter.
As a nurse working in Red Cross and Special Medical Needs shelters, I have had to send many a person from the Red Cross shelter to the Special Medical Needs shelter. People who are loaded down with oxygen, medical equipment, and who are trying to navigate the mass confusion that can become the gym floor in a regular Red Cross shelter, are sent out to Medical Special Needs shelters.
Conversely, if someone who is ambulatory, and can take care of their needs on their own shows up to the Special Medical Needs shelter, they will likely be routed back to the regular Red Cross shelter. That's why it's good to know where you are going ahead of time. It eases the confusion on the shelter end of things, and on your end.
Your home health nurse, or any community service provider, can help you make a comprehensive disaster plan, and get you on your county's special medical needs roster ahead of time. This will reserve your spot, and also provides your medical orders up front. People planning the shelter can then see the needs of possible shelter inhabitants, and plan accordingly.
If you can do most everything for yourself, you will likely go to the regular Red Cross shelter. Your careful planning ahead of time ensure that you are more relaxed, and able to handle the situation. Deciding where you will go ahead of time is part of that plan.
Going to a regular Red Cross shelter
If you can take care of yourself and your medical needs, you can and should go to a regular Red Cross shelter, and leave the special medical needs slots for those who really need it.
You will take your basic toiletries with you, any medications for your diabetes, supplies for your diabetes, and lists of your medications with you to the Red Cross shelter. Generally, these are located in schools with generators, and running cafeterias.
There will be someone from law enforcement at the shelter to ensure order. There are a limited amount of cots, so if you have a cot, or blow up mattress, take it with you. You will likely be sleeping in the gymnasium, with many other people around you.
You will want to take measures to protect your valuables in this communal-type situation. You may want to take some snacks and drinks, you will need your own blankets and pillows, and something to entertain yourself. It can get quite boring in a shelter, waiting for a disaster to pass.
There is usually a cafeteria in the school that is run by school personnel who are called in to cook for the shelter. If there is no cafeteria, the Red Cross arranges for food to be brought in. I have been in shelter situations where our shelter was forgotten on the evening meal delivery route, and no one got food.
You will need to have some quick carbohydrates for a low blood sugar, and water for adequate hydration in case of a high blood sugar. Keeping enough snacks for several small meals is a good idea, since you never know when you might have to skip a meal during a disaster situation.
Going to a Medical Special Needs shelter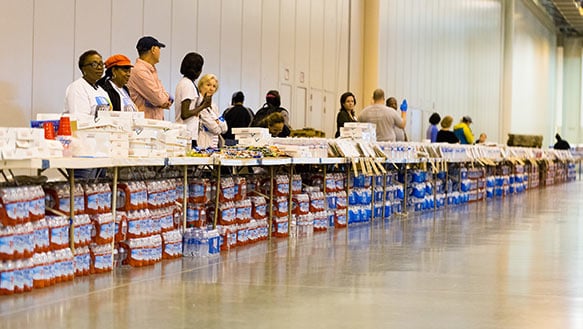 If you have some concerns about staying in a regular Red Cross shelter, and particularly if you have medical needs that are met by other people, you are likely a better candidate for a Special Medical Needs shelter. The shelters that I have worked in provide for oxygen hook-ups, a generator for medical equipment, and basic needs shelter, including food.
Still, you want to take snacks and water with you, your list of medications and doctor's orders for any wound care. Take your wound care supplies. If you have any medical treatments, such as ostomy, supra-pubic catheters, or intravenous supplies and medication that you were receiving through home health, take all of the needed supplies with you. There may or may not be a nursing assistant to help with getting to the bathroom, or toileting.
Cots may still be lining the halls of a hospital department, or you may get a private room with an adjoining bathroom, as when the shelter is part of a nursing home. You will still take your caregiver with you. In a disaster, staff is there to see to general running of the shelter, and not individual medical needs.
Take all of your diabetes supplies with you to either shelter
Don't forget to take all of your diabetes supplies with you to either shelter that you end up at. They will likely not have medications on hand, or syringes, cleaning supplies, and the like. Pack some hand sanitizer, and alcohol pads in your emergency diabetes kit. Take plenty of syringes, pump sets, insulin, and oral medications. Don't be caught short in the shelter!
What did we learn from Hurricane Matthew?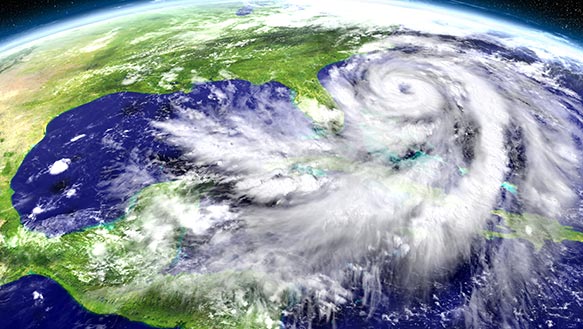 This is everything we know from Hurricane Matthew's impact.
What if I am caught short on diabetes supplies or I lose everything in a disaster?
During our last hurricane, Matthew in 2016, and in the weeks following it, we had historic flooding in our county. People came to the shelter after their homes, cars, and modes of communication such as cell phones, were ruined in the flood waters.
In this case, we had to get them linked with every service. Many people were left with nothing, including diabetes supplies and medications, clothing, and toiletries.
Both regular Red Cross shelters and Medical Special Needs shelters, are staffed with personnel to assist with resource finding, including replacement of clothing and personal items, assistance with federal disaster relief funds, food stamps, housing, and more, is offered to shelter clients.
Make your needs known to the social worker in the shelter, and they will be able to assist you with linkage to needed resources for after the disaster has passed. Red Cross often puts of families in hotels or other temporary housing following disasters. For example, following a fire where all personal items are lost.
A birthday party at the shelter
As homes become destroyed, and life still happens, the shelter can become like home. Volunteers from the community brought in birthday balloons, and a cake big enough for the shelter to enjoy. They even brought wrapped presents, and stayed for the festivities. This family had a tree fall through their home, and were being placed in temporary housing by the Red Cross.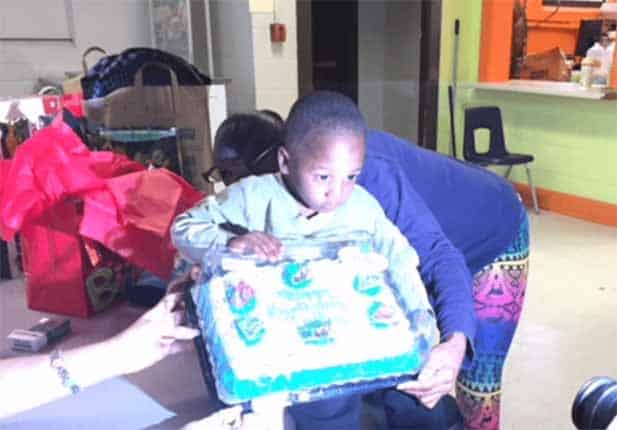 In our shelter following Matthew, we had an outpouring of community interest in donations, so we were able to set up a local church to take the donations for distribution. At first, we had truckloads of water, food, clothing, and household items coming into the shelter, but shelter staff were unable to handle the influx.
As a community comes together, you will see that there is help available. However, needs are great, and North Carolina has still not received federal disaster monies following Hurricane Matthew. Over 16% of shelter inhabitants in the past have been diabetic, so needs are great for this portion of the community to adequately prepare for disasters.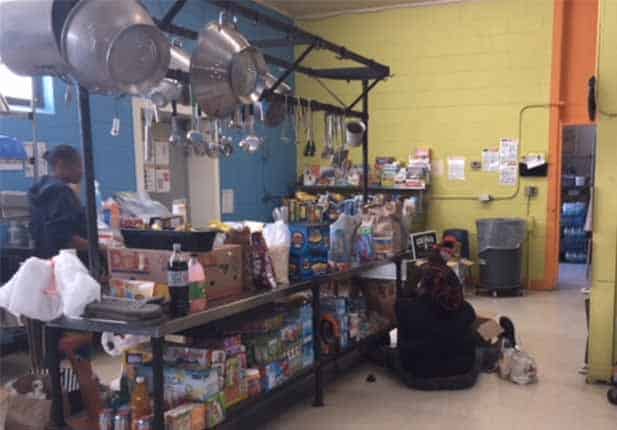 Kenneth's story
Kenneth checked in to the special medical needs shelter for hurricane Floyd in South Carolina by himself. He carried a bag of diabetes wound care supplies and medications. He had a nasty ulcer on the heel of his foot that wasn't healing. He couldn't see it well to dress it himself. He needed assistance in a disaster situation, from the nurse who had no doctor's orders to touch his wounds.
Luckily, the special medical needs shelter was located in the hospital physical therapy department. Kenneth's doctor walked by the glass doors. I ran out into the hall to track him down. He was walking fast. I was brief. "I've got Kenneth in special medical needs, and I need his wound orders." He quickly pulled his prescription pad out, wrote the wound treatment orders down indicating "special medical needs" assistance by nurse. I thanked him, and headed back into the shelter, where I was then covered to dress Kenneth's wounds.
The patient is to come to the medical special needs shelter with doctor's orders for any treatments needed, but Kenneth didn't have his orders when he checked in. In a disaster, as a nurse I have even had a health director to tell me to "throw the rule book in the trash! We're in an emergency!"
The point is, during a disaster, do the best that you can do. Be prepared to take what you might need, and know where it is that you are going. Having a clear plan can make getting assistance for a chronic illness like diabetes during a disaster a lot easier. It will ease the stress of the situation to know that you need only carry out the steps of the plan that you have already made. You have your emergency supplies ready, and things go much smoother.
What if I am already in the midst of a disaster?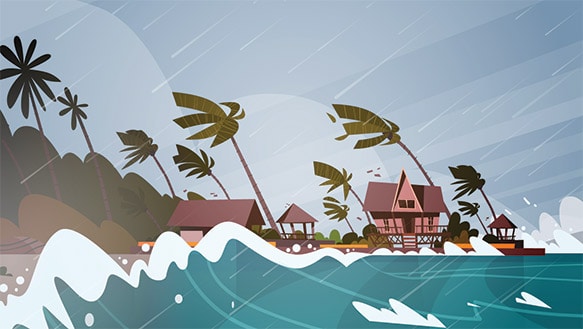 For people in Texas, Florida, and Puerto Rico, there are many in the midst of a disaster, or somewhere in the recovery process. Many in these areas remain without power due to Hurricane Irma, and then Hurricane Maria during this active hurricane season.
In our area in rural coastal North Carolina, there are still people who are recovering from Hurricane Matthew, and the flooding that occurred here. Other larger disasters have shadowed over the damage done from the flooding from Matthew, and North Carolina never got the disaster relief money from FEMA last year.
If you are already in the middle of a crisis, we will try to offer some tips here. They may help you later on when you are in the middle of a disaster situation. They may also help you with your disaster preparedness plan, and give you ideas for emergency items that you may need to deal with diabetes in a crisis situation.
What kind of tips can you give me if I get injured with diabetes in a disaster?
If you are injured during a disaster, and you have diabetes, and you are unable to get to medical care, follow some steps until help arrives. If you are able, and cell service is up, call for help. Wash your hands if you can, and if not, use hand sanitizer before handling open wounds. Pull supplies from your general emergency kit for dressings and wound cleaners, and ointments. If you don't have adequate wound care supplies, use a clean, dry cloth or piece of clean cotton T-shirt or other clothing. Get to help, and medical prompt attention to all wounds as soon as possible if you have diabetes.
Are there diabetes foot care recommendations for a disaster?
Try to pay attention to your feet daily, even during a disaster. If your feet are injured, get medical care as soon as possible. Use hand sanitizing gel when handling wounds if water is not available. If you have to go out after a disaster, wear clothing and shoes that protect you. Make sure you take extra care to check your feet every, single day, and provide first aid from your emergency kit items if necessary.
How long can my insulin stay out and still work during a disaster?
You can leave your insulin pens and vials of insulin (opened or not) out in the open for up to 28 days, provided temperatures are between 59 degrees Fahrenheit and 86 degrees. Extreme temperatures of heat and cold should be avoided, and any insulin removed from the original vial or packaging should be discarded after two weeks.
In an emergency, you may have to use insulin that has been exposed to extreme temperatures if there is nothing else available. However, don't use insulin that has been frozen, and protect insulin you have against freezing in a cooler. Keep your insulin far away from direct sunlight, or from heating sources.
Replace insulin that has been in a disaster situation, and may have lost its effectiveness due to exposure to extreme temperatures, as soon as you can.
What about insulin pump sets?
Insulin that is left in infusion sets for your insulin pump, or remains in the catheters, should be disposed of within 48 hours. Anytime infusion sets, or catheters are exposed to extremes of temperature, such as heat above 98.6 degrees F, should be disposed of.
What if I run out of insulin, and need to switch insulin type?
You can switch insulins only in a disaster situation where there is no medical professional available to help you. Normally, switching insulin is only done with a healthcare providers prescription and guidance, with close attention paid to blood glucose measurements. If you do use the following recommendations, pay close attention to your blood sugar readings. In a disaster only, you may swap one brand of:
regular insulin unit for unit for another brand of regular insulin (Humulin R, Novolin R)
regular insulin unit for unit for Humalog, Novolog, or Apridra rapid-acting insulin (inject 15 minutes instead of 30 minutes prior to meal)
intermediate-acting insulin unit for unit for Humulin N, Novolin N
intermediate-acting insulin for long-acting insulin (Total Daily Dose, multiplied by 2 – long-acting insulin is
double TDD of intermediate-acting insulin)
long-acting insulin for intermediate-acting insulin (Total Daily Dose, divided by 2 – intermediate insulin given in 2 doses)
closely monitor blood sugars, especially for hypoglycemia (low blood sugar) soon after switching insulins
What about switching insulin during a disaster if I use a mixed insulin?
Mixed insulins have intermediate-acting insulin in them, and they also have either short or rapid-acting insulin in them. If you have a 70/30 mix, then the first number is the intermediate acting insulin percentage (70), and the second number is the percentage of either short or rapid-acting insulin in the mix (30)
You will either substitute with another brand of the same mix, or you will substitute with another insulin. In an emergency, it is ok to substitute the following mixed insulins on a unit-by-unit basis:
Humulin 70/30
Humalog Mix 75/25
Novolin 70/30
NovoLog Mix 70
Here, also, care must be taken to inject 15 minutes prior to a meal, instead of the usual 30 minutes, to avoid a low blood sugar.

When there is no insulin mix available in a disaster
Follow these two steps if you cannot find an insulin mix to substitute during a disaster situation:
Swap an intermediate acting insulin, and give 70% of the units for each dose
Swap a long acting insulin (add up Total Daily Dose, and give 70% of TDD)
If rapid-acting or regular insulin is obtainable, (use before meals as 30% of Total Daily Dose of pre-mixed insulin, and combined with intermediate or long-acting insulin on a unit-by-unit swap)
You will need to inject the short and longer acting insulins separately. This is one drawback, but the idea is that this would only be done in an emergency situation.
What if I run out of insulin for my insulin pump, and need to switch insulin during a disaster?
During a disaster, it's possible if it takes a long time, even weeks, for emergency personnel to get to you, can you switch out the type of insulin you use in your insulin pump? It's never a good idea to switch insulin types without medical supervision, but sometimes, during disasters, we must improvise to survive.
If you must switch the type of insulin in your pump, closely monitor your blood sugar results, and follow these guidelines:
Swap rapid-acting insulin (ex: Novolog, Humalog, Apidra) on a unit-by-unit basis (make sure your device doesn't malfunction if you do this, see your manual).
What if something happens to my insulin pump, and I need to switch to injections of insulin?
If your insulin pump infuses your basal insulin at a rate of 1 unit per hour, then your total daily basal dose is 24 units. You can swap intermediate or long-acting insulin on a unit-by-unit basis. For the example, with intermediate-acting insulin, the 24 units per day would be divided into two equal doses of 12 units for injection.
For the long-acting basal insulin, the 24 units would be given in one injection, usually at night.
Bolus doses can be swapped for unit-for-unit for regular or rapid-acting insulin before meals. If your bolus dose is 4 units on an insulin pump, then you can inject yourself with 4 units of bolus insulin 15 minutes prior to your meal.

What if I am a dialysis or transplant patient with diabetes in a disaster?
Dialysis and transplant resources are complex, and a disaster just magnifies it. For more information on how to find out if your dialysis center will be open during a disaster, how to find resources for kidney dialysis and transplant patients during a disaster, please refer to the comprehensive information here: https://www.kidney.org/help

Will my blood glucose meter work right during a disaster?
Your blood glucose meter could act up during a disaster, especially if there is heat and moisture present. It can affect your test results, keep your test strips stored in the air-tight container that they came in. Make sure to check your meter for quality control based on the manufacturer's recommendations. Store the meter and test strips also per the directions.
Wipe off your glucometer with a soft cloth after each use, and keep it from the direct sun. Keep an extra glucometer and supplies, and batteries, in case your primary machine is damaged. When preparing for an eminent disaster, pack all machines and supplies in airtight, floating containers.
What about general disaster preparedness tips?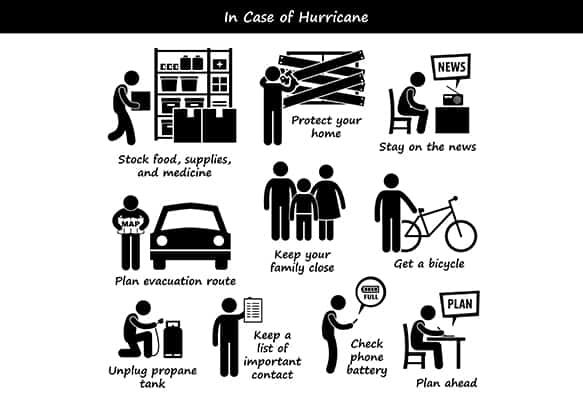 To prepare for any disaster or emergency, it is recommended that all people with diabetes have a medical identification. This will serve to alert those who may provide medical care, or anyone who may help them if they are injured in the wake of a disaster. It could be a medical bracelet, necklace, or even a tattoo (don't get a tattoo unless your A1C is below 7%, and speak with your healthcare provider first!) However you choose to identify yourself as a person with diabetes, it should be clear to anyone that you have this diagnosis when they begin to provide medical care. Some people prefer to set an alert on their iPhone or cell phone. There are apps for that, so search your play store.
Stay current on all needed vaccinations, including tetanus.
How will I keep my water safe to drink in a disaster?
It's important to plan for enough drinking water in case of a disaster. If power is out, there will be no water. A body under stress may experience high blood sugars, and dehydration. If there is not enough water, this can precipitate diabetic ketoacidosis.
You also want to keep some diet and sugar containing sodas, which should store well. In the event of a low blood sugar, you will have some quick carbohydrates, and some fluids. Glucose tablets or other non-perishable candy for a low blood sugar should also be packed into the emergency kit.
If water becomes contaminated, boiling may be possible. As you prepare your general emergency kit, outlined on www.ready.gov, remember to include a propane stove, and propane tanks to use for fuel in the case of a need to boil water that is contaminated. You can also use it to cook canned foods, and meats from your freezer before they go bad in case of a power outage.
A word about blood sugars and disasters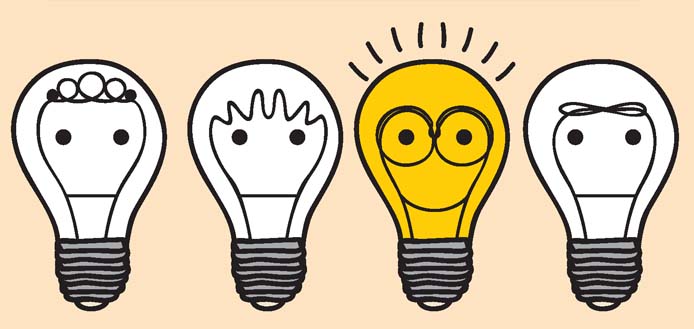 Blood sugars tend to go high under the stress of disaster situations. Diabetic ketoacidosis and infection rates for people with diabetes are higher during disasters. Emergency visits increase for high blood sugar, and for medication refills, as medications get left or lost.
Stress, worry over lack of access to healthcare needs, insulin or other diabetes medications, healthy foods, clean water and poor sanitation, all contribute to the decline of good control over diabetes during a disaster situations.
Over to you
Now that you know how to better prepare for a disaster with diabetes, and how to deal with disaster if you are in the middle of one, let's not forget our local, state, and federal personnel. They are working long hours in a disaster to assist everyone, not just those with diabetes. The better prepared you can be, and the more that you can listen to your local authorities, the better you will fare. If the governor issues an evacuation for your area, get out. Don't stay and ride out a category 5 hurricane, for instance.
Let us know how this article has helped you or may help you in the future as you plan for a disaster or deal with one in the future. If we left anything that you would like to see out, let us know in the comment box below. Shelters can further complicate these problems by resulting in lack of sleep, and crowded conditions leading to increased anxiety.