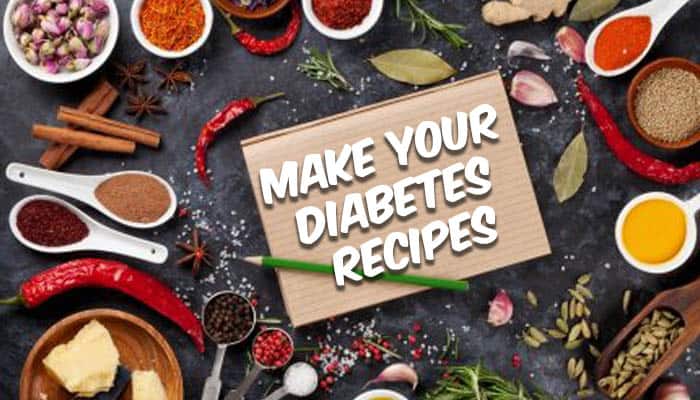 It's the most wonderful time of the year! Or, is it? Do you have diabetes and are worried about your glucose control? Are you depressed about missing out on your favorite family foods? Do you feel like you must avoid the holiday parties or sacrifice your blood sugar? Do you stress out just thinking about the carbs in your grandma's stuffing?
Have no fear! This resource will help you find ways to create your own diabetes friendly recipes to enjoy during this season. And, the skills you develop can be incorporated throughout the rest of the year. We will take a carb-heavy holiday recipe and modify it to make it friendlier to someone watching their glucose control, WITHOUT sacrificing taste.

Many recipe modifying strategies simply focus on fat. They substitute:
high-fat sour cream
cream cheese
mayonnaise
whole milk
or full-fat cheese with the low-fat versions. Sometimes the substitutes work well. Other times, the final product lacks heartiness, texture and flavor. Some low-fat substitutes use carbohydrate containing ingredients, which is not what someone with diabetes needs.
On the other hand, certain low-carb ingredients can be used with success. Lower carbohydrate pastas and flours substituted for traditional varieties allow the person with diabetes to enjoy pasta based entrees and side dishes.
For more informative articles see the following:
Here are some additional successful swaps:
Greek yogurt is an excellent substitute for sour cream, saving fat and carbohydrates. Swap is 1-to-1. (1 tablespoon sour cream = 1 tablespoon Greek yogurt). Works best in sauces, dips, condiments, and in some baked goods.
Cottage cheese or plain yogurt substitutes in salad dressing for sour cream very well. Pureeing the cottage cheese will create a rich equivalent for your favorite dips as well. Now your favorite spinach artichoke dip is within your reach! Dipping with veggie sticks in place of crackers is delicious.
Spaghetti squash can be used with your favorite sauces, from pesto to creamy tomato sauce, in place of pasta. If you haven't tried this, it is worth your time to give it a whirl. Significantly lower in carbohydrate than traditional pasta.
Zoodles (or zucchini noodles) are all the rage right now, and can be used as the base for many of your favorite pasta dishes. Not ready to take the zoodle plunge? Try half-zoodle and half-pasta for your meal, saving you nearly half of the carbohydrates.
Fruit spreads are a delicious and lower-sugar substitute for jams and jellies.
Cauliflower rice makes a very low carbohydrate and calorie base for entrees or side dishes.
Mashed cauliflower with garlic, milk and little butter make a tasty substitute for mashed potatoes.
Reducing high-carbohydrate ingredients in your recipe and increasing the non-starchy vegetables can reduce overall carbohydrate content while increasing fiber. This rarely sacrifices flavor and has the additional benefit of satiety due to the high fiber content.
Examples of this strategy:
Reduce the bread or cornbread in your stuffing recipe. Increase the celery, onions, bell peppers, mushrooms and carrots.
Reduce the pasta in your main entrée. Increase the veggies and protein served with the pasta.
Reduce the potatoes in your hash browns, fritters or side dish. Increase the shredded squash, onion, zucchini, or carrots. The final dish will be loaded with color and rich in nutrients.
What about baked goods?
Truthfully, many recipes will survive a significant reduction in sugar content. Try reducing by 30-50% and determine if the final product still meets your standards for taste, texture and satisfaction. Check out the table below for help on how much you can reduce the sugar.
Suggested Sugar Reductions in Baked Goods
Recipe Calls For…..
Try This Instead….
½ cup
¼ to 1/3 cup
1 cup
1/3 to ½ cup
1-1/2 cup
¾ to 1 cup
2 cups
1 to 1-1/2 cup
2-1/2 cups
1-1/4 to 1-3/4 cup
3 cups
1-1/2 to 2 cups
Certain sugar substitutes come in granulated form and can be substituted for white or brown sugar with a major reduction in carbohydrates. Not all sugar substitutes work this way, so be sure to read the package carefully. Splenda and Sugar Twin are both available as white and brown granulated sugar. Both can be used in a 1-to-1 ratio equivalent substitute for regular sugar.
Both can withstand heating and prolonged cooking without chemically altered taste or texture. Stevia is another sugar substitute, originating from a plant source and gaining in popularity. It can be used in cooking and baking, but has a different substitution ratio. Read package directions carefully to obtain the optimal amount needed.
Agave syrup, pure maple syrup and honey are often touted as healthier substitutes for regular sugars. However, they will still affect your glucose levels. Amounts need to be included in your carbohydrate count or used sparingly if your glycemic control is not at goal.
Truth be told – most baked goods contain a significant amount of carbohydrate and should be limited. Enjoy a few bites, but include the carbohydrates in your count so that you aren't sacrificing your blood sugar.
More Tips:
Make your own tomato marinara sauce instead of using the jarred variety. Most store-bought varieties contain a significant amount of sugar.
Homemade salsa not only tastes fresher and yummier than store-bought, you can guarantee that unnecessary additional sugar is not included.
Salad dressings, teriyaki and barbecue sauces made from scratch take only a few minutes, but include the assurance that no extra hidden sugars are in your dish.
Enjoy this holiday season and delight in cooking all year round by taking a few extra planning steps and reducing the carbohydrates in your meal plan. Remember portion control is the key to controlling your blood glucose. During the holidays, prioritize your carbohydrates. If mashed potatoes are your favorite – eat a small amount and savor every bite. If your grandma's stuffing is your favorite food and you only get to relish it once a year – eat it mindfully and enjoy every minute. Ensuring that your intake of high carbohydrate foods is under control will in turn control your glucose and maintain a healthier lifestyle for years to come.