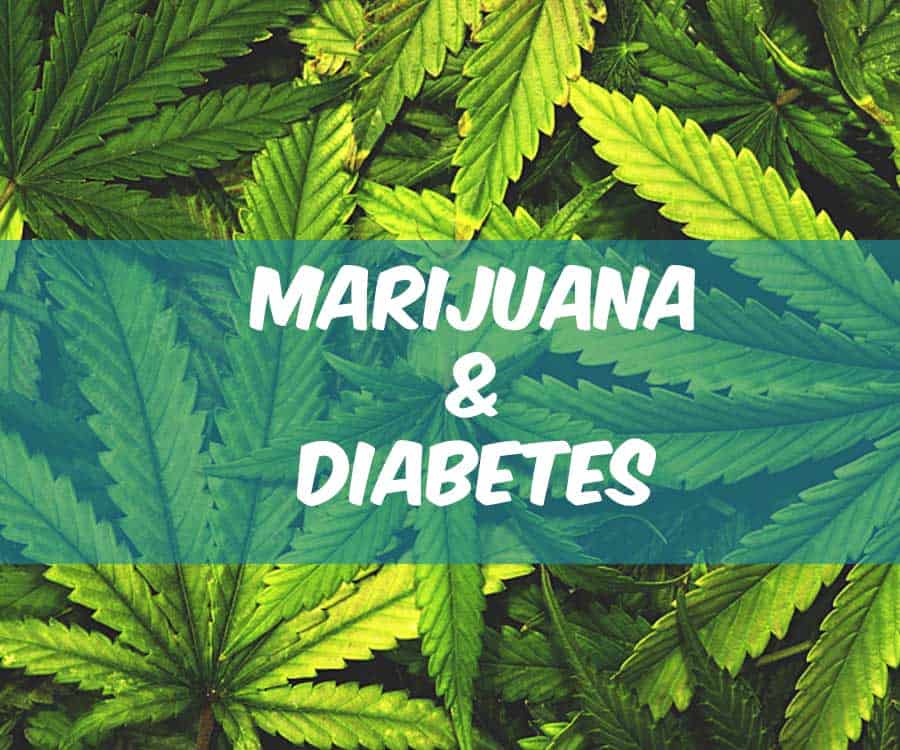 Marijuana is currently legal for medical use in 28 American states and the District of Columbia. There are increasing evidence to support the claims that the Cannabis plant offers many potential medicinal properties for a wide number of diseases and disorders. Although we know that marijuana can be helpful in treating nervous disorders, little research is available on its other healing properties because of the law against using the herb for medicinal use.

Because of the regulations and the stigma against marijuana, the opinions are biased. But the early research looks promising between the relationship between marijuana and the metabolic processes of the body is still in a relatively new research phase. Of the many research done on various health problems, one of the newest claims is that marijuana can help prevent diabetes, help treat diabetes, and treat certain complications as a result of diabetes. To clear the stigma about marijuana, this article will cover these following topics:
What is Marijuana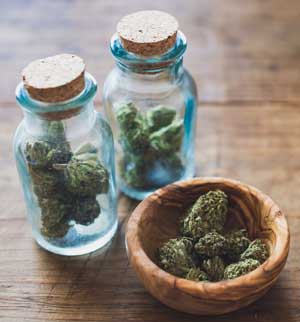 Marijuana has numerous of nicknames throughout the years. Amongst all the names, it is most commonly known as weed, pot, ganja, Mary Jane, hemp, and Cannabis. It is actually the female flower buds of the plant Cannabis sativa, Cannabis indica, or a hybrid of both strains (the male flower buds have very minimal psychedelic chemicals if not none). Of the 483 known compounds in the plant, there are 86 canninoid chemicals identified. Of the 86 chemicals, the main psychoactive pharmacological chemical is called tetrahydrocannabinol (THC). Other cannabinoid chemicals found are cannabidiol (CBD), cannabinol (CBN), cannabaravin (THCV), cannabichromene (CBC), cannabigerol (CBG), and cannbicyclol (CBL). All these cannabinoid chemicals are known to also have psychoactive and pharmacological properties. Because THC and CBD are the chemicals of interest to most marijuana users, the potency of the herb is typically measured in THC and CBD concentrations. Although these chemicals are found in the whole plant (less than 0.5% for inactive hemp and 2 to 3% for marijuana leaves), the female Cannabis flower bud glands (4 to 20% concentration) is where the chemicals are the strongest and provides the most psychoactive euphoria effect.
I advise you to read the following:
Chemicals of Interest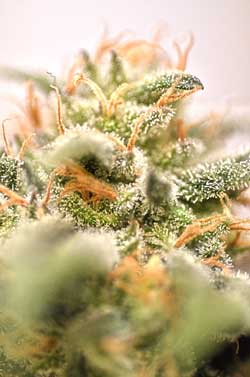 What is interesting about the cannabinoids is that because of their high lipid-soluble ability, they can stay within the body for an extended amount of time. Even though the THC is broken down in the liver into THC-COOH (the chemical urine test detects), the chemical can stay within the body for 4 days for occasional users and 67 days for extreme chronic users. There are a number of researchers that have suggested that perhaps this special ability allows Cannabis to effectively treat so many health problems because it can readily be absorbed into the lipid membranes of neurons and other body cells.
THC:
Also known as tetrahydrocannabinol, THC is mostly responsible for the marijuana's psychological effects. Because cannabinoid receptors (the CB1 receptors and CB2 cannabinoid receptors) are mostly found in brain regions that are responsible for pleasure, coordination, time perception, memory, and thinking, these regions are activated when THC attaches to the receptors to create the euphoric feeling and the coordination impairment. Some other short-term side effects are hallucination, tachyarrhythmia, anxiety attack, and short-term memory impairment. On the other hand, THC has been shown to increase the dopamine release, and have powerful pain relief and sedation properties. It has also been shown to increase appetite and prevent nausea and vomiting. At the same time, its interaction with CB1 receptors has shown to increase metabolism and promote weight loss.
CBD:
This is the second most common cannabinoid found in many strains of Cannabis. As a matter of fact, there are certain strains of which the concentration of CBD is much higher than THC. In some rare strains, the ratio between the two cannabinoid is so drastic that there is only traces of THC concentration yet the CBD concentration is extremely high. Unlike THC, CBD has very little (if not none) psychoactive effects. The CBD chemical has shown to have anti-psychotic properties which balance out the anxiety and panic attack effects of THC chemical. It has also been demonstrated to improve wakefulness and work together with THC to suppress pain and spasticity in muscle cells. When CBD is taken by itself, CBD has been proven to be anti-epileptic, anti-inflammatory, and anti-anxiety. It can be used as a sedative and contains neuro-protective abilities to protect neurons and brain cells from various damage. Moreover, it also has powerful anti-aging properties for skin cells.
CBN:
The third most common cannabinoid. It is actually a byproduct from the THC chemical breakdown. It has very little psychoactive and medicinal effects. It is commonly found in poorly preserved marijuana that has been kept in hot temperature.
THCA:
Although many articles have stated that THC is the most prevalent chemical found in the Cannabis buds, it actually exist as in the acidic form THC acid (also known as THCA). High heat is needed in order to convert THCA into the psychoactive THC form. Even though it is not psychoactive, THCA has been found to have immune-modulatory properties similar to the other cannabinoids.
THCV:
Also known as tetrahydrocannabivarin. Although it is chemically very similar to THC, THCV is an appetite suppressant and anti-convulsive chemical. Even though it is psychoactive, its effect if more clear-head euphoric effect similar to CBD high ratio strains.
Why Is So Little Known About Marijuana's Benefits?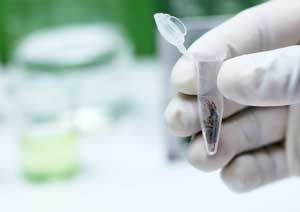 There has been documented evidence throughout history on the medicinal benefits of Cannabis. Queen Victoria used Cannabis as a pain relief for menstrual cramps; George Washington used it to alleviate toothaches; John. F. Kennedy inhaled Cannabis to relieve back pain; and Chinese medicine has documented using Cannabis to treat various pain problems such as gout and rheumatoid aches as well as a sedation for surgeries (Current Chinese medicine pharmacies still sell a weak hemp drink during summertime to prevent heatstroke and stimulate appetite). Yet, ever since Cannabis was been banned as an illegal drug in 1938, scientific research ceased in the United States until recent years with the changing regulations towards medicinal usage of Cannabis and research. As a result, many past research have been done on correlation studies based on individuals who have other illegal substance abuse problems or other confounding factors that simply cannot isolate the cause-and-effect findings. Consequently, the results are biased towards the negative effects of Cannabis. However, with the increasing amount of treatment studies done by hospitals and health science research laboratories all around the world by countries that have legalized marijuana, more and more benefits of the herb has finally come to light.
Type of Marijuana: Sativa, Indica, and Hybrid
You may have heard about Cannabis indica, Cannabis sativa, or Cannabis hybrid on the news and information articles. Even though all these species of Cannabis are counted as marijuana, they differ slightly in several ways. The first being appearance.
The sativa plants tend to have longer, narrow leaves whereas the indica plants tend to have fatter, broader leaves. And because hybrids are a crossbreed between indica and sativa plants, the appearance can vary from strain to strain depending on the genetic makeup.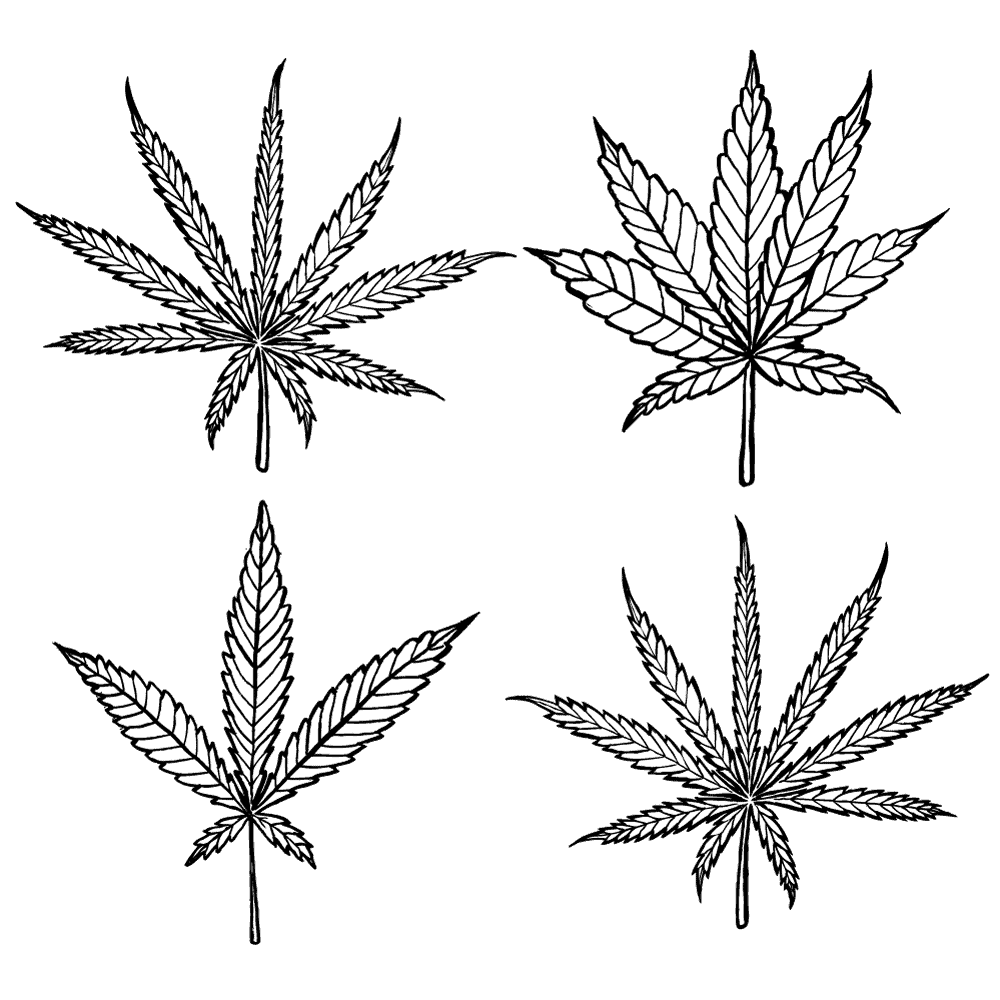 Beside the appearance, indica and sativa plants are commonly believed to have different effects on their user. These effects include:
 

| Indica | Sativa |
| --- | --- |
|  Relaxing, calming, pain numbing | Energizing, uplifting, and thought-inducing |
|  Body buzz similar to consuming alcohol | Hallucinogenic, intellectual stimulating, and lightheadedness |
|  Sleep inducing | Best for day use |
|  Best for night use | |
However, there are actually no scientific studies to confirm these body effect differences and accuracy between the two species of Cannabis. These are solely based on the personal opinion of marijuana users in general. In fact, history suggests a much simpler difference between indica and sativa. According to the original classification, Cannabis indica was named by the biologist Jean-Baptiste Lamarck. He observed that the Cannabis plants from India appear different from the Cannabis plants in Europe. To separate the two species, he labeled Cannabis indica for the Cannabis in India and sativa for the Cannabis in Europe. Although, at one point in history, the indica plants may have a higher THC content and the sativa plant may have a higher CBD content, the mixing of gene pools in the strain breeding process has produced many plants that have varying amounts of both CBD and THC chemicals. In the current Cannabis gene pool, you may find certain sativa strains that are rich in THC and indica strains that have low THC content.
In today's products, indica strains are usually ones that have a high THC to low CBD content ratio, sativa strains are usually plants that have a high CBD content to low THC content ratio, and hybrid strains are usually plants that have a relatively 50:50 ratio of THC to CBD contents. The strains you hear from movies to pop-culture articles are actually just the results from mixed breeding of the two species of Cannabis. Even within a specific strain of Cannabis, you can still find variation of the cannabinoid contents due to the heredity combination as expressed by the female plants.
So how can consumers find the right strain for their needs? To solve that problem, a lot of the products ranging from dried flower to concentrates to edibles will indicate the amount of THC and CBD contents so that consumers can pick out the products that match their needs. For example, an individual can pick a product that is higher in THC for pain relief and sleep apnea purposes, while another individual can opt for a product that is higher in CBD for treating depression. Some people may even choose a hybrid product to help with pain management but still want an uplifting sensation without the sleepy after-effect.
Cannabis and the Endocannabinoid System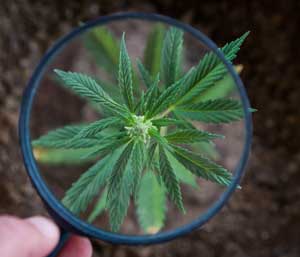 One unique factor that separates Cannabis from other illegal drugs is that the human body is equipped with an innate brain system that reacts to the THC and CBD enzymes. This system is called endocannabinoid system (also known as EC system); it is responsible for many body functions which includes cognition, emotions, motor coordination and movements, appetite, and reaction to responses. And unlike other illegal chemicals that creates active damages to the neural receptors (for example, LSD literally burns a hole in the brain by damaging neurons and brain cells that can be shown in x-rays photos), the cannabinoids are natural and have no physical damage to the human brain and body. In fact, human breast milk naturally contains many of the same cannabinoids found in Cannabis. These chemicals are actually extremely crucial for development such as induce nutrition intake, stimulate brain cell formation, and protect body cells from harmful bacteria, virus, and even cancer formation.
Importance of Cannabidiol (CBD)
In the past, the THC cannabinoid enzyme has been the focused in many health studies concerning marijuana. Although THC is known to have some healing properties, recent studies have shown that it is the cannabidiol enzyme (CBD) and its precursor enzyme CBDa (CBD exists as CBDa before the heating or extraction process) that carries much more medicinal value for many diseases ranging from psychological disorders, neuroprotective effects, rejuvenating properties, to anti-cancer healing abilities.
Can Cannabis Help Manage Diabetes?
Direct Benefits for Type 2 Diabetic Patients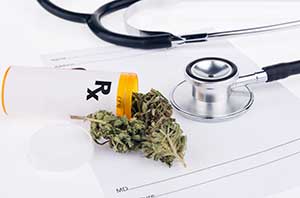 Cannabis is very well known for the unstoppable 'Munchies' urge it induces. Most people would think that an increased caloric intake would result in a higher BMI. It would also be logical to assume that marijuana users tend to be overweight and prone to diabetes. Surprisingly, these two assumptions do not seem to apply to marijuana users. In order to determine whether or not the assumptions stand, an early medical correlation study was conducted to examine the effects of Cannabis use on blood glucose level and insulin level. In the study, 579 subjects out of 4657 total participants were marijuana users. These 579 participants showed a lower tendency to have diabetes than non-marijuana users. What is even more intriguing is that the Cannabis users exhibit 16 % lower levels of fasting insulin and 17 % lower insulin resistance than subjects who do not use Cannabis. The marijuana users were also found to have lower waist circumference and higher levels of high-density lipoprotein cholesterol (commonly named as the "good cholesterol"). This discovery answers how exactly Cannabis can benefit type 2 diabetic and pre-diabetic individuals.
For individuals who suffer from obesity and type 2 diabetes, endocannabinoid imbalance may be one of the reason why certain people have a hard time losing weight. It has been found that the endocannabinoid system has a role in regulating energy homeostasis especially in the intra-abdominal adipose tissue. When the endocannabinoid system is over-regulated, it may lead to excessive visceral fat accumulation in the stomach area and reduced adiponectin release from the tissue. Adiponectin is a protein that is responsible for regulating glucose levels and fatty acid breakdown. The decreasing amount of adiponectin in the body can lead to insulin insensitivity and increases the chance of developing type 2 diabetes. This chain reaction can turn into a vicious cycle of insulin resistance, further endocannabinoid system activation, greater increase in appetite and food-seeking behavior, and additional body weight and fat gain.
Unlike THC that creates the munchies effect, CBD can help to suppress appetite and help individuals to re-balance the endocannabinoid system by increasing the fat breakdown, increase the mitochondria activities and promote metabolism, and decrease fat storage. In a way, CBD changes the white-colored fat storage cells to beige-colored fat cells for energy making. So not only is the fat much easier to be burned off, the beige-colored fat cells also improve glucose tolerance by decreasing insulin resistance in the muscle and liver cells. Although it may not completely treat diabetes, CBD can alleviate the condition so that diabetic individuals can suffer from less blood glucose fluctuation and manage their blood glucose level with less medication.
Another factor that CBD is a suitable treatment option for type 2 diabetes is that insulin resistance is a great contribution to the disease. The anti-inflammatory ability can improve the body's sugar metabolism, suppress the short inflammation reaction to sugar ingestion, and provide many other health benefits to prevent complications that result from type 2 diabetes.
Aside from CBD, THCV can also be a weight loss aide for type 2 diabetes individuals who are obese and need to lose weight to better control their blood glucose level and prevent complications from arising.
Direct Benefits for Type 1 Diabetic Patients
The researchers demonstrated the potential of (CBD) to reduce the occurrence and delay the onset of Type 1 diabetes. It was found that CBD exhibits anti-autoimmune abilities. Even though some non-specific immunosuppression medication have shown to be successful in preventing diabetes, they are not an ideal alternative. Suppressing the immune system in a general fashion for an extended amount of time would present a dangerous treatment. Moreover, these drugs indicated to be working only temporarily in the clinic until resistance was acquired. The marijuana and diabetes research is a lot more promising. In fact, clinical studies have shown that CBD can save insulin-forming cells from damage so that normal glucose metabolism can occur. At the moment, scientists have successfully use CBD to reverse the auto-immune disease in mice that suffer from early stage of type 1 diabetes. They are in test trials to transfer this knowledge into treatments for human patients so that CBD can be a cure for type 1 diabetes.
Although Cannabis cannot cure type 1 diabetes currently, the THC enzyme can suppress the autoimmune attacks so that less insulin is needed to lower the blood glucose levels. At the same time, CBD has found to reduce the inflammation of pancreatic cells and THCV has shown to improve glucose tolerance and increase insulin sensitivity for type 1 diabetic individuals so that there is a possibility that less insulin is needed for the management and the fluctuation of the blood glucose level is more manageable. To confirm these findings, another research was conducted in 2012 where obese rats lost significant weight and experienced an increase in pancreas weight after exposure to organic Cannabis extract. The increase in the weight of the pancreas indicates that the insulin production pancreatic cells (known as beta cells) are protected by the presence of cannabinoids in type 1 diabetes.
For many type 1 diabetes patient, stress and anxiety are a common problem that can aggravate the blood glucose level fluctuation. CBD and THC can help make stress much more manageable while boost the overall energy level.
Direct Benefits for Pre-diabetic Patients
In general, many prediabetic patients have similar problem as type 2 diabetic individuals; they are very likely to suffer from obesity, poor eating habits, and lack of exercise. Diabetes is associated with high levels of fasting insulin and insulin resistance and a low level of high-density lipoprotein cholesterol. A 5-year studies that include 4,657 participants have found that regular Cannabis users have 16% lower fasting insulin levels than individuals who have never used Cannabis. The Cannabis users also have 17% lower levels of insulin resistance and higher levels of high-density lipoprotein cholesterol. These at-risk individuals may benefit from the health benefits offered by Cannabis products. Many research studies have found that the average regular Cannabis users tend to have a lower body mass index (BMI) than non-Cannabis users. They also have a smaller waist circumference than non-Cannabis users. At the same time, they have lesser chance of developing type 2 diabetes than those who do not use Cannabis. This study suggests that Cannabis can not only help control diabetes but also prevent the onset of diabetes.
Benefits for Complication Problems from Diabetes
Insulin Resistance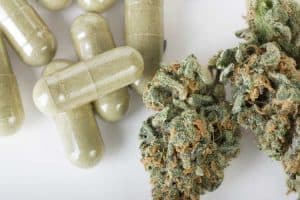 Insulin resistance (IR) is a condition that makes body cells reject the normal functioning of insulin, a pancreatic hormone that is essential to the regulation of glucose metabolism. Type 1 diabetic individuals are unable to produce insulin. Unlike type 1 diabetes, the insulin production is unaffected in type 2 diabetes individuals. However, their body cells are ineffective at processing insulin or are unable to process it. When cells become insulin-resistant, they are incapable to absorb the glucose needed to supply the cells with energy. This reaction causes the unused glucose to build up in the bloodstream. If left untreated, this causes a downward spiral of chain reaction that consequently causes hyperglycemia. A study conducted in 2013 has found that Cannabis users have a mean insulin resistance of 1.8 whereas non-users have a mean of 2.2 insulin resistance. Current cannabis users are also discovered to have lower blood glucose levels compared to past users and non-users. These current Cannabis users have a mean blood glucose levels of 99.7 mg/dL. On the other hand, past users have a mean blood glucose level of 100.6 mg/dL, and past users a mean level of 103.5 mg/dL. These conclusion highly suggest that Cannabis can help suppress insulin resistance and help type 2 diabetic individuals in managing their blood glucose level. However, more research is needed to better understand how exactly does Cannabis help with this problem and whether it is THC, CBD, or other cannabinoids that actively helps in reducing insulin resistance.
Cardiovascular Complications
The American Alliance for Medical Cannabis (AAMC) has suggested that Cannabis has the ability to suppress arterial inflammation and prevent diabetic individuals from developing cardiovascular diseases. The cannabinoids also have the ability to keep blood vessels to dilate so that circulation can be improved in the process. This can be a great prevention for individuals who are prone to swelling of the feet due to poor circulation. It can also help with spider veins, varicose veins, night cramps, restless leg syndrome, blood clots, ankle swelling, lipodermatosclerosis, and panniculitis.
Skin Complications
One of the most common problems that diabetic individuals face is skin sensitivity and irritation complications. The cannabinoid inflammation suppression properties can help with skin inflammation problems. For those who have a tendency to suffer from foot sores, rashes, and other skin irritation problems, Cannabis can alleviate the complications and speed up the healing process. As a matter of fact, several science studies have found THC to be beneficial to skin cancer. Other studies have documented the anti-aging and intense moisturizing properties of cannabinoid. The sedation and pain relief properties can also help alleviate the uncomfortable sensations from the skin irritation. Without constant scratching and rubbing on the irritated area, the skin can heal faster to lessen the chance for further complications.
Neuropathy
Neuropathy refers to nerve damages caused by certain diseases or disorders. It is found in 60 to 70 percent of all individuals with diabetes. To be more specific, there are 4 types of diabetes-related neuropathy:
peripheral neuropathy (nerve damages that are located in the hands, arms, legs and feet),
autonomic neuropathy (nerve damage that affects the nerves that regulate blood pressure, blood glucose levels, and the heart functioning),
focal neuropathy(nerve damage to the head, torso, and legs specifically), and
proximal neuropathy (it is sometimes referred to as diabetic amyotrophy; it is usually concentrated on one side of the body in the hips, thighs, and buttocks regions).
It is simply one of the worst complications for diabetic individuals. Although there are several treatment options available, none of them are sufficient in preventing neuropathy let alone reversing the complications. While opioids and anticonvulsants do work as short-term treatments, they plateau at a 50% efficacy in pain reduction and are associated with severe side effects and addiction problems.
Several studies have shown vaporized Cannabis to reduce pain and slow the advancing nerve damage of all four types of neuropathy. In some types, there was more than a 30 percent improvement without any significant impact on daily functioning or cognitive abilities
The anti-inflammation property does not just stop there. The CBD and THC chemicals can also prevent nerve over-sensitivity and inflammation problems. Some health researchers have also suggested that the cell growth acceleration ability can even reverse the neuropathy damages.
Diabetic Retinopathy
Just like neuropathy, diabetic retinopathy is another common complication that makes life so much more difficult for diabetic individuals. It has been shown in several studies that cannabidiol can work as a multi-tasker to protect the eyes from growing an excess of leaky blood vessels (the number 1 symptom of diabetic retinopathy) and prevent retinal cell death. There are even some researchers who suggest that CBD may even have cell growth ability to reverse the damage done by diabetes.
High Blood Pressure
High blood pressure is often a complication of Type 2 diabetes. Although medical marijuana does lower blood pressure, it also briefly raises heart rate after consumption. As a result, Cannabis is not recommended for those individuals who have pre-existing heart conditions. Having said that, there are medical studies showing that prolonged marijuana users can develop a tolerance for this side-effect and they do not suffer any negative effects from the brief episode of quickened heart rate.
Other Health Benefits
Treatment for Psychological Problems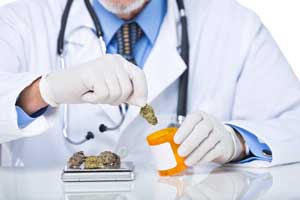 CBD is an effective treatment for mental health disorders such as anxiety, psychosis, and depression. Recent health studies have shown neurogenesis (neural cell growth) is a crucial neurological process that effectively helps to alleviate stress. Similar to exercising, CBD facilitates neuron production. Some of the most well-known strains that have been effective treating with anxiety and stress-alleviation are Cannatonic, Frank Ocean, and Ghost Rider. At the same time, CBD offers an instant energy boost for the stressed individuals. Many high-functioning anxious individuals have found CBD heavy strains to be a new alternative to coffee without the jitteriness. It can also help to alleviate serious social anxiety.
For depressed individuals, the uplifting mood enhancing ability of CBD has known to offer a positive reinforcement so that they can feel better about themselves and their current situation.
Treatment for Epilepsy
Cannabis can be a treatment to prevent seizures in individuals who suffer from severe epilepsy. The cannabinoids have shown to significantly decrease both the severity and frequency of the seizures. In recent years, there have been number of individual cases where Cannabis has been proven to be beneficial to children suffer from severe epilepsy disorder called Dravet's Syndrome. In these cases, the affected children have become much more stabilized after starting a daily CBD concentrated tincture regimen. One of the most famous case is a 5 year old girl named Charlotte Figi who suffers from Dravet syndrome. In this case, a specialized CBD-heavy strain of Cannabis called Charlotte's Web has been bred for her treatment. After the documentary on the case has been broadcasted on television and news article, more children who suffer from similar health problems have started similar cannabinoid therapies and have seen greater improvement in both physical and mental development within short amount of time.
Treatment for Autism
Similar to treating severely epileptic children with CBD oil, children who suffer from severe cases of autism can show great improvement with CBD oil treatment. There have numerous cases where a non-verbal child develops significant verbal skills and exhibit much more social interaction as little as 3 weeks.
Treatment for Cancer and Wasting Syndrome
One of the biggest discovery for Cannabis is that it can be a great treatment for various cancers. The Pacific Medical Center of San Francisco has made an important discovery that CBD is a powerful treatment to stop cancer cell proliferation, metastasis, and growth of tumors. A study done by Sean McAllister of the research center has shown breast cancer show that the number of cancer cells diminished as more CBD was applied. Essentially, CBD may be a generally effective way to switch off the cancer-causing gene, providing patients with a non-toxic therapy to treat aggressive forms of cancer.
There is one exception to the theory that CBD suppresses appetite, but it is a blessing as well. Many people who have difficulty eating due to their stress or anxiety can use CBD to get rid of that sick feeling in their chest or stomach, allowing them to eat again once their anxiety subsides. Science research has shown that Cannabis can reduce vomiting and nausea for patients who are going through chemotherapy. It also helps to improve appetite and promote eating.
Treatment for Post-Traumatic Stress Disorder (PTSD)
Post-traumatic stress disorder is an anxiety condition caused by psychologically disturbing events such as sexual assault, severe accidents, and military combat. Individuals who suffer from PTSD can exhibit a combination of symptoms such as constant flashbacks of the traumatic event, active social isolation, anxiety attacks, insomnia, constant nightmares, depression, and emotional instability. For these problems, CBD can help PTSD individuals to feel less anxious about their situation and feel motivated to carry on their daily activities. The THC enzyme can facilitate a calming effect during the nighttime to allow PTSD individuals to have better sleep without nightmares. Depending on the individuals needs and symptoms, several strains of product may be needed provide sufficient treatment.
Treatment for Weight Loss
Even though Cannabis has known to initiate that "munchies" mode, scientists have noticed that Cannabis users tend to have average healthy weight and in relatively good physical shape. But as explained earlier, not all strains of Cannabis have the "munchies" effect. Although it is true that THC can increase appetite, CBD is known to suppress appetite. Also, further research studies have found that cannabinoids increases metabolism and promote more fat burning. At the same time, CBD is a great encouragement for users to get off the couch and exercise.
Treatment for Patients Who Suffered from Stroke
Research studies done by the University of Nottingham have indicated that Cannabis can help protect brain and neural damage caused by a stroke. By administrating Cannabis extract within short duration after the stroke, the affected area by the stroke has significantly reduce in size. These findings are consistent amongst rats, mice, and monkey test subjects. Further studies in 2012 have revealed that CBD can actively block the glutamate neurotoxin from killing brain cells during and after a stroke. As a matter of fact, CBD has shown to be even more effective than vitamin E and A in blocking the glutamate neural damage. Similarly, this unique property allows CBD to help with individuals who have suffered from concussions and brain trauma. A Harvard Psychiatry department professor Lester Grinspoon has even advocated that NFL football players should be allowed to take marijuana to prevent brain damage from the constant concussion and even avoid the development of Parkinson and Alzheimer's diseases.
Treatment for Glaucoma
Since the early 1970s, health research studies have found that Cannabis lowers the intraocular pressure (IOP) in both normal people and patients who suffer from glaucoma. By decreasing the pressure, the cannabinoids allows less damage to the optic nerve that eventually cause vision loss. At the same time, it helps to alleviate various symptoms that are associated with glaucoma such as eye pain and nausea.
Treatment for Alzheimer's Disease
Since 2006, there has been numerous medical studies that have shown THC to be beneficial in slowing down the amyloid plaque formations that are responsible for Alzheimer's disease. By blocking the neural enzyme that produce the amyloid plaques, Cannabis can greatly decrease the progression of the disease. In even more recent studies, researchers have even indicated that cannabinoids can actually protect individuals from developing Alzheimer's disease because of their anti-inflammatory properties as well as neurogenesis properties.
Treatment for Pain-related Issues
Cannabis has a long history of being used as a pain relief from chronic pain to muscle spasms to menstrual cramps. As a matter of fact, a company backed by actor Whoopi Goldberg is in the works of creating a tampon that is infused with cannabinoid to alleviate menstrual cramps. There are also a wide market of cannabinoid-infused balms and lotions available as a topical pain relief aide. Individuals who are suffering from multiple sclerosis and other auto-immune debilitating conditions (e.g. lupus) can also benefit from the pain relief and anti-inflammatory properties of the THC.
Treatment for Inflammatory Bowel Diseases
Cannabis has also been proven to help with patients who are suffering from inflammatory bowel diseases such as Crohn's disease, collagenous colitis, ulcerative colitis, and lymphocytic colitis. As these diseases stem from inflammation of the inner lining of the digestive tracts, the anti-inflammatory ability of the cannabinoid can drastically provide suppression of the inflammation as well as pain relief for the intense pain associated with the damage. And in the process, the chemicals stop the digestive tracts from being over-stimulated and create more damages from the immune system attacking the inflamed areas.
Treatment for Skin-related Issues
In these few recent years, more and more Cannabis-infused beauty products have come on the market as anti-aging skin products. These balms and lotions can actually be a treatment for skin irritation problems such as hives and rashes, acne (it moisturize the skin while kills off germs and reduce inflammation), and eczema (it suppresses the redness and reduce irritation). As a matter of fact, cannabinoid cream can be used as an after-shave balm to slow down hair growth while calms the freshly-shaven skin from irritation.
Importance of CBD-Rich Strains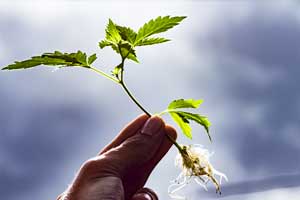 Unfortunately most commercially available indica strains have been selected and bred for their high levels of THC and their psychedelic affects for the past 20 to 30 years. This has resulted in CBD being nearly bred out of the plant — most strains contain less than 1% CBD. And since CBD typically shows up under 1% in most strains, it is sometimes hard to find a plant with equally as low THC percentages as to avoid the 'high' patients experience from THC. However, that does not mean that these CBD-rich strains don't exist! With so many medical discoveries on CBD, growers have realized that there are individuals who would benefit from a high CBD strain with very little THC content. As a result, many growers are now concentrating on CBD-rich strains for their medicinal benefits instead of pursuing gummy THC-covered strains. Consequently, CBD-rich strains are making a comeback. As mentioned earlier, the Charlotte Web strain is a super CBD-rich strain that has only 0.3% THC content. Another popular CBD-rich strain is called ACDC which has only 0.42% of THC content. This strain is a popular for patients who suffer from PTSD, epilepsy, cancer, multiple sclerosis, and autism. Although growers are striving to come up with even better CBD-rich strains, there has been suggestions that a completely no THC strain cannot exist because it plays a role in the plant structure. The evidence can be seen in CBD-rich strains as the plants exhibit very weak stems and require many supports to hold up the plant until harvest. This stem weakness is much more severe in plants that have a lower THC content.
Ways of Consuming Cannabis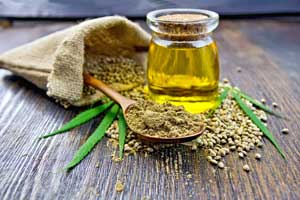 After hearing that there are so many advantages to Cannabis, you may start to wonder if you need to smoke the herb in order receive the benefits. The answer is no. There are numerous ways in which individuals can be medicated without hitting a lighter. Here are a list of ways Cannabis can be consumed:

Smoking
This is the most original and simple method of consuming Cannabis. The most common way is to grind up the dried female flower buds into fine granules, burn the content, and inhale the vaporized smoke containing the cannabinoids through a bong, pipe, paper-wrapped joint, and tobacco-leaf wrapped or cigar wrapping blunts.
For some individuals who want to intake less smoke, they may prefer smoking the Kief. Kief is a refined powder that contains the trichrome of the flower buds along with some leaves and flower residues. And when the residues are all sifted out, this super refined trichrome powder is called hash or hashish.
Dabbing
The hash can be smoked with a bong or it can be "dabbed" using a high heat device called a rig. Usually the hash is further processed into a sticky oil substance called wax (it can also be called shatter, budder, honey oil, and butane hash oil depending on the appearance of the concentrate and the method being used to process the hash) to be burned on the heating device or a vaping pen. This wax is super high in THC and CBD content and should not be used by beginners as the dosage is very high compared to smoking or vaping.
Vaporizer
This method is commonly known as vaping. Like the nicotine vaporizers, the cannabinoids are extracted from the dried flowers into a concentrated oil (often called hash oil) through various methods. This oil is then heated by the heating coil in the vaporizer pen or machine to about 329 to 374F degrees and the oil is turned into a vapor for inhalation.
Tincture
Cannabinoids can be extracted from the flower buds by using alcohol or food-grade glycerin to create a concentrated thick liquid solution. The most famous tincture is called Rick Simpson Oil that is originally produced from only indica strains of Cannabis to treat cancer and tumors. In last few years, rich CBD strains have also been processed into tincture so that children can benefit from the cannabinoids without needing to inhale vapor or eating an edible. This method also allows a precise measurement of dosage for the treatment without any need of estimation.
Infusions
This category is quite similar to tincture. The only difference is that instead of using alcohol and food-grade glycerin to extract the cannabinoids, a fatty solvent is used for the extraction process. The solvent can be butter, cocoa butter, coconut oil, various cooking oil such as olive oil, milk, cream, and even non-edible skin moisturizing oils.
Edibles
The food grade oil or cream infusions can then be eaten directly or made into an edible for consumption. Those food items that include these oil infusions or tincture infusions are all categorized as edibles. These days, you can find anything a wide range of edibles that are similar to desserts and candy. Other edibles can include ice-cream, pasta sauce, coffee creamer, syrup, and even chewing gum. For individuals who do cannot ingest fat, dairy products, or alcohol due to various allergies or medical conditions, there are manufacture companies that have produced capsules that contain the extract for consumption.
Patch
Similar to nicotine patch, various manufacturer companies have produced a cannabinoid patch for individuals who just wish to enjoy the benefits without even consuming any Cannabis products. The cannabinoid-infused tampons is another variation from the same methods. Another variation works by an oral dissolve strip similar to a breath freshener strip.
Side Effects of Marijuana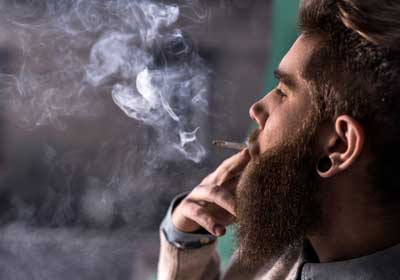 Because Cannabis is still illegal under federal law in the United States and many parts of the world, there is still limited amount of extensive research on the long-term effects of Cannabis. According to the Drug Enforcement Agency in the United States, here are some of the possible short-term negative effects:
coordination impairment
lethargy and lack of energy
drowsiness and sleepiness
disorientation
faulty short-term memory
lung damage if inhaled
Other common symptoms of consuming Cannabis are dizziness, nausea, tiredness, and hallucinations.
It is also important to note that Cannabis is not for everyone. Like any other medication treatments, each individuals show reactions that are slightly different from other people based on their allergies and physical condition. Some people may exhibit allergy symptoms similar to pollen allergies (since cannabinoids are extracted from the flower buds). In serious allergy cases, the individual may show swelling, excessive coughing, fever, and difficulty of breathing due to swelling of the air passages. Individuals who are allergic or sensitive to smoke vapor should avoid smoking the cannabis. Because inhaling smoke can irritate the respiratory system, it should also be avoided by individuals who suffer from breathing-related conditions such as bronchitis and chronic obstructive pulmonary disease (COPD). And as cannabinoids can produce a temporary increase in heart rate, individuals who suffer from high blood pressure or heart disease may want to avoid using cannabis unless they have consulted their doctors and have been advised otherwise. Those who suffered from a stroke or heart attack must discuss the options with their doctors before trying any Cannabis products. Individuals who suffer from peripheral vascular disease caused by atherosclerosis should also avoid Cannabis because the elevated blood pressure may increase the chance of heart attacks, angina, and strokes. Moreover, because Cannabis can cause dilation to the blood vessels, even the doctors do not know how the Cannabis will react with your medications. Those individuals who are currently taking medications for their heart problems should also consult with their doctors to discuss whether Cannabis will interfere with their current medication.
For those who are suffering from hepatitis C and other conditions related to liver damage should also refrain from consuming cannabinoids in high doses on a daily basis because it will cause furthermore liver complications.
Individuals who are suffering from various mental health conditions should also avoid using Cannabis. Although there has no direct correlation between mental illness and Cannabis use, there has been some research studies that indicate marijuana may exacerbate symptoms associated with psychosis or schizophrenia. For those who wish to alleviate their mental illness conditions such as depression and bipolar disorder, these individuals should consult with their doctors about their options.
Another important thing is that Cannabis is not for children or teenagers unless it is absolutely necessary (for example, epilepsy and autism). While studies have shown that it does not pose as much damage as alcohol and many other illegal substances, there are still remaining questions about its possible influence on the developing brain. What we do know is that the brain is under developing until early adulthood (around the age of 25 years old). During this volatile stage, the increased cannabinoids can potentially interfere with the growth and development of the endocannabinoid system and neural pathways. As a safety precaution, individuals should refrain from consuming Cannabis until they reach an age of 25 unless they have a medical condition that can benefit from the cannabinoids.
Similarly, pregnant women should avoid consuming marijuana as they would for tobacco or alcohol. Any Cannabis use must be stopped before and during pregnancy as it can result in negative outcomes for both the mother and the baby. Although maternal use of Cannabis during pregnancy does not appear to be associated with low birth weight or early delivery, it may still affect the baby in the neural development that is related to the endocannabinoid system. It has even been suggested that babies who were exposed to cannabinoids during the fetus phase has shown an attraction towards Cannabis in teenage and early adulthood. They are also shown to exhibit higher tolerance towards the herb. Unless there is an urgent medical need, the pregnant woman should not consume any Cannabis unless being advised by their physicians.
Long-Term Side Effects of Cannabis
Long-term side effects of Cannabis are still unclear in our current research on Cannabis consumption. A main concern includes cognitive and memory problems. There has also been concern on children, teenagers, and young adults exposing to Cannabis may increase their chances of developing schizophrenia and various mental disorders such as anxiety disorder, bi-polar disorder, and depression.
Even though the addictive properties of marijuana are relatively minimal compared to alcohol and other drugs, individuals who are prone to addictive behaviors may want to avoid cannabis because they may be more inclined to become dependent on the behavior.
Other long-term side effects may depends on the way Cannabis is consumed. One evident long-term side effect is that smoking marijuana can cause rapid aging of the skin. The THC smoke actually blocks the development of collagen from forming and causes your skin to age more quickly. This problem can be avoided by using vaporizers, consuming edibles and other methods that do not include contact with the THC smoke. Similarly, smoking Cannabis is similar to smoking tobacco use; the smokes damages the lungs and increases the chance of lung complications and cancer.
Effects of Chronic Use of Marijuana
The term chronic use can be confusing as there is no straight definition. According to science studies, chronic Cannabis smoking is defined by an average of 9 joints per day for a duration of at least 2 years. Those who self-report as a chronic Cannabis smoker are found to be associated with excessive abdominal fat and insulin resistance in the adipose tissues. However, they do not suffer from fatty liver (also known as hepatic steatosis), insulin insensitivity, glucose intolerance, or reduced pancreatic beta cell function. These findings are consistent with animal testing subjects. At the same time, clinical trials have found that heavy use of Cannabis can actually reduce body weight, diminish low high-density lipoprotein level, and decrease insulin resistance in human subjects.
Another important finding is that patients who suffer from chronic hepatitis C and use Cannabis on a daily basis are highly associated with hepatic steatosis. There are actually evidence indicating that these patients may suffer from liver damage from chronic smoking of Cannabis. This discovery suggests that individuals who suffer from diseases associated with liver problems should avoid Cannabis use unless necessary.
There has been evidence that chronic Cannabis users has exhibit an elevated level of testosterones. This can lead to the development of acne and unusual hair loss.
Tolerance and Withdrawal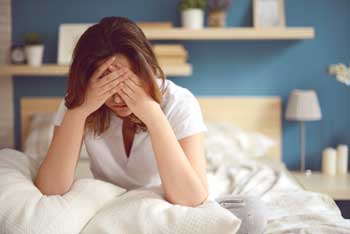 According to the United States Department of Health and Human Services, there were 129,000 emergency room visits that are associated with Cannabis use in 2011. This data does not mean that marijuana must be the direct cause of the visit. It can mean that the individual has consumed marijuana before the emergency room visit. What is more important is that there has never been a case of marijuana overdose in history. As a matter of fact, medical studies have shown that Cannabis has a therapeutic index of 40,000:1. This index means that a person would need to take 40,000 times of the normal dosage in order to be overdosed (morphine has a therapeutic index of 70:1). Cannabis usually causes no tolerance or withdrawal symptoms except in chronic daily users. Unlike alcohol, tobacco, various illegal drugs, Cannabis withdrawal symptoms is much more tame and likened to that of an individual trying to quit coffee. In a survey of heavy users, 42.4% experiences withdrawal symptoms when they try to quit such as craving, irritability, lack of energy, boredom, and anxiety. Those who are at highest probability of developing Cannabis dependences are those individuals with a history of poor academic accomplishment, unusual behavior in childhood and adolescence, poor parental relationships, rebelliousness, or a parental history of alcohol and/or substance abuse problems.
How Much is Too Much?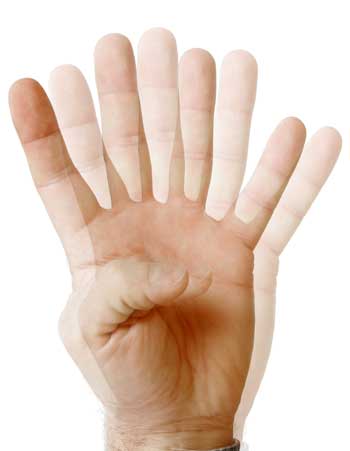 The effects of consuming Cannabis can vary from person to person, on the person's experience with Cannabis, the type and amount consumed, on the quality of the product, as well as the method of consumption. Those who enjoy using marijuana typically find it to be relaxing or mildly euphoric. Some find it makes them more social or outgoing while other people claims that Cannabis makes them feel jittery, uncomfortable, tired, or remote.
New Users Mistake
New users often experience different effects than more experienced users. The number 1 mistake for new users is to consume too much in one go. This often leads to unpleasant feelings such as an increased heart rate, a sense of paranoia, cold sweat from the sudden adjustment of the sense impairment, and stinging of the throat (especially individuals who have never smoke at all). Usually, it is a sense of panic that induce a "bad trip" which includes similar symptoms of motion sickness and panic attack due to over-breathing.
Not All Marijuana Products Are the Same
As explained in earlier sections, there are many different strains of Cannabis. Even within the same strain of Cannabis, the potency of the flower buds can differ based on the seed quality, the seed's DNA makeup (seeds coming from the same mother plant can express different phenotype expressions), and the growing process.
Dried Flower Buds:
Each strain of marijuana is different, varying in physical appearance and color, smell, and taste (names are often associated with their special features; for example, the Skunk strains smells like Skunk, the Purple Urkle is named for its purplish hue color buds, and Pineapple Express smells like pineapples). Inexperienced users should begin by consuming ONLY a small amount, such as one or two small puffs. Smoking and vaporizing have an immediate effect that can intensify quickly (usually within 10-15 minutes). Instead of taking more puffs, wait at least 20-30 minutes before using more. This way, you can gauge how 1 puff is affecting you. If you are vaping, keep in mind that the dosage is more potent in 1 puff. So go even slower.
Concentrates:
These are highly concentrated forms of Cannabis, such as hashes, kief, oils, and waxes, which are created by extracting cannabinoids from the flowers and leaves of Cannabis plants. If you are comparing marijuana to alcohol, flowers is analogous to a light beer and concentrates to a hard liquor. If you are a beginner, never attempt to consume concentrates without being supervised. Even the experienced users can easily misjudge the dosage and find themselves stuck to the couch. If you are trying concentrates for the first time, begin with a VERY small amount and wait at least 30 minutes before taking another dose.

Inhaling vs. Ingesting Marijuana
It is essential to recognize that there are 2 important differences between consuming Cannabis via inhaling and ingesting:
Ingesting Cannabis products usually produces much stronger and longer-lasting effects. The effects can take up to 30 minutes to 2 hour to start after consumption, and the "high" can last for couple of hours.
Inhaling marijuana are immediate and the effects peak within 10 to 15 minutes. Compared to ingesting, the effect from inhaling Cannabis can wear off within as early as 1 hour.
Things to Consider for Individuals Who Use Medical Marijuana to Treat Diabetes and Other Health Issues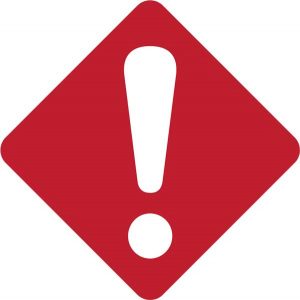 Apart from the basic considerations already mentioned, there are some things to consider when it comes to your diabetes conditions. Here are some additional tips to keep in mind:
Be aware of changed perception – Just like alcohol, you feel slightly unbalanced and experience blurry vision when you are under the influence of a mind-altering substance. During this time, you may not be able to recognize if you are feeling hypoglycemia and hyperglycemia. The increased heart rate may also confuse your judgement whether you are feeling "high" or experiencing an episode of hypoglycemia.
Check your Blood Glucose Level frequently – Because of the altered state of senses and the physical reaction to the cannabinoids, you should always check your blood glucose level at regular intervals to ensure that you are in a safe range.
Keep your equipment nearby – Always keep your equipment in your usual spot so that you can easily access your blood testing equipment and medication when needed.
Never medicate in public – Expect the unexpected. As with alcohol, you cannot expect to drive or work under influenced.
Bolus for "munchies" – You may get the "munchies" urge after administrating medical Cannabis. If you are prone to the eating habit, make sure to give yourself an adjustment of insulin to compensate for the extra sugar and calories you will be eating.
Don't forget "edible" carbs – Edibles can contain large amounts of carbohydrates (that it is why it tastes so good), fat, and calories. To mask the taste of the Cannabis, a "pot cookie" can contain much more sugar than your usual cookies. So always remember to give yourself an adjusted dosage of insulin accordingly.
As with using any medication and altered sense substance, always be aware of your body's reaction and your surrounding. Remember that you should never feel pressured to try something that you do not feel safe or comfortable trying (sometimes a store sales may push a new product on you for profit and know very little about your medical conditions). The decision is up to you alone.
What Happens When You Consume Too Much Marijuana?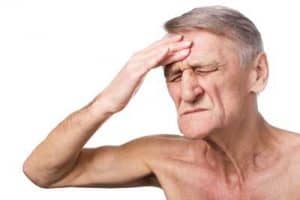 Consuming too much Cannabis can be quite a very nasty experience. Anyone who has over-consumed marijuana edibles will tell you that not taking enough is far better than taking too much. Fortunately, marijuana is non-toxic to healthy human cells or organs. So you do not need to worry about dying from a Cannabis overdose. However, that does not mean you should not worry about over consumption. Taking in too much marijuana in one sitting can make you instantly regret the decision, and it can happen with any type of Cannabis product if you are not careful. Over-consumption is typically characterized by an increase in heart rate accompanied by cold sweat, dryness of the mouth (also known as cottonmouth), extreme dizziness similar to motion sickness, and/or feelings of paranoia or anxiety. It is very important to remember that these symptoms are only temporary and will usually dispel within 15 minutes to an hour for smoked or vaporized Cannabis flowers, slightly longer for concentrates, and anywhere from 30 minutes to 2 hours for infused products and edibles. If you know that you have overconsume or you are suspecting you have overconsumed, try to stay calm and remember that the feeling is only temporary. Eating a bit of fatty food and drinking a lot of water can lessen the effect. Afterwards, lay or sit down, close your eyes, and try to relax. Keep your blood glucose testing kit close to you and check if necessary. If you are with someone, let them know that you have over-consume Cannabis and ask them to keep an eye on you just as a safety pre-caution. If your discomfort level becomes too unbearable that you think you need medical attention, ask someone to drive you to the emergency clinic or call 9-1-1 for emergency help assistance. Do NOT try to drive anywhere by yourself!
Conclusion
We hope that this article has provided you with helpful information on how Cannabis may be beneficial for individuals who are pre-diabetic, type 1 diabetic, or type 2 diabetic. It is important to remember that, like medication, Cannabis use should be limited to how much you actually need. Obviously if you have too little, you may not see any benefits in the Cannabis consumption. With the right amount, you can get the greatest benefits. But once you push over the limit, the benefits will plateau or even be harmful to your body in the long run. Before you consider whether medical marijuana may be a treatment option, please remember to check with your local regulations concerning the legality of using and obtaining Cannabis as a medical treatment. It is equally important to consult with your doctor and to obtain a prescription for using Cannabis as your treatment. If you have any comments and/or experience to share, please leave us a message. We would absolutely love to hear from you.
References
Ellis R.J., et al. (2009). Smoked medicinal Cannabis for neuropathic pain in HIV: a randomized, crossover clinical trial. Neuropsychopharmacol 2009; 34(3): 672-80.
Carter GT, Flanagan AM, Earleywine M, Abrams DI, Aggarwal SK, Grinspoon L. Cannabis in palliative medicine: improving care and reducing opioid-related morbidity. Am J Hosp Palliat Care 2011;28:297-303.
Penner, E.A. et al. (2013). The Impact of Marijuana Use on Glucose, Insulin, and Insulin Resistance among US Adults. The American Journal of Medicine, Volume 126 , Issue 7 , 583 – 589.
Ponz-Sarvise M, Nguewa PA, Pajares MJ, et al. Inhibitor of differentiation-1 as a novel prognostic factor in NSCLC patients with adenocarcinoma histology and its potential contribution to therapy resistance. Clin Cancer Res 2011;17:4155-66.
Soroceanu L, Murase R, Limbad C…Desprez PY, McAllister SD. Id-1 is a key transcriptional regulator of glioblastoma aggressiveness and a novel therapeutic target. Cancer Res 2013;73(5):1559-69. doi: 10.1158/0008-5472.CAN-12-1943. Epub 2012 Dec 13.
Velasco G, Sanchez C, Guzman M. Towards the use of cannabinoids as antitumour agents. Nature Reviews Cancer 12, 436-444 (June 2012) | doi:10.1038/nrc3247.