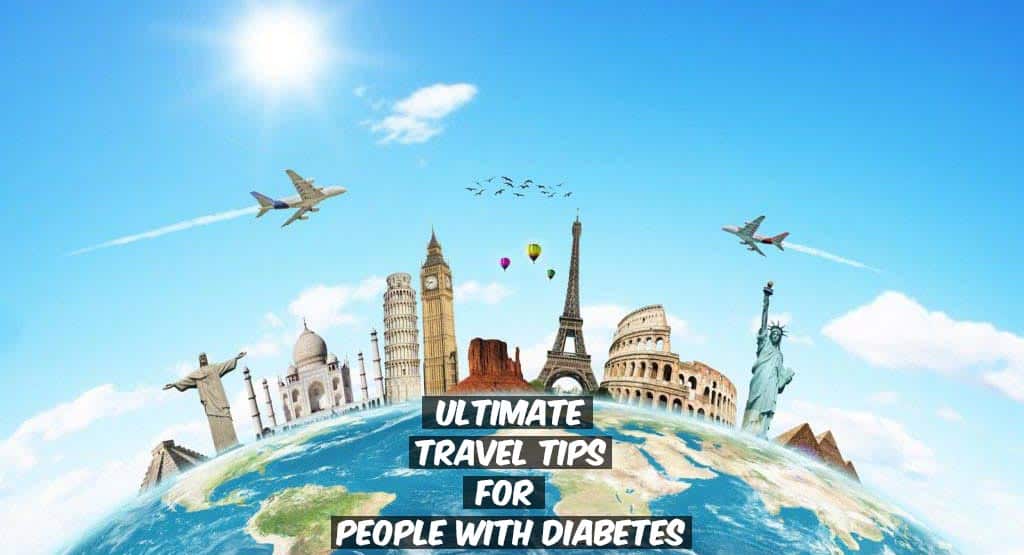 Having diabetes does not mean you should be within the confines of your home. By doing some smart planning and thorough preparation, you can go anywhere whether it is a camping excursion, a cross-country train adventure, a relaxing cruise, or a trip to various countries. Although vacations can be fun and rewarding, you have to be aware that traveling can be stressful to your body as you stray away from your daily routine and diet plan. At the same time, foreign surrounding may also put your psychological well-being into an anxious state. All these changes can contribute to a fluctuation in your blood glucose level. To help you prepare for your upcoming trip, whether by car, air or boat, we have compiled an ultimate guide of useful information to educate you better on various topics concerning traveling with diabetes:
[accordions id="2133″]
Is it Safe to Travel as a Person with Diabetes?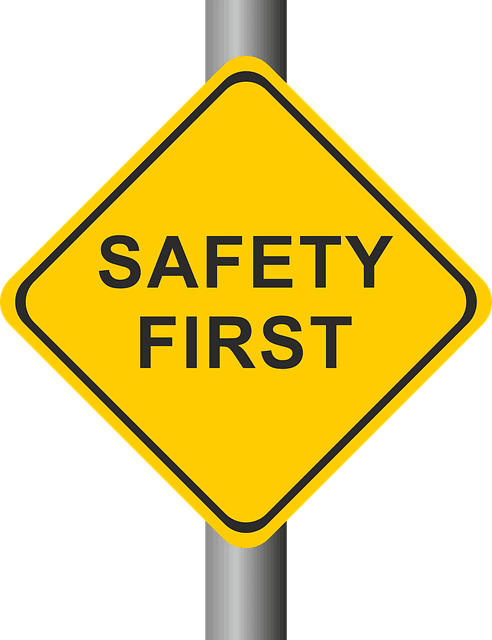 "Is it safe to travel?" is the first question you should ask yourself and your doctor before you start to think of planning a trip.
To avoid unexpected health issues that could possibly arise during your journey, you should consider going for a medical examination to ensure your diabetes is in stable condition and you are physically well to travel. It is important for you to ask your doctor whether you are fit to travel in your current condition as it can play a crucial role when purchasing your itinerary as well as your travel and health insurance.
You should always request that your doctor put his professional opinion in writing so that if you need to cancel your trip as a result of sudden health emergency situation, you have the doctor's letter as a proof of evidence and get compensation for any incurred loss from your insurance company.
For more diabetes related information:
Aside from the professional standpoint of view, you should ask yourself whether you are physically and psychologically prepared to take a trip. If you recently found out that you have diabetes or if you have never been on a trip before, you may consider wanting to go on a long vacation. Instead, you can choose to embark on a short excursion closer to home to test the water first. From there, if you are comfortable with managing your blood glucose level on the road, you can then ease yourself to going on longer journeys further away from home.
Planning your Schedule Timeline Before Taking Off
Consult with your doctor about traveling and make sure that your passport has not expired (before planning a trip)
Plan travel itinerary and make bookings (at least 3 months prior to trip)
Check the airline security regulations to find if your electronic device to monitor blood glucose levels or infuse insulin can be operated in-flight (at least 3 months prior to departure)
Arrange travel insurance and health insurance (3 months prior departure)
Check vaccination requirements (sometimes vaccines require booster shots one month after the first vaccine shot) and talk with your doctor about getting the vaccination, paperwork, and prescription for the trip (2 months to departure)
Ensuring that all your travel insurance paperwork and payment are confirmed, and all your medical needs have been prepared (1 month prior to departure)
Involving Your Medical Team in your Travel Plans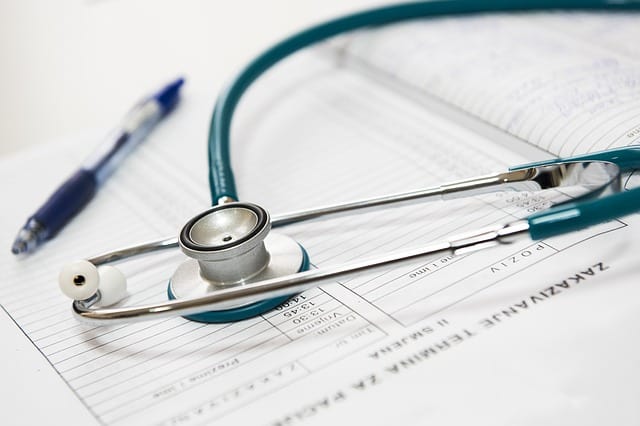 As your medical team has much more experience dealing with their patients traveling, they can immediately offer you with a lot of crucial planning and preparation information regarding your destination and how to prepare accordingly for the trip.
Notify Your Doctor about Your Plans
Aside from getting the preliminary go-ahead letter from your doctor, you will need two more paperwork from your doctor:
A letter that explains your current diabetes condition, your medication treatment and dosage. It should include a list of all the medical equipment and supplies, medicine, and emergency food and snacks you must hand carry with you at all times. This list is crucial if you are traveling by air or crossing the

Canadian/Mexico border

as it is a proof of evidence that you should be allowed to hand-carry all these items with you at all times. If you do not have this list with you, the airport security officers will have the right to confiscate your medication and supplies due to violations of the liquid policies. Aside from this list, your doctor should also list any medication and food allergies you may have.
A prescription for your diabetes medication, insulin refill, and blood testing equipment. If an accident occurs where you lose or damage your medicine/equipment, you can immediately get a replacement by visiting the nearest pharmacy. Please note that in the United States, the prescription regulations and limitations varies from each state. And if you are traveling out of the country, you should research on the current diabetes laws concerning your medication and whether you can get a prescription for your current medicine in the destination countries. Sometimes, you may have to get a local brand and alter the dosage accordingly.
Consult with Your Dietitian and Diabetes Educator
Experts in their fields, your dietitian and diabetes educator have ample of information concerning medication and medical supplies, vaccination shots, diet plans and glucose counting skills, time zone adjustment techniques, and local food information.
If you wish to have variety and flexibility when it comes to dining on trips, you must learn how to count your glucose and calorie intake throughout the day. You can learn this skill from both your dietitian and diabetes educator. At the same time, your dietitian can offer you tips on what food choices to make when you are in a foreign country. If you are traveling to a location where starch is the main food group (for example, pasta and pizza are the common food staples of Italy, rice is the most common food staple in most Asian countries), your medical team can teach you how to gauge your food intake by using objects such as your phone or your hand as portion size estimation.
Zika Virus
Aside from the usual infections and viruses to avoid, pregnant women should be aware of the Zika virus that can cause very serious cranial birth defects. As of now, there is very limited information on the treatment and prevention of the virus.  It can be transmitted by mosquitos, sexual intercourse, blood transfusion, and laboratory exposure. As there are Zikainfection occurrences found around the world and even the United States, the Centers for Disease Control and Prevention has advised that all pregnant women should avoid prolong outdoor activities that may increase their chances of getting bitten by mosquitos and transmit the Zika virus to the unborn babies.
Risks of Long-distance Traveling
Studies have shown that the fluctuation of blood glucose level and the higher tendency for individuals with diabetes to experience dehydration raises the thickness of the blood and decreases the rate of blood flow. Consequently, this increases the chance for diabetes individuals to develop deep vein thrombosis (DVT). During long-distance traveling, extended periods of sitting makes the chance of developing deep vein thrombosis even higher. Once developed, you will experience frequent swelling, pain and soreness in your legs. If the blood clots travel to your heart or your lungs, you can experience sudden fatal complications such as pulmonary embolism, heart attack, and stroke.
Other Risks to Consider
Pregnancy can put you at a greater risk of dehydration and overheating in hot weather. Combined with physical activities that fluctuate your blood glucose level, you can increase your chance of miscarriage and premature birth. Common traveling diarrhea can also trigger severe low blood sugar level. If you experience an onset dizzy spell or seizure, you may pass out and injure your baby from the fall.
Hot Climate vs. Cold Climate
Extreme temperatures can make your blood glucose level go out of control. Under such circumstances, your body will be able to produce and process less insulin. At the same time, the extreme temperature can decrease the efficiency of your medical testing equipment and lower the effectiveness of your medications.
Traveling in Hot Temperature
To avoid dehydration and risking the chance of developing hyperglycemia, here are some tips to help keep your diabetes under control when traveling in hot temperature:
Always carry a water bottle with you and drink water frequently.
Store your medication and supplies properly inside a temperature-controlled container. Avoid leaving them in the car as the interior can rise to 150 degrees in extreme cases.
Avoid stressful physical activities during the daytime when the temperature is highest. Instead, stay in the shade or inside during the hottest part of the day.
Check your blood glucose level more frequently so that you can adjust your medication and your diet accordingly to avoid drastic fluctuations
Protect your skin by wearing breathable clothing, a hat, and sunscreen to decrease irritation and the development of fungal infection
Apply sufficient amount of sunscreen to avoid sunburn. The skin condition can trigger inflammation reaction and increase your resistance to insulin
Avoid caffeinated or alcoholic beverages as they will make you quickly dehydrated
You may want to bring with you shoes that are slightly looser as your feet will likely swell a little from the extreme heat. Change your socks often and air out your shoes nightly to avoid bacterial growth
Once you reach your destination, allow your body to adjust to the temperature change. Do not immediately jump into a busy schedule of sightseeing and any other physical activities. DO NOT OVEREXERT YOURSELF
Traveling in Cold Temperature
All people with diabetes tend to have higher blood glucose level when they are in colder temperature. To cope with the frigid temperature, your body will be pushed in a stressed state to make you warm and keep your blood pumping (sugar is an anti-freeze agent in nature). This reaction will result in higher blood sugar levels. To avoid hyperglycemia and other life-threatening situations, please take note of these useful tips: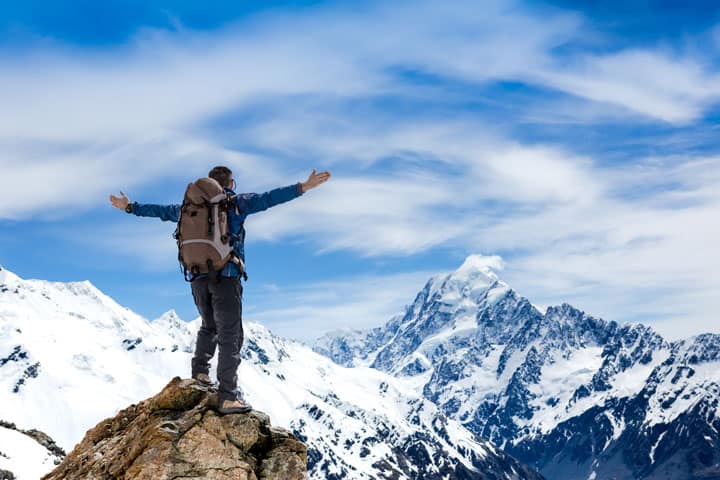 Similar to extreme heat, extremely low temperature can make your insulin less efficient and kill the battery in your glucose monitor. When the outside temperature is below freezing, do not leave your medications and supplies in the car.
Being in the cold temperature increases your chance of catching a cold or a flu. Before the trip, get a flu vaccination (consult your doctor first if you are pregnant).
Wear thick socks and insulated shoes to protect your feet from possible cold sores and frost bites. Change out of damp socks and footwear as soon as possible. As diabetes patients have a higher chance of developing nerve pain and infection in their feet, cold sores, and frost bites can increase the chance of skin infection complications and may lead to gangrene
Bundle up in warm clothing as cold temperature will trigger a spike in your blood glucose level. If your body is in a warm state, your blood glucose level will be less likely to fluctuate
As your body can develop insulin resistance in cold temperature to keep you warmer, take caution what you eat as you can become more sensitive to sweet food. You may want to test your blood glucose level before and after your meals to get a better sense how your body is reacting in such weather condition
Tips on Adjusting to Different Climates
Aside from extreme temperatures, different climates can also affect your diabetes symptoms and your medical equipment. Although humid conditions may have very little impact on your blood sugar level, you may become much more susceptible to bloating and swelling of the feet. Your skin may develop a rash from the constant sweat and become prone to various skin infection such as athlete feet, gangrene, and yeast infection. To solve such problem, make sure to bring along foot powders and baby powder to absorb excess moisture. If you dislike powder, you can also put sweat control deodorant on your feet as it will help with the problem and make your feet less prone to blisters. When it comes to equipment problems, if you are a pump user, you may find it much more difficult to keep your pump infusion in place as your adhesive dressing keeps wrinkling and falling off from the moisture. To avoid such problem from arising, you may want to purchase a waist pouch to carry the pump instead.
As for arid regions, you can expect your skin to itch and chaff easily from the climate. Your current skin and hair regimen will be insufficient to keep you moisturize. If you are traveling to a dry area, you may want to switch to a more moisturizing shampoo and skin cream than your usual one. Dry regions can also pose a problem for your liquid medication and supplies. Once opened, the liquids may dissipate quickly from the heat. To avoid such problem, always keep your liquid supplies in ziplock bags when not in use.
Tips on Preparing for Emergency Situations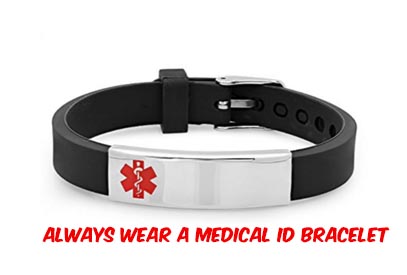 When you have diabetes, always wear a medical ID bracelet no matter where you travel, whether you are within the country or in a foreign country. In case you have an accident or experience a hypoglycemic episode, the medical professionals will look for your ID to see how they can assist you. If you travel to a foreign country where English is not a common language, the American Diabetes Association (ADA) recommends that you should learn how to say "I have diabetes", "I need medical help", and "sugar" in the local language. If you have difficulty remembering or pronouncing the phrases, there are many translation mobile apps that can be of help. If you are not a mobile equipment user, you can always print out a translation page of common phrases and use it when various situations arise. Some of the other common phrases you will need to translate:
Where is the nearest pharmacy?
Where is the nearest washroom?
I need help.
No sugar please.
No sauce please.
Where is the nearest hospital?
When you are preparing for your trip, you will want to acquire a list of English-speaking doctors at your destination location from the International Association for MedicalAssitance to Travelers (IAMAT). Please note that the IAMAT will require a membership fee for such information and they will only refer you to English-speaking doctors that are within their clinic system. If you wish to compile a list of doctors without paying the fee, you can always visit the Embassy of United States website and search for the country you will visit. They will provide you with a list of contact numbers for various emergency situations such as passport loss, immediate financial assistance, and emergency medical help. You can also make a google search "English-speaking doctors in _______ (insert your destination)" as the local tourist websites may provide even more information concerning medical help. While you are doing your research, you should also plan and look up information on:
What to do in the event you get sick while traveling/vacationing
Scout for hospitals/clinics nearby
Get to know the embassy in case something happens
Do homework on the Transportation Security Administration and Diabetes rights about the destination
Remember to Get Travel Insurance
Travel insurance is essential when it comes to traveling for everyone no matter whether you suffer from diabetes or not. If you think that your current health insurance is enough to cover for your unexpected health expense oversea, you will find that the coverage is minimal. For more information about travel insurance, please refer to our article "Diabetes Travel Insurance Guide".
Maintaining Control of Your Blood Glucose Level While on Vacation
Keep in mind that stress plays a significant role in your blood glucose fluctuation. Aside from the excitement of anticipation for the travel, the change in time zone and your daily schedule can really spike your blood glucose level. Even when you usually have a good control of your blood sugar, a walk around the city in a new surrounding and climate can throw your level out of the normal range due to all the undetected stress factors (for example, change in sleeping schedule due to time zone change, lack of sleep from jetlag, change in meal time schedule, adjustment to new local food choices). To ensure that your blood glucose level remains within your desired target zone, you need to monitor your fluctuation throughout the day before and after each physical activities and meals. Wherever you go, bring a handy source of glucose (for example, candy, glucose gel tablets, soda drink, or juice) to fix unexpected blood glucose drop. Small cans of juice and soda (they come in 5.5 oz. size) are available at many grocery stores.
While on vacation, insulin need changes from person to person; some people require an increase in insulin dosage during travel while others need to decrease their regular dosage. Time zone changes can really mess up the blood glucose level due to the lack of sleep and physical stress of adjusting to the change. For more information on how to adjust your medication schedule to the destination time zone, please refer to the section "How to Handle Jet Lag and Switching Time Zones".
How to Pack Your Medications and Diabetes Supplies
When it comes to packing your medications and supplies for traveling, always pack twice as much as you may need for the trip. Because there are so many uncontrollable situations that can arise with your checked baggage such as rough handling and long waits in uncontrolled temperature for a long time (sometimes luggage pieces are left on the tarmac in direct sunlight or extreme cold, wet condition before they are loaded onto the flight), you should never pack any of your medications and fragile supplies in your checked baggage. Always pack all your medications and diabetes-related supplies in your carry-on luggage so that you can easily access the items during the travel (How To Find The Right Diabetes Organizer For You). Whether you are traveling by air, sea, train, car, bike, or foot, you want to keep a "carry-on" bag with you at all time. This bag should include: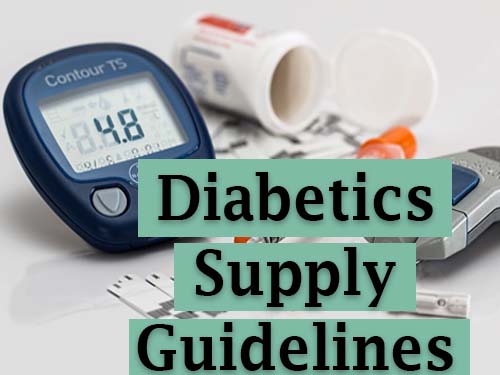 All your diabetes-related medication
All the insulin and syringe supplies you need for the trip
Blood glucose testing monitor and strips (include extra new batteries for your monitor)
Your emergency glucagon kit
Over-the-counter medications such as anti-diarrhea tablets, antibiotic cream, anti-nausea medication, painkiller, stomach relief tablets
Your diabetes identity card and logbook
A supply kit of emergency snacks and glucose gel tablets for treating low blood glucose level
When you are packing, you should keep your backup medication and supplies in another bag so that in case you lose the original carry-on bag, you have the backup carry-on bag to fall back on. Other than the medical necessities you may need, you should consider other supplies that will be helpful to your trip. Some examples are sneakers, sunblock, hat, sunglasses, a mobile device with translation apps installed.
How to Safely Dispose Of Your Used Supplies
As a responsible traveler, you should know how to dispose of your used sharp supplies while you are on the road. These days, most airports and airplane restrooms are equipped with sharps containers for your use. For hotels, guests may inquire whether they offer a containers for sharp objects guests. If they do not have such service, you can always ask them for an extra wastebasket just for your supplies disposal. No matter where you go, do not leave your used supplies at your seat on a plane, train, or bus. You should also never leave them in a wastebasket or seat pocket as someone can be pricked from your used sharps. A quick solution is to use a bottled water container as your sharps disposal container.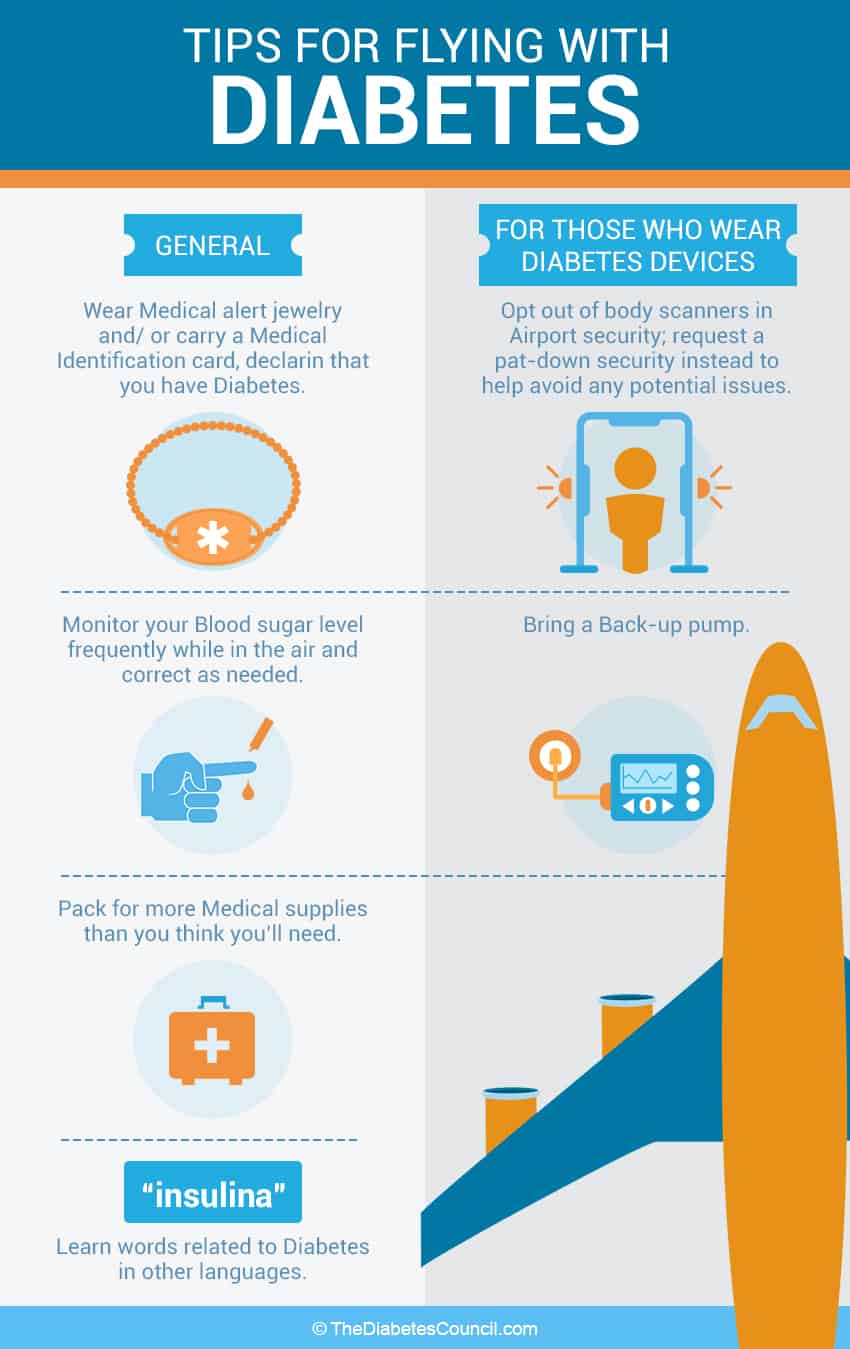 Traveling by Air
If you are traveling by air, you should always check the recent security changes in airport security as it will dictate how you will pack and plan for your travel. Here are some tips that can help make packing easier:
Make sure all your medication are in the original bottle with their labels still intact so that the security can easily match your name on your flight ticket with the name listed on the medication bottle labels.
Always have your doctor's permission letter to travel and prescriptions (this includes any equipment prescriptions such as glucose monitor and insulin pump) ready.
When you are packing your diabetes-related medication and supplies that come in liquid form: You may bring medical necessity liquids, medications and creams that are more than 100 milliliters or 3.4 ounces in your carry-on baggage. Remove these specific items from your carry-on luggage to be screened separately from the rest of your belongings. Please note that you do not need to place your liquid medication in a plastic ziplock bag.
Ice packs, gel packs, and other medical-related accessories may be presented at the screening checkpoint in a frozen or partially frozen state. These accessories do not need to be accompanied by medication or liquids to be considered medical necessity. All medical supplies including syringes, IV bags, and insulin pumps must be screened before they are allowed to pass through the security checkpoint.
Print out the regulations concerning carry-on items for medicine and medical-related supplies
If you are a pump wearer, always have a backup for your travel. Before you pack for the backup, make sure that it works.
Air Travel and Pregnancy
If you do decide to travel by plane, you should check with the airlines on their regulations regarding pregnant women as some companies do not allow a woman over 35 weeks of pregnancy on board. Here are some advice that will help you be more comfortable during your travel:
When you choose your seat, try to get a bulkhead seat or a seat next to the emergency exit as they have much more legroom than the other seats. If these options are not available, your next best choice is to pick an aisle seat as they allow you some more leg room and easy access to the washroom.
Before you leave on your trip, make sure you have your doctor write you a permission note to prove that you are physically well to travel as well as a list of medication and supplies that you need to pack in your carry-on luggage so you can access it during the flight.
Here is a list of items you should have in your carry-on luggage medical kit:
Over-the-counter medication to treat your common pregnancy complaints such as heartburn, constipation, skin irritation, diarrhea and hemorrhoids
Your usual vitamins and supplements
All your diabetes medication and supplies
Urine dipstick for ketone level testing
For safety reasons, always place your safety belt under your baby bump and across your lap.
Once you have boarded the plane, let the flight attendants know that you have diabetes and require specific diabetes friendly meals. Although you may have selected the option when purchasing your flight tickets, there could always be errors. By alerting the attendants ahead of meal serving time, they can make sure to set aside a special meal for you.
To avoid developing DVT and possible formation of blood clots, move and stretch your legs regularly while seated. Whenever you have a chance, stroll along the aisle for some exercise at least every half hour. If need be, you can always go to the end of the plane where there is some extra space for you to stand and stretch out. If there is heavy turbulence and you are unable to get up from your seat, flex and twirl your ankles to increase blood circulation. Should you have a family history of DVT, you may consider wearing pressure stockings during the flight.
As mentioned earlier, dehydration can increase the chance of DVT. So remember to drink plenty of water to reduce the risk of dehydration. If you do not wish to constantly ask the flight attendants for water, simply ask them for a bottle of water that you can sip throughout the duration of the flight.
If you are feeling light-headed and experiencing shortness of breath, ask the flight attendants to give you breathing oxygen (please note that there some airlines such as JetBlue that do not have medical oxygen onboard). Do not wait.
Tips for Going Through Security Checkpoints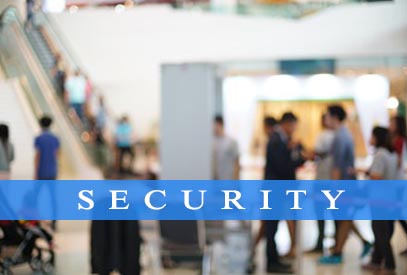 Going through the airport security can be a real troublesome for anybody. With all the medication and supplies in your carry-on baggage, the process can turn into a nightmare. To avoid missing your flight, always give yourself plenty of time to check in and go through the security checkpoints. To make the process more straightforward, always immediately alert the security officer of your diabetes condition and supply them with your doctor's note and prescription before putting any of your medication or supplies through the scanner. It is a great idea to label every medical item so that they do not need to ask you what each item is.
During the process, should you feel lightheaded or sense that your blood glucose level is dropping too low, alert the officers that you need your medication. If you do not explain your symptoms right away, the officers may suspect that you are either intoxicated, under certain drug influence, or coming under a virus such as Zika and deemed unfit for the travel. By being forthcoming with your condition, you will minimize any suspicion concerning your medication and supplies. During the process, remain calm. If for any reason the officer is not permitting you to carry any of your needed medication or supplies that are deemed safe to be stowed in your carry-on luggage, take out your printed regulation concerning your medication and supplies and calmly address the problem.
If such officer continues to be difficult and the discussion becomes uncomfortable, you can ask to speak to the Transportation Security Officer (TSA) Supervisor. If for any reason where the supervisor is unable to resolve the problem, you should ask for the TSA Customer Service Manager for assistance or contact 1-866-289-9673. Do not let this single incident deter you from going on your trip. If you think that you have been treated unfairly or have been discriminated based on your medical condition, you can always report your experience to 1-800-DIABETES for legal assistance. You can also file a complaint to the Disability and Multicultural Division of the United States at TSA.ODPO@tsa.dhs.gov.
TSA Precheck Status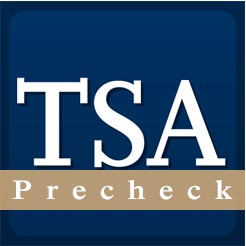 If you are a frequent flyer, you may want to look into the TSP Precheck program. It costs $85 for domestic security lines and $100 for international security lines. The status is good for 5 years. If you are approved by the program as a person with diabetes, you can by-pass many of the stringent checkpoint screening process. As a person with diabetes, you can use the TSA Precheck lanes where you do not need to remove your shoes, laptops, liquid items, belts, and jackets during the screening process. These steps can truly save you a lot of time and trouble explaining about all the medical supplies and medication you are carrying in your carry-on luggage.
Tips for Pump Wearers
Even though insulin pump manufacturers indicate that pumps can safely pass through the security systems without triggering the alarm to go off, it is always much easier to alert the security officers that you are currently using an insulin pump and would like a visual inspection instead. At the same time, you should explain to the officer that your pump cannot be removed for inspection because 1) it is connected to a catheter inserted under your skin, and 2) it is currently working to provide you with insulin.
Regulations Regarding Pump and Continuous Glucose Monitor
If you use an insulin pump or use a continuous glucose monitor (CGM), you must contact your airline before travel, if possible a few weeks before you fly. The Diabetes Association recommends that individuals with diabetes should always contact their airline to discuss the safety concerning medical devices they intend to take on board. Some airlines do require that you notify them of your medical equipment in advance and fill out additional paperwork before you fly. If you fail to alert them ahead of time, you may not be allowed to use your pump or CGM while in flight. For more information about airline regulations and your medical equipment, you should speak to your diabetes team about what you can do if the airline will not let you use your pump or CGM on board. You may ask "why is there such a big deal about insulin pumps and CGM?" The reason is that certain models have wireless functions that may interfere with aircraft navigation systems during take-off and landing. If your pump or CGM must use wireless to function properly, it may be a good idea to switch to another model that do not require a wireless function for your vacation purpose. If you do choose to use your wireless-included equipment, you may need to turn off your CGM and pump during the take-off and landing of the aircraft.
Dealing With High Altitude
Sometimes our devices and medication are made to work within a specific criteria, and when we are outside of that range, things do not work as planned. Meters often require the use of oxygen to work properly. Oxygen decreases in high altitude, and the performance and reliability of the meter also decreases.
You can find high altitude at many ski resorts around the country when you plan on doing your winter sports. There are several cities with high altitude across the globe that you must be aware of. Some of the more common cities of high altitude are:
Colorado Springs, USA (1840 meters, 6040 feet)
Mexico City, Mexico (2200 meters, 7220 feet)
La Paz, Bolivia (3640 meters, 11940 feet)
It's estimated that the meter under estimates blood glucose levels by 1-2% for every 1000 feet or 300 meters. This means that if you live in La Paz, it can be off by up to 25%.
Some recommended tips are to:
Check blood glucose levels as often as possible
Listen to your body and see the ways it adapts to altitude.
Cross check your blood glucose levels with multiple meters or methods.
Speak to your doctor to help come up with a plan before going to a high altitude environment.
Traveling by Sea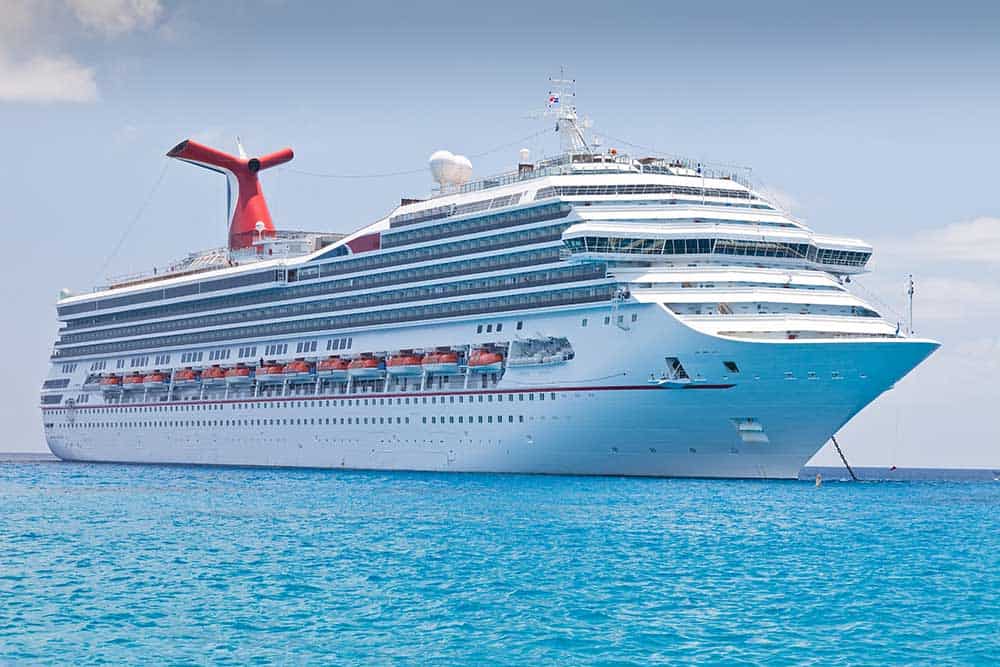 If you are going on a cruise, remember to pack your workout shoes. Unlike other ways of traveling, cruise ships have many exercise facilities and activities to offer. If you are not interested in any of the activities, you can still get a good workout by simply strolling through the huge cruise ships. And if you wish to join certain fitness activities, note that fitness instructors on the cruise ships are usually all certified trainers and are familiar with various medical conditions that may occur from an injury or an intense workout. However, in order to be safe, make sure you are aware of what your physical limitations are.
When it comes to cruise ships, the most devious attraction is the food. It is everywhere 24/7 and mostly free. There are so many restaurants, snack bars, cafes filled with all the gourmet pizzas and burgers. Even when you are at the pool, you cannot escape from the ice cream, soft drinks, and alcoholic beverages. As a person with diabetes, all these temptation can derail your blood glucose level VERY quickly. Instead of gorging on all the food immediately, pace yourself and let maître know what you need. He or she will let you know which dishes can be altered to fit your needs. To take it one step further, you can always tell your travel agent when you book your cruise, and submit your requirements in writing. Certain cruises will take the extra step to group you with other persons with diabetes individuals so that you can all support each other and share common experiences. They will make sure that your tables will have foods made specially for your medical needs.  Instead of having the dessert of the day, the chef will make sure to provide fresh fruit or sugar-free dessert for your table.
When it comes to medical assistance, make sure to carry enough medicine and supplies that will last you the whole excursion because cruise ship does not have a pharmacy. If you think that you are getting close to running out a certain medicine or supply, you will need to wait until the cruise ship makes a shore stop when you can get to a local pharmacy to refill your order. As for medical treatments — even though cruise ships do have medical facilities, they are usually not equipped to provide treatment for any complicated health emergencies. If something serious happens, the medical professionals will stabilize your condition and transport you to a hospital on-shore as soon as possible. With minimal traveling emergency coverage, your regular health insurance policies will not be enough to cover those fees. It is best to subscribe to a traveling insurance to avoid an insanely high medical bill.
For more information about traveling on a cruise ship, please visit our article "Managing Your Diabetes on a Cruise".
Traveling by Train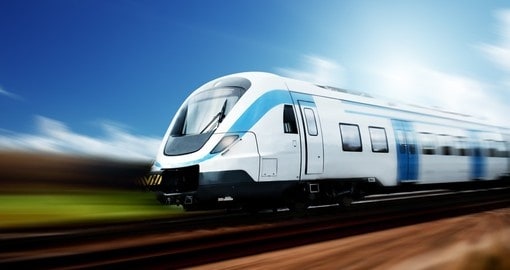 If you are traveling via Amtrak, their long distance trains have full-service dining cars that serve hot meals prepared on-board by trained chefs. For First Class passengers, all Auto Train passengers, and passengers with sleeping accommodations, all meals are included in the train ticket prices. Coach Class passengers who wish to dine at the dining cars can do so for an additional charge. After boarding, it is best to alert the dining car staff members that you have diaetes when reserving your dining time. If you want to plan ahead and see what the dining cars have to offer, please visit the AMTRAK website for their updated dining car menus. To make it convenient for individuals with special diet needs, AMTRAK has provided a food fact guide for all their menu items so that you can easily count your glucose and calories intake.
Traveling by Car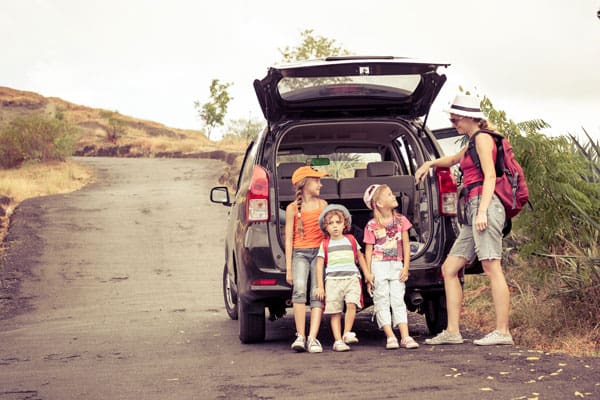 If you are going on a road trip by driving, you should plan for frequent rest stops. Rest stops are not just for bathroom breaks. They are an excellent place to get out and stretch your legs after being stuck in the car for hours. Sitting still for too long during your trip can lead to blood clots. Try moving around every few hours. At the same time, you can check your blood glucose level, grab a small snack, and look at the map ahead. These days, with the available mobile apps, you can see whether the traffic will thicken due to car accidents. Instead of getting stuck in the traffic, you can pick another route or rest your eyes before you start the car again. You should never drive more than 12 hours at a time and should also never drive straight for 6 hours without eating a meal.
If you are driving, it is vital that you check your blood sugar level every 4 hours (more frequently if you are pregnant or have a tendency to experience hypoglycemia). You should be very aware of signs for low blood sugar level. If you feel slightly dizzy or lightheaded, safely pull over to the side of the road quickly and take a fast-acting sugary snack (for example, candy, juice, glucose tablet). Then, follow the treat with a meal as soon as possible. After the meal, take a reading of your blood glucose level. If the reading is less than 6 mmol/L, refrain from driving. If you feel that your condition is not getting better or even worsening, call for emergency health assistance right away. If you are the passenger, have the driver take you to the nearest emergency health facility. Do not wait.
One of the most important thing you need for a road trip is a cooler to keep all your medication and supplies at a relatively constant temperature away from the heat. If you think that the cooler may be getting a little too warm, you can always stop by a gas station and purchase a cool jug of water and a few drinks, and place them in the cooler to lower the temperature. Do not throw ice directly into the cooler as the extremely cold temperature change can damage your medicine and supplies. Aside from keeping track of your medical needs, you should keep plenty of food in your car in case you get stuck in a traffic jam, lose your way, encounter car problems, or simply cannot find a good diner.
An easy way to deal with food is to visit your regular restaurant or fast food chains. This way, you already know the menu and you can easily pick the food items for your needs. In addition, before you leave for your vacation, print out a fast food guide so that you can have more variety to choose from.
Car travel and pregnancy
If you are traveling by car, leave the driving to your companion. Do not try to drive by yourself. Here are some tips that will help you on your travels:
Drink plenty of water and make frequent breaks to stretch your legs and visit the toilet to avoid DVT. For pregnant women, hormone and weight changes escalate the chance of blood clots. In addition, the fetus pressing upon veins reduces blood flow to the mother's lower body especially the legs. When diabetes combines with pregnancy, the occurrence of DVT drastically escalates.
Whether you are sitting in the passenger seat or the back seat, always wear your seatbelt. When putting on the safety belt, make sure to fasten the lap sash under your bump across your lap. Remember to adjust the shoulder sash between your breasts above your bump. This way, in the case of sudden jolts, the safety belt will keep you in place and decrease the chance of your placenta separating from your uterus.
If you are sitting in the passenger seat, move your seat as far back from the dashboard as possible for more leg room and prevention against airbag impact in case of a car collision.
If you are involved in a car collision, you should have a doctor check forinjuries no matter how minor it is.
If you have contractions, pain, or bleeding after a car accident, see a doctor or emergency clinic as soon as possible. If you have a negative blood group, let the health professional know immediately as you may need to have an anti-D injection.
Always subscribe to roadside assistance program in case of a breakdown so that you do not have to endure any harsh temperature that will increase your chance of experiencing blood glucose fluctuation. Always carry a mobile phone and update your family where you are during the trip.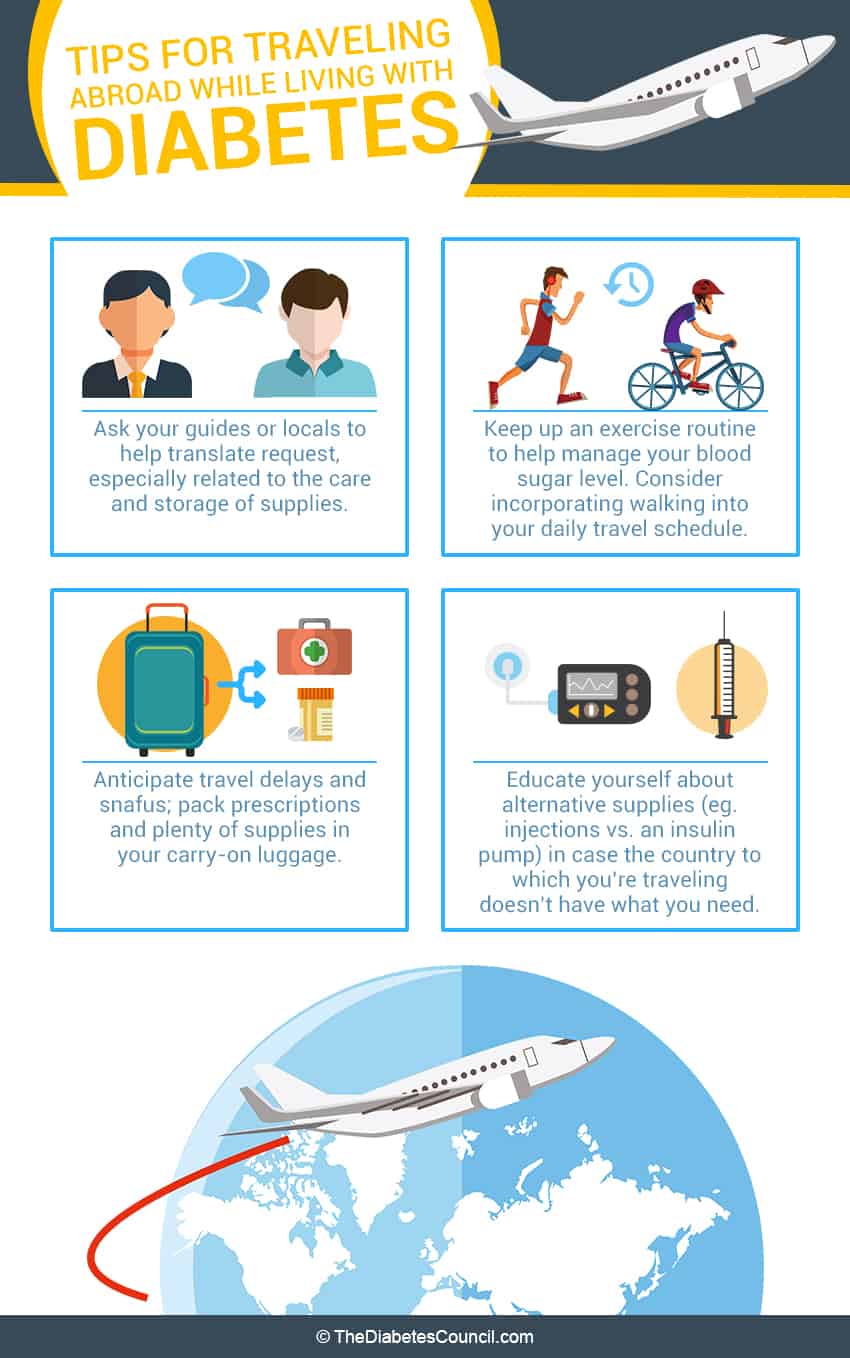 Tips on Crossing the Canadian Border
Although you do not have to deal with the stringent liquid regulations travelers have to follow for air travel, you still need to be careful of what you can and cannot bring across the Canadian border on your road trip. When it comes to medicine and medical supplies, take only twice the amount of medicine you will need for the trip. If you are traveling back to the United States from the Canadian border without your doctor's documentation, the border guards will have a right to confiscate your medication and supplies under the suspicion that you are smuggling these items for resale purposes (Canada offers many diabetes medications for a much lower price, and many individuals have attempted to sneak these things back to the United States for black market drug reselling purpose). When you are at the border, here is a list of what you should do:
Be upfront about your diabetes condition and declare all medication and diabetes supplies you are carrying across the border (it is always helpful if you already have a printed list on hand)
Carry all the medication in their original containers and do not peel off any labels so that the border guards can see that all prescription are under your name as stated in the passport
For more information on Canadian regulations see the Health Canada's Web site.
Traveling by Foot
Hiking is a great way to travel, control your diabetes, and enjoy the nature. However, remember that when you are engaging in any physical activity, always stay well hydrated. Before you start your hike, always carry your blood glucose testing kit and lots of snacks to treat low blood glucose level. Because you can be in an area where mobile phone reception is dismal and far from any medical help center, you have to test your blood sugar level regularly and treat your symptoms right away. DO NOT OVEREXERT YOURSELF. If you tire yourself too much, you can easily injure yourself on the trail by tripping over a branch or twisting your ankle. It is absolutely fine that you need to take more breaks to reach your destination.
One gadget you must carry is a GPS tracking system. Especially for beginner hikers, you can easily stray from a trail. If you think you are lost, remain calm. Study the trail map and assess your current situation with your teammates. By looking for signs and discussing the situation with each other, you will easily get back on track in no time.
When it comes to packing for hiking, always bring sunscreen, bug spray, a hat, and a bandana. It is also an excellent idea to bring along a whistle and glow stick in case you run into trouble and need assistance.
Another very important thing to consider before you set out for your hike is your footwear. Technology has really changed the weight and durability of all hiking and backpacking gear. If you get serious about hiking, the most important item to invest in is a good pair of hiking boots or shoes. They come in various types, from mid-calf boots that that offer a greater amount of support for more rigorous hiking, including backpacking, to boots that resemble running shoes with added traction. If you're planning on doing more strenuous hikes, or hiking over rocky areas, footwear with good ankle support is best. No matter if you are taking a short hike or a long-distance camping hike, the comfort level of your footwear will make a significant difference in your performance as well as your enjoyment of the excursion.
To avoid overheating, it is a good idea to use a beer growler as a water bottle. This way, your water can stay cool and you can quickly cool yourself down by taking some sip of cool water. Boulder Bottle Co. has a 64 oz. insulated beer growler is perfect for keeping water and juice chilled during hiking and camping. For other options and sizes, just take a look on Amazon.
When it comes to eating while on a hiking trip, pre-packaged nutrient bars is a good way to go. You always want one serving size pre-packaged food for hiking and camping because any food you open and which is not stored properly can become bear and wolf bait. In minor cases, your backpack or tent will be ransacked. In major cases, they will not only damage all your medical supplies and also physically attack you for various reasons.
Eating During Traveling
Even though you are away from home, you should always try your best to stick to your meal plan and schedule. Before you leave, learn how to count carbohydrates and calories to help you be more flexible with meal choices. If you are uncertain about the steps or what food you should avoid, meet with your diabetes educator or dietitian to learn more about meal planning before your trip.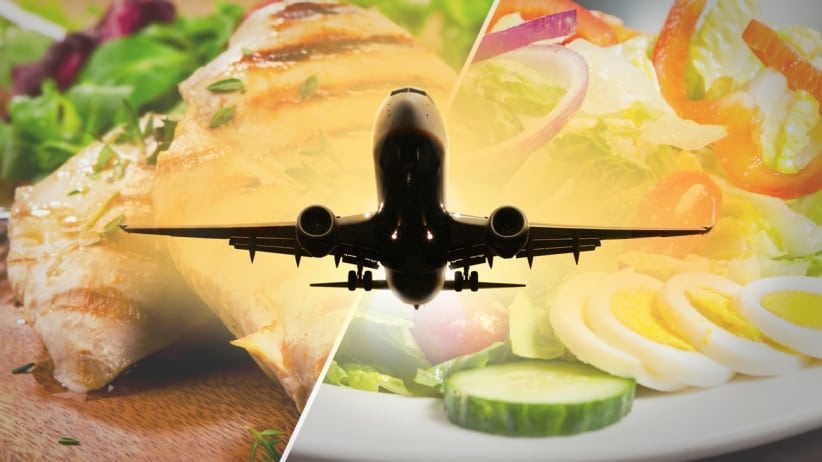 When you purchase your air, train, or cruise ticket, make sure to select the special diabetes food options. For air travel, when you check in, make sure to double check that they have your food that caters to your needs. Once you are seated, remember to let the flight attendant know that you have diabetes and require the special meals. Make sure to make your request at least 2 days before your departure.
While you are on your travels and if you take insulin, make sure to administer your dose when you see your food coming your way. If you give yourself the insulin too early, a delay in the meal can lead to low blood glucose. To be safe, always carry some snacks with you. So even if your meal is delayed or your order has been mixed up, you are not left waiting with an empty stomach.
Know The Customs of Countries and Their Meal Times
Even though you might be accustomed to certain meal times, they are quite different for other people as well. You might feel that lunch should be at 12pm, and should be 30 minutes or an hour, but things aren't always the same everywhere. In Spain the lunch might be longer, and the dinner might be at 9PM. You shouldn't always assume that everything will be the same there as it is here.
Factors to Consider During Hotel Stay
While you are staying at a hotel or resort, you should pay attention to several things.
Exercising on Gym Equipment
For people who do not usually exercise a lot, you may suddenly want to take advantage of all the exercise equipment at the gym. Although exercising is great for diabetes, it is something that can put a strain on managing your blood glucose level under all these new adjustments. Instead of hoping on one of the cardio exercise machines right away, take advantage of the space and stretch out your muscles from the traveling. Make sure to give your legs and your ankles plenty of stretches and massage so that you can prepare your body for sightseeing and other active activities during the day time.
The extreme heat of a jacuzzi and sauna cause a spike in your blood glucose level and affect your body's insulin absorption rate. If you are anticipating hot tubs and saunas in your trip, ask your doctor whether it is safe for you to enjoy these high-heat activities before your trip.
Hotel refrigerators are great for keeping insulin cool when you are traveling. However, always remember to double check the refrigerator temperature setting before storing your medicine. Often times, the hotel keeps the refrigerator at the lowest temperature setting, and it can ruin your insulin. If you find that the temperature is too cold, adjust the setting to the right temperature and let it readapt to the new temperature before putting your medicine in.
How to Handle Jet Lag and Switching Time Zones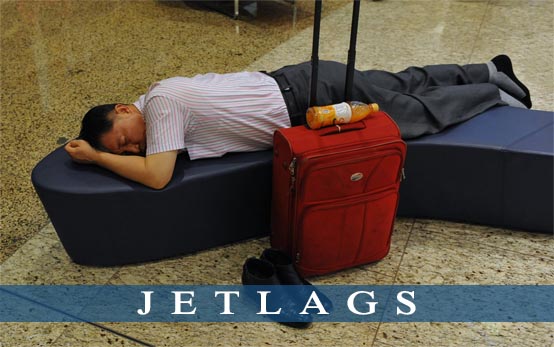 If your trip require crossing time zones, whether you are taking diabetes medication or requires insulin shots, you should talk to your doctor or diabetes educator about how you should adjust your medication schedule according to the zone change. When you meet with your doctor or diabetes educator, remember to bring your flight schedule and information on time zone changes so that your doctor or educator can help you plan the time and dosage of your medication or injection while you travel.
As a rule of thumb, eastward travel means shorter day and usually less dosage may be needed. On the other hand, westward travel means longer day and more insulin may be required to make the adjustment. To keep track of injection and meals schedule through changing time zones, always keep your watch set to your home time zone until the morning after you arrive.
If you are required to administer insulin injection while in flight, you should be careful not to inject air into the insulin bottle. In pressurized cabins, pressure differences can cause the plunger to fight against you and make it harder to measure insulin accurately.
Flying West (Longer Day Travel)
Here are some tips that will help you plan for your medication, insulin injection, and meal schedule:
Before departure, administer the usual dose at the usual designated time of day
When you begin your travel, keep your time set to your departure time zone and apply half of the usual dose at the standard time
After this half dose, reset your time to the destination time (you can find this information out from the flight attendant or your smartphone world clock)
Based on your destination time zone, apply the remaining half of the long-acting (basal) insulin at the same time schedule you usually administer the insulin (e.g. if you usually take insulin at 6pm in Vancouver, take your insulin at 6pm based to your new time zone)
The next day, keep to the destination time, and give the usual full dosage at the usual time
(Please note that in order to accurately plan for your schedule alteration, you should consult with your doctor or diabetes educator.)
Flying East (Shorter Day Travel)
Before departure, administer the usual dose at the usual designated time of day
Keep to the departure time and give a reduced dose at the usual time. The dose should be reduced by using this following formula:
Long Trip Tips & Tricks
Here are some tips for long trips.

Travel dose = usual dose x (0.9 – No. of time zones you are crossing ÷ by 24)
For example: Crossing 5 time zones
5 ÷ 24 = .21 (Remember the order of division preceeds the order of subtraction)
0.9 — 0.21 = 0.69
Travel dose = usual dose x 0.69
After applying this reduced dose, reset your watch to the destination time zone
According to your destination time zone, administer the usual full dose of insulin at the hour you usually take your insulin (e.g. if you usually take insulin at 6pm in Vancouver, take your insulin at 6pm according to your new time zone)
(Please note that in order to accurately plan for your schedule alteration, you should consult with your doctor or diabetes educator.)
For rapid acting insulin to cover food, take insulin with carbohydrate-containing meals—no matter the time zone or whether given by syringe, pen or insulin pump.
For insulin pump users, it is highly suggested that you stay on the departure time until arriving at the destination. Once there, change the clock on the insulin pump to the new time on arrival.
Twice-Daily Premixed Insulin Users
If you are a twice-daily pre-mixed insulin user, you should administer your usual insulin before departure at the usual time. Ask your diabetes team to prescribe you a rapid-acting insulin pen, which usually last for 4 to 6 hours. In the meantime, check your blood glucose level every 4-6 hours. If your blood sugar becomes too high, administer a small dose of the rapid-acting insulin every 4 to 6 hours (preferably with a meal) until it is time for your normal second pre-mixed insulin injection in the new time zone after arrival.
Combating Jet Lag
Jet lag and travel fatigue are important issues that can become increasingly more intense the more time zones that are crossed. With the lack of sleep, physical stress, and mental exhaustion, these conditions can cause poor judgment and may result in a dangerous medical mistake.
Travel fatigue can be minimized by booking flights that require less sleep disruption and minimal flight transfers (that is why flights with 3 or 4 transfers are much cheaper than direct flights). Getting plenty of rest and sleep before a trip can also make the time zone transition smoother. If you are traveling towards the west, expose yourself to as much daylight in the evening as possible. However, if you are traveling towards the east direction, you should maximize daylight exposure in the mornings. If this trick does not help, you can always take a short-acting sleeping pill, a small dose of melatonin or a PM Tylenol to fall asleep and stay asleep at a new location.
Important Information About Insulin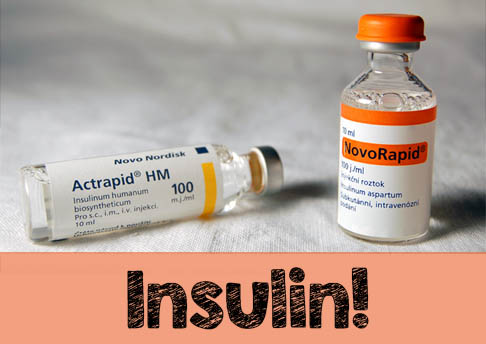 Accidents and mistakes can happen where you do not have enough insulin throughout your trip. In general, you should try to purchase the exact insulin brand and formulation that your doctor prescribed. However, if you are in an area where your regular brand is unavailable, you may switch for another brand's equivalent formulation (For example, Humulin R forNovolin R, NovoLog for Humalog). Changes in formulation (for example, from rapid-acting insulin to to short-acting insulin) will require medical supervision. In such circumstances, try to contact your doctor or a local doctor for advice.
Another important note to remember is that all insulin are made of strength U-100 in the United States. In other countries, insulin may come as strengths of U-40 or U-80 instead. Under such circumstances, you must buy new syringes to match the new insulin dosage to avoid messing up the intake of your insulin dose. For example, if you use U-100 syringes for U-40 or U-80 insulin, you will take less insulin than your correct dose and suffer from hypoglycemia later. On the other hand, if you use U-100 insulin in a U-40 or U-80 syringe, you will take too much insulin and may suffer from hyperglycemia.
Useful Information To Keep On Hand

Each country has its own preferred measurement when it comes to blood glucose level measurement.
Instead of measured in milligrams per 100 milliliters (mg/dl), the blood glucose level can be measured in millimoles per liter mmol/l). Here is a list of countries and their preferred unit of measurement for blood glucose level:
Country Preference: mg/dl vs. mmol/l
Country
Unit of Measurement
Country
Algeria
mg/dl
Latvia
Argentina
mg/dl
Lebanon
Australia
mmol/l
Lithuania
Austria
mg/dl
Malaysia
Bangladesh
mg/dl
Malta
Belgium
mg/dl
Mexico
Brazil
mg/dl
Netherlands
Canada
mmol/l
New Zealand
Chile
mg/dl
Norway
China
mmol/l
Peru
Columbia
mg/dl
Poland
Croatia
mmol/l
Portugal
Cyprus
mg/dl
Russia
Czech Republic
mmol/l
Slovakia
Denmark
mmol/l
Slovenia
Ecuador
mg/dl
South Africa
Egypt
mg/dl
South Korea
Finland
mmol/l
Spain
France
mg/dl
Sub-Saharan Africa
Georgia
mg/dl
Sweden
Germany
mg/dl, mmol/l
Switzerland
Greece
mg/dl
Syria
Hong Kong
mmol/l
Taiwan
Hungary
mmol/l
Thailand
Iceland
mmol/l
Tunisia
India
mg/dl
Turkey
Indoesia
mg/dl
United Arab Emirates
Ireland
mmol/l
United Kingdom
Israel
mg/dl
United States
Italy
mg/dl
Uruguay
Japan
mg/dl
Venezuela
Jordan
mg/dl
Yemen
Kazakhstan
mmol/l
Korea
mg/dl
If you need to purchase local diabetes medication or insulin, it is a good idea to have this blood glucose conversion chart:
Blood Glucose Conversion Chart Betweenmmol/l and mg/dl
mmol/l
mg/dl
mmol/l
mg/dl
mmol/l
0.06
1
6.7
120
16.0
0.28
5
7.0
126
16.6
0.55
10
7.2
130
17.0
1.0
18
7.5
135
18.0
1.5
27
7.8
140
19.0
2.0
35
8.0
145
20.0
2.2
40
8.3
150
20.8
2.5
45
8.9
160
22.2
2.8
50
9.0
162
23.0
3.0
54
9.4
170
24.0
3.3
60
10.0
180
25.0
3.9
70
10.5
190
26.4
4.0
72
11.0
196
27.7
4.4
80
11.1
200
30.0
4.7
85
12.0
216
33.3
5.0
90
12.5
225
38.8
5.5
100
13.9
250
40.0
6.0
106
14.4
260
44.4
6.1
110
15.0
270
50.0
Overheating During Pregnancy
During your travel, if at any point you feel weak and light-headed or nauseous, immediately stop what activities you are doing. These symptoms can be signs that you are overheating and dehydrated. In such circumstances, follow these steps:
Seek a close-by shaded area or an indoor place. Sip a glass of cool water and lie down to rest.
If you still feel hot, lower your temperature by wiping your body with a cold, wet towel. Afterward, place an ice pack or a cold towel on your forehead and the back of your neck. If possible, have a fan turned on and circulate the air around you to help you cool down faster.
If you feel dizzy, you may be low in blood sugar level. If possible, take your blood sugar test and proceed with your emergency care routine. If your test kit is not available, have some juice or a light snack to raise your blood glucose level. Alert your traveling companion of your situation and head back to your hotel so that you can rest up. If you think that your condition is deteriorating, seek medical help immediately. Do not wait.
Gestational Diabetes and Traveling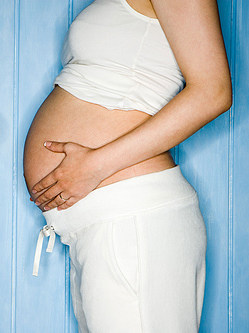 Even if your diabetes and blood glucose level are in good control, you may have to seriously consider your options as there are many factors that may negatively impact your unborn child. The most obvious one is to avoid visiting developing countries that will require you to receive immunization shots for various diseases such as typhoid fever, yellow fever, mumps, and measles. Because most of these vaccines have not been thoroughly tested on pregnant women for apparent reasons, they may pose dangerous side effects on the development of the fetus. Infections such as malaria can severely increase the chance of premature labor, stillbirth, and miscarriage. The medication for treating malaria can also be harmful to the fetus and increases the chances of birth defects.
What about Women with Gestational Diabetes?
For women who have gestation blood glucose level, it is usually not a good idea to travel, and doctors often recommend against it. Aside from having diabetes, if you are 35 years old or over and pregnant for the first time, and/or are experiencing from these listed complications:
Vaginal bleeding
Multiple pregnancy
High blood pressure
Cervical problems
Have pre-eclampsia
Abnormalities of the placenta
Prior ectopic pregnancy
Prior miscarriage
Prior premature labor
Traveling with Gestational Diabetes
If you must travel when you are pregnant, the second trimester is the safest time as you are least likely to experience complications. To avoid common cases of diarrhea, always eat well-cooked food and drink bottled water. You should avoid any pre-cut fruit, raw leafy greens, and salad as they are easily contaminated. Remember to always travel with at least one companion so that there is always help should a health emergency occurs.
Your doctor and your gynecologist will very likely deny permission for you to travel and even order you to maximize your bed rest duration. If you ignore your doctor's recommendation, your health insurance and travel insurance will have the right to deny any of your claims and drop your coverage should a health-related emergency situation occur during your excursion. If such an event occurs, you will not only suffer from the complications but also face the expensive international medical care expenses.
On the other hand, if you have a relatively stable gestational diabetes condition and your gynecologist gives you the permission to travel, please refer to our more in-depth section on gestational diabetes.
Over to our readers
Here at thediabetescouncil, we encourage our readers to share their experiences, best practices, tips and stories with everyone. Do you have any travelling trips as a person with diabetes that you would like to share with others to maximize the good times and the minimize the bad?
Please remember that all tips and stories shared will help someone else who may have not thought of it before. Safe travels from us to you and share your travel stories with us in the future.
TheDiabetesCouncil Article | Reviewed by Dr. Sergii Vasyliuk MD on June 05, 2020