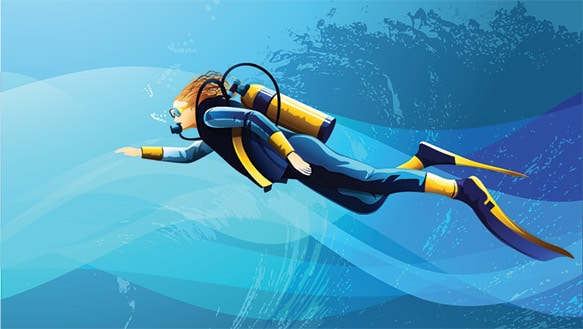 In this article, we will look in depth at the history and present state of scuba diving with diabetes. We will introduce to our readers one of the experts on the subject, Neal Pollock, PhD, who was also co-chair of the meeting and co-editor of the publication Diabetes and Recreational Diving: Guidelines for the Future. I had the pleasure of speaking with Dr. Pollock, and his insight and interview will be shared here.

I also had the opportunity to speak to someone who has type 1 diabetes with a successful diving history. We will share their story with you here as well. As old thought processes are broken, and replaced with new ones, backed by science and professional opinions for safe practice, people with diabetes are able to accomplish more and more each day.
For people like Dr. Pollock, and those with diabetes who want to dive, additional research and awareness needs to be done. To bring people with diabetes, who are diving, out of hiding, there needs to be consistent and universal acceptance. Diving is not for all, as we will learn, but for those divers who are able to demonstrate appropriate health status and a level of control that is required to be able to dive.
Safety is of the upmost priority when diving with diabetes, and certifications should not be rendered to those with poorly controlled diabetes, who do not meet the developed guidelines. For those who do have good control, diving with diabetes is possible.3,4ƒ
Introducing diving and diabetes expert, Neal Pollock, PhD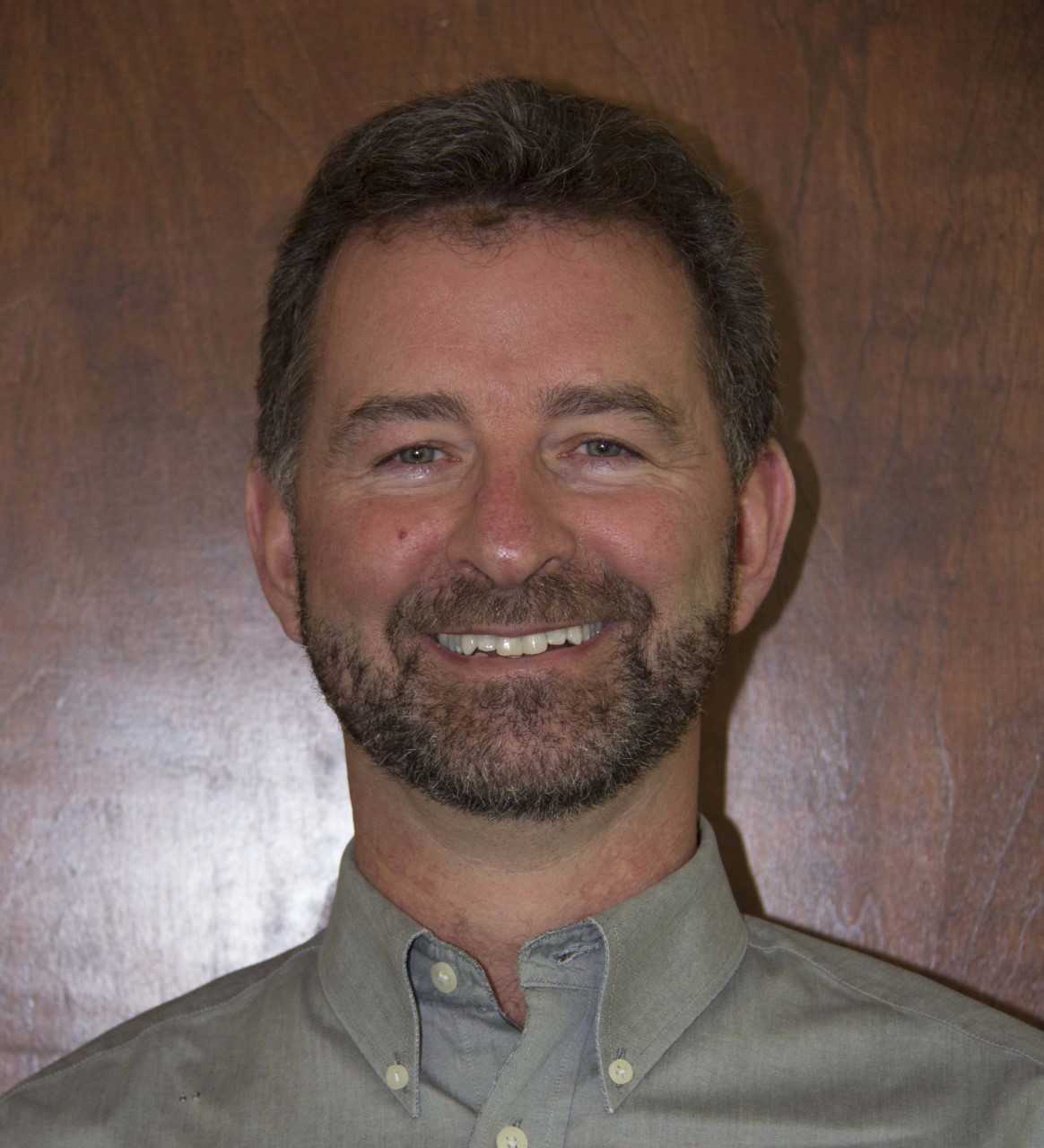 Prior to 2005, there were no clear guidelines for divers with diabetes. The workshop brought together medical professionals from countries all over the world to talk about instating clear guidelines that were lacking for divers with diabetes.
The international workshop was sponsored by the Undersea and Hyperbaric Medical Society (UHMS) and Divers Alert Network (DAN). Fifty researchers and clinicians from seven countries participated in the workshop held in Las Vegas, Nevada.
There had already been several studies, which supported the safety of diving with controlled diabetes. The group was able to craft guidelines for recreational divers that would be used to promote communication and access. It was a start, but more awareness is needed, as some physicians still refuse to sign off on divers with diabetes who do meet the requirements.
I advise reading the following articles:
Dr. Pollock was at Duke University then, and worked with DAN. He is now working primarily in Canada, where he is an Associate Professor in Kinesiology at Université Laval in Quebec, QC.
His current research is being conducted at the Centre de medicine de plongée du Quebec, Hotel-Dieu de Levis, QC. His research interests focus on health and safety in extreme environments, and include research related to diving with diabetes.
He is editor of the peer-reviewed journal Wilderness & Environmental Medicine, on the board of the Canadian Undersea and Hyperbaric Medical Association (CUHMA), and scientific director of Undersea Medicine Canada. He also serves on the diving board for the University of the Virgin Islands. He lectures extensively on diving and safety all over the world.
For the 2005 guidelines, Dr. Pollock also developed an online training module to inform divers with diabetes, or persons who may be working with these divers. The program is free; to complete it, visit: https://www.diversalertnetwork.org/training/onlineseminars
Interview with Neal Pollock, PhD.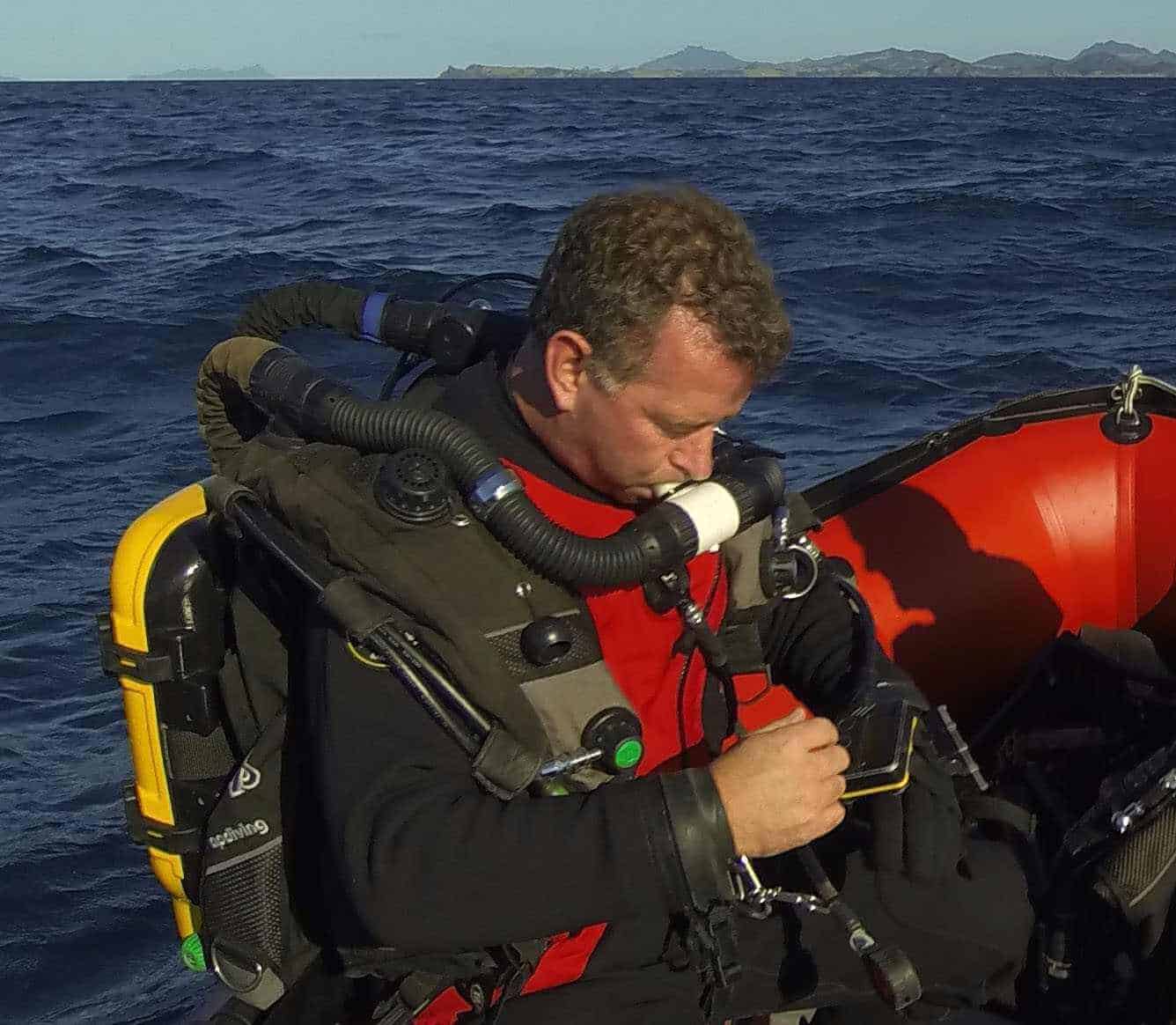 I had the opportunity to speak with Dr. Pollock about his work with diabetes and diving. He spoke about the collaborative guidelines developed for divers in 2005. The guidelines have not been updated since then, and still serve as the model by which divers with diabetes can be evaluated for safety and can conduct their diving.
When asked about other countries, and their progress toward implementing guidelines for recreational divers, Dr. Pollock said, "There is variable acceptance around the world. The United Kingdom may be the most progressive, where divers with diabetes can dive both recreationally and professionally if cleared to dive and they follow the required procedures. "
"In North America, the YMCA was the most liberal, having developed their own certification program for persons with diabetes. This program was dissolved after the guidelines were developed, probably in part since it was felt that diving by members of this group was moving into the mainstream. There is still, however, varying resistance," he said.
"There have been some cases in which a physician has cleared a diver following the 2005 guidelines, but facilities or training agencies have not accepted the clearance. The concern expressed at the time was that the approval was not acceptable unless it was unconditional."
"The South Pacific Underwater Medicine Society (SPUMS) provides medical guidance in New Zealand and Australia. While the 2005 guidelines have been approved, it remains a slow process for physicians to accept them and to become comfortable to clear divers with diabetes, regardless of health status and glucose control."
"There are complex issues to consider," said Dr. Pollock.
"Not every person with diabetes has the appropriate medical health, physical fitness, self-control, and commitment to dive safely. Individuals should expect to put in effort to convince their medical monitors to clear them, and then to maintain the clearance. Physicians, training agencies, and facilities where diving will be conducted must all agree to support the divers."
Finding the right team of doctors, certification agencies, and even private dive companies, that know diving and diabetes becomes important for success. Some divers will try to hide their condition, but this can be a huge safety issue since those who may be involved in an adverse event will be less prepared. Open communication and education for all is important.
"The 2005 guidelines can be applied beyond recreational diving, as they represent a reasonable starting point for divers with diabetes, but this is an ongoing effort. There are cases of divers with diabetes conducting complex dives safely, but this has largely not been institutionalized."
"We viewed the 2005 guidelines as a starting point that would evolve. For example, the prohibition against cold or arduous dives was felt to be a reasonable starting point in the absence of data. A proposal was offered to the American Academy of Underwater Sciences (AAUS) that progressive certification similar to what is used to issue depth clearances for scientific divers could be used to issue clearance for increasingly cold, arduous, or other complex exposures."2
"It's important to me that people with diabetes are not unnecessarily restricted," he said.
"However, it's important that they be thoughtful and responsible, and not hide things. It's worse in the long run if you are not honest. Get evaluated properly, don't think that you are bullet-proof, and take great care. Follow the guidelines and contribute information that can help us refine them and enhance education for all involved – divers, dive leaders, dive operators, training agencies, medical monitors, and institutions. I do believe that many people with diabetes can dive safely, but we need to make sure that they come home safely at the end of the day."
Dr. Pollock is reviewing diving incidents involving persons with diabetes to determine if the condition appeared to play a meaningful role. "Each case is individual, but we learn the most through open communication and objective evaluation."
Introducing Professional Diver with Type 1 Diabetes, Steven Prosterman, USVI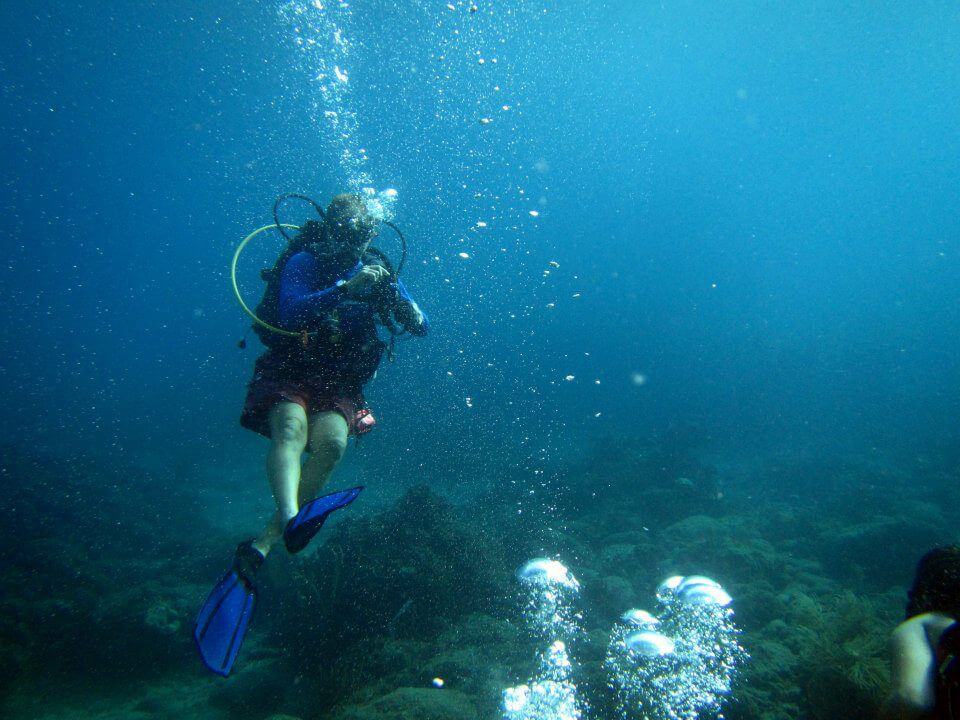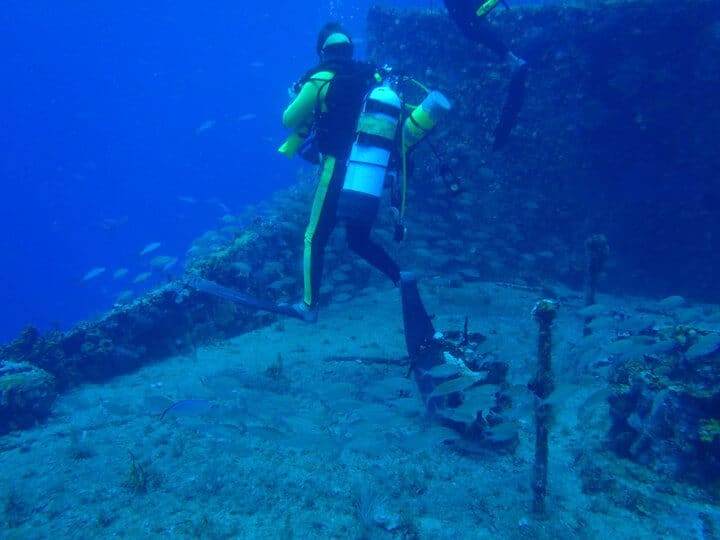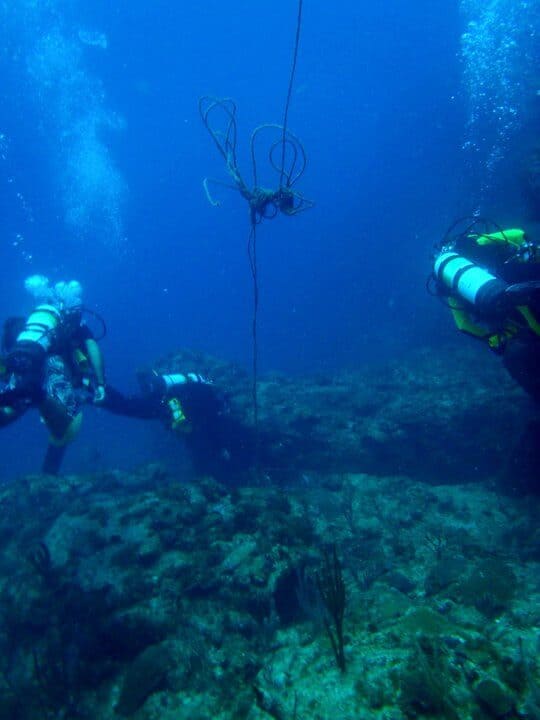 We have pilots and air traffic controllers with diabetes, firefighter, Police, EMT/Paramedic, military, and truck drivers with diabetes. Why not divers with diabetes? As it turns out, there are already divers with diabetes.
Let's talk with Steve Prosterman, who is a professional Dive Safety Officer at the University of the Virgin Islands. As a professional diver with Type 1 Diabetes, he has broken many barriers. Steve teaches and oversees research, and is the instructor for recreational and technical diving. He oversees the hyperbaric chamber at the university for divers who get the bends (air bubbles), and for diabetic wound treatments.
Steve was involved with collecting data for the 2005 guidelines, and he spoke at the workshop in Las Vegas. He was able to collect data at Diabetes and Diving camps that he has conducted with Dr. George Burgham and Dr. Doren Fredrickson since the 1990s, and early 2000s.
The two plan to hold the camp again next summer on the island of St. John, if problems related to the recent hurricane can be worked out. They have hosted campers with diabetes from the states, Australia, Russia, and other countries, who wish to learn to dive safely. They were able to developed safe, proven guidelines from the data collected at camps.
Interview with Steven Prosterman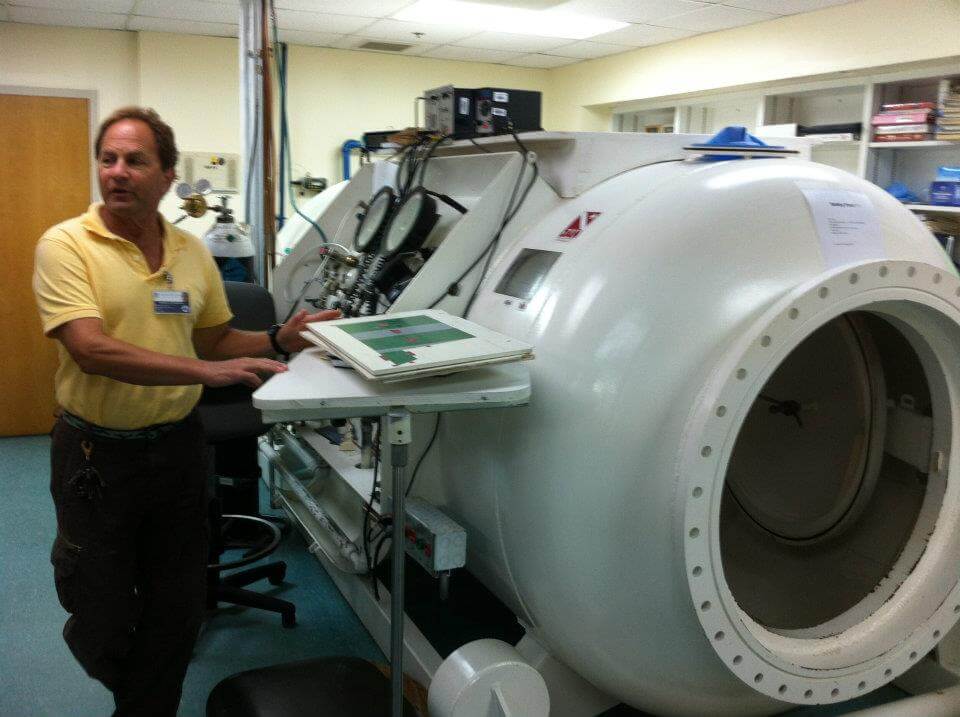 Dr. Pollock was able to put me in touch with Steven Prosterman. Our conversation kicked off with a discussion of CGMs, and insulin pumps, and how they would fit into the diving guidelines. From Memphis, Tennessee, originally, Steve has been instructing divers in the US Virgin Islands since 1979. He doesn't use a pump, but he does use a CGM.
"For my CGM, I can't take the receiver down, but the site is fine to 120 feet (about 36.5 meters). I'm not sure how a pump or CGM would do in deep water, so a pumper may give half the basal rate before diving. If their basal rate is 1 unit per hour, they will give one half or 0.5 units one hour prior to diving, and disconnect the pump," said Steve.
"When they come up, they will have a small bolus ready (usually the other 0.5 unit/hour). In case they hit the currents and are more active, they need to enter with water with their blood sugar on the high side."
When asked about his preparation process for diving with diabetes, Steve, who has been Type 1 for 50 years, said, "The main thing is not to dive with low blood sugar. I do a lot of testing, and go by the guidelines. I test one hour before going down, and 20-30 minutes before a dive, then again right before. For CGM, I make sure I'm not dropping by the CGM. I do one test to proof the CGM. Make sure your buddy knows you have diabetes to deal with, and have them carry extra glucose for you. You want to be a little high, and if you see a 200 mg/dL blood sugar dropping to 180 mg/dL, take extra snacks down with you."
"For someone taking NPH or Lantus injections, that might still be working when they dive, they may want their blood sugar to be a little higher when they go down. It's an individual thing," said Steve.
"There are a number of good products. I used to bring Insta-Glucose. It comes in a heavy, plastic case like toothpaste. It has 30 grams of carbohydrates. Cake icings, and honey in a squeezable jar (the 4 oz.) works well for diving, windsurfing, or most any activity where you are isolated. Gummy bears in the foil packed have 18 grams carbohydrates, and are also good to use. People who dive with diabetes have their favorites, and mostly it should withstand water."
For cold water dives, Steve doesn't have much experience. In the Virgin Islands he dives in warm waters, in places that he says he "probably shouldn't tell you about." His favorite place to dive, he says, is Cockroach Key, possibly named that to keep it a secret, as "who wants to go to Cockroach Key."
However, Steve feels that if divers with diabetes have the appropriate wet or dry suit for exposure, the cold will not be a factor. "Shivering uses energy," said Steve.
"Trying to keep warm can make blood sugar go low. You should also understand your body during moderate exercise, and how your blood sugars react. Diving is like hiking, its good exercise, but it's not strenuous."
"If you do have a low blood sugar while diving, make sure you come back up to the surface and get buoyant, and then take your glucose. If you have a hypoglycemic event while diving, don't go back down. With hyperglycemia or high blood sugar, it depends. If you are throwing ketones, it's another thing. If you don't feel good, you can't dive safely, and you shouldn't," said Steve.
"CGMs are a big improvement, and give better control and more input into diabetes management."
For those divers with diabetes who take oral medications for their diabetes, Steve recommends that they continue to take their medications on the day of diving. The main thing is that they know how their body and blood sugars react to exercise.
When asked how he has overcome the barriers to professional diving with diabetes, Steve said, "I have had good employers that stand by me, and I have Neal (Pollock), and others to support me. I have broken the barriers, but it doesn't mean it's easy. You should find people to listen.
They should listen to you as an individual. There should be no blanket ban to dive with diabetes. Once we are given the chance to do it, we should do it by the guidelines. They were very good from the beginning, and based on data collected from years of Diabetes and Diving camps. If divers mess up, and don't use the guidelines, it can ruin it for the rest of us."
"Just because you have diabetes, doesn't mean that you shouldn't do things", Steve said.
"There are just extra steps involved. These guidelines could be used for many activities that isolate a person with diabetes for a period of time. The main objective is no low blood sugars, and it can be done if people take charge and learn how to do it."
Both Neal and Steve feel that articles like this to increase awareness of the UHMS-DAN guidelines will help divers and clinicians alike to learn more about how divers with diabetes can be safe. This should promote that all team members understand best practices, and understand guidelines.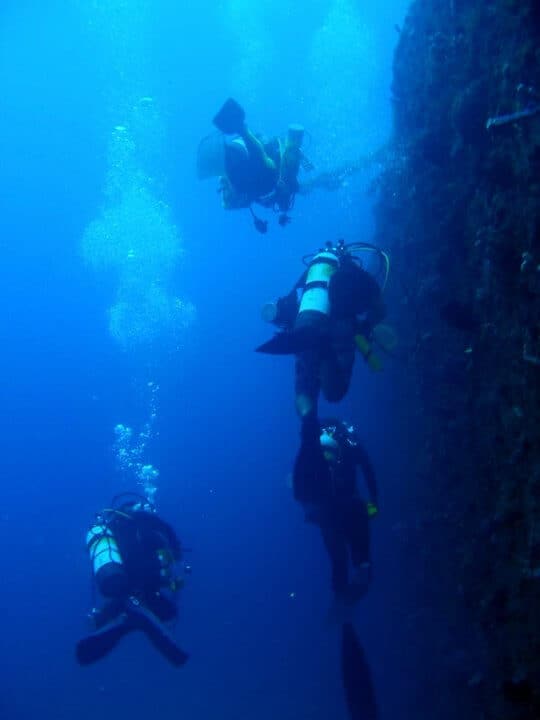 We deeply thank Dr. Neal Pollock, and Steven Prosterman for sharing their experience and expertise with The Diabetes Council.
The history of diving with diabetes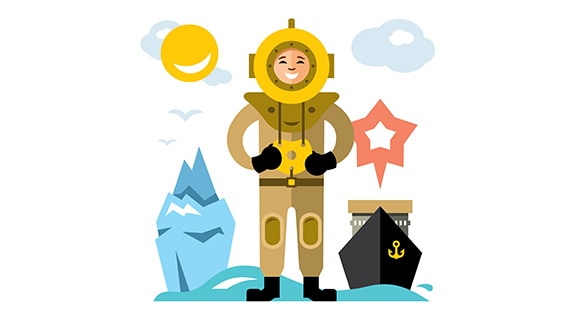 Up until Dr. Pollock, and his colleagues like Steve Prosterman, and other clinicians and divers from around the world gathered for the workshop to create the guidelines in 2005, there were no clear instructions for divers with diabetes. The medical community had already determined that insulin requiring diabetes mellitus (IRDM) was a blanket contraindication for scuba diving.
In the past 20 years, it had become evident that there are many divers who use insulin, and who are diving with no problems. Many of these divers chose to hide their condition so they could keep diving.
The history of diving with diabetes in the United Kingdom
In 1975, a diver in the United Kingdom had a case of decompression sickness, which at the time, was misdiagnosed as an episode of low blood sugar. This caused a blanket ban in the UK, which didn't end until 1991, when it became known that there was evidence of successful diving by people with diabetes.
Between 1991 and 2004, records of 14,000 dives by 447 divers with diabetes in the UK became available, and a study was done that showed pressure had no effect on glucose. Divers in the group were of all ages across recreational divers, with an average of 20-27 dives per year. The depth for the dives was as much as 100 feet (30 meters), and there were some decompression dives represented. All had good safety records.5
DAN survey in Alert Diver magazine
In 1993, DAN conducted a survey of 164 divers with diabetes. They gathered anonymous data from divers with diabetes, which was distributed in Alert Diver magazine. The majority that responded used insulin, and in total, they had all completed 27,000 dives, or about 165 dives per person.
None of the divers with diabetes reported any major problems or complications that required emergency help. There were some low blood sugars, but there was no one who was rendered unconscious during diving. Many of the survey participants revealed that they had never let anyone know that they had diabetes, including any instructors or leaders that they dived with. When the condition is unknown to buddies or leaders, it presents a safety concern.
DAN observational studies of divers with diabetes
DAN has also conducted observational studies that included adult certified divers, with IRDM divers in one group, and a control group. Participants had no complications of diabetes, had not been in the hospital in the last year, had an HbA1C less than 9%, and understood how their bodies responded to exercise.6
They monitored blood sugars one hour prior to diving, 30 minutes, and again at 10 minutes prior. If blood sugar was less than 80 mg/dL, they did not participate in the dive, and were given extra carbohydrates. Data from the dives was logged, and divers rated how they felt during the dive, and their thermal comfort level.
If they had to surface for carbohydrates, they were given a specific amount of carbohydrates. Any problems that occurred were reported in the findings, and whether or not they were thought to be related to diabetes and diving. Out of the 83 divers who were in the study (40 with IRDM, and 43 in the control group), only 7%, or 37/555 participants complained.
There were no other problems reported for diabetic divers in the study. Repeated diving didn't make any difference, nor did the gender of the divers. Divers averaged between 2.7 and 4.2 dives per day.
Camp "Dream Big" study of teenage divers in the USVI
Another observational study collected data of teenage, novice divers with diabetes who were newly certified at the "Dream Big" camp in the US Virgin Islands. The camp is organized by the Barton Center for Diabetes Education, and the study included 7 campers – 4 females and 3 males. All were 16-17 years old. They followed the protocol from the 1997-2000 diver study with adults.
In 2 of 42 dives, there was a 5% incidence of low blood sugar, but no symptoms or problems were reported during diving. Males had higher blood sugar at 60 and 30 minutes before the dives, and a greater drop following the dive than did female divers with diabetes.
The study established that teens, though they were inexperienced and overestimated their glucose needs, were able to quickly learn to improve their control. Novice divers then must pay attention in new activities where they are motivated to succeed.1
Seeing the future of diving with diabetes
People in the UK have been diving with diabetes both recreationally and professionally for over ten years, and the US has been certifying divers recreationally for ten years. It was time to move forward to a future where people with well controlled diabetes could dive, and had guidelines to go by. Anti-discrimination laws were in place in the US, UK, and Canada, that supported cases against discrimination.
An international workshop to create guidelines for divers with diabetes
The history of diving for people with diabetes culminated in 2005, with a workshop to review the research and data, and draft the guidelines.
Researchers and clinicians gathered, and issued guidance in three areas:
Selection and surveillance
Scope of diving
Glucose management the day of diving
The guidelines were discussed with clinicians and researchers from seven countries to guide recreational diving with diabetes.
So what are the guidelines? Let's check those, and see what criteria you need to meet to dive with diabetes…
Undersea and Hyperbaric Medical Society (UHMS) and Divers Alert Network (DAN) Guidelines for diving with diabetes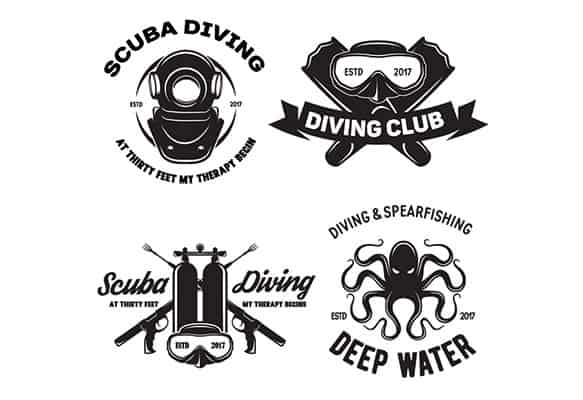 These are the guidelines you need to know before you venture out in the vast ocean.
Selection and Surveillance
Recreational scuba divers with diabetes who use oral hypoglycemic medications, or who take insulin, can dive if they meet the following criteria:
Over the age of 18; if special training on diving with diabetes, may be lowered to 16
It has been at least 3 months since oral hypoglycemic medication was started
It has been at least 1 year since insulin was started (established divers need to wait 6 months)
No blood sugar less than 80 mg/dL in the previous year that required intervention by medical personnel
No hypoglycemia unawareness
No high blood sugar over 300 mg/dL in the previous year that required intervention by medical personnel
HbA1C = less than 9% – within the month prior to initial assessment, and annually
Absence of retinopathy
Absence of severe neuropathy symptoms
Absence of nephropathy with protein in the urine
Absence of peripheral vascular disease, and cardiovascular disease
Within two months of the diving assessment, or annual exam, each diver with diabetes should see their medical provider for a physical. The provider will confirm whether the above criteria are met.
All candidates who wish to dive with diabetes should have an excellent understanding of the use of their personal blood glucose monitor, a good knowledge of their diet, how exercise and stress affects them, and what affects their blood sugar levels.
They should know how their body reacts to cold temperatures. Anyone over 40 wishing to dive should be considered for having an evaluation for silent ischemia.
Understanding the effect of diving on your blood sugar levels
Low blood sugar can occur more often in cold water, and is more likely at deeper depths, and for longer periods of time. Diving is exercise, and so you need to know how your body reacts to moderate exercise. Though studies have shown that pressure does not cause a drop in blood sugar, if you dive you are in an isolated situation.
The reason for concern over hypoglycemia during diving is understandable, as severe cases requiring intervention by another person carry a 2-4% mortality rate. Loss of consciousness due to low blood sugar is of major concern under water for divers with diabetes. Blood sugars can drop due to greater than anticipated duration and intensity of exercise while diving, too much insulin, small or missed meals, and due to thermal stress.
Therefore, it is important that the diver with diabetes understands how to prevent a low blood sugar while immersed. If one occurs, he or she needs to be prepared to deal with it, by taking extra carbohydrates down with them.
Blood sugar management on the day of diving
Have oral glucose on hand in case of low blood sugar
Test blood sugar at the end of each dive
Drink plenty of fluids to stay hydrated
Log everything about the dive, including adverse reactions
If blood sugar is less than 80 mg/dL, or greater than 300 mg/dL, diving should be cancelled
Potential risks for divers with diabetes
Divers with diabetes have a risk of unconsciousness at great depths if they were to have a low blood sugar. Before a diver is given approval, things such as risk for cardiac accident underwater must be considered, along with all risks related to water pressure, immersion, and functioning remotely.
All these things must be given careful consideration. It's different than trying to maintain tight blood sugar control to reduce complication risks. Avoiding hypoglycemia becomes the main goal, so blood sugars are higher upon entry for diving.
People with diabetes must have no other exclusionary conditions
Clearance to dive should not be given if the person with diabetes has any exclusionary conditions, such as epilepsy (seizures), cardiovascular or lung disease.
Glucose management the day of diving
The diver should be able to assess on their own for overall fitness to dive. Blood glucose should be at least 150 mg/dL just prior to entering the water. It should be stable or rising, not decreasing. You will see a decrease when you complete the three blood sugar tests pre-entry. Log all results.
You should check your blood sugars often for the next 12-15 hours after diving. Make sure to hydrate well before and after a dive, and make note of any significant data related to the dive in your log book.
Scope of diving
Divers with diabetes should avoid enclosed situations, with overhead compartments, such as in wreck diving, or caves. Prolonged and over-strenuous dives can precipitate a low blood sugar.
Cannot dive deeper than 100 feet (30 meters) of sea water, for longer than an hour
In cases where diving is happening in great depths, low blood sugar can occur, and also be mistaken for nitrogen narcosis. This condition occurs when consciousness is altered in response to diving depths. The person may fall asleep while diving, due to gases at high pressure. This is one reason why people with diabetes who want to dive should dive no deeper than 30 meters, and also no longer than one hour at a time.
Should have a buddy or leader informed of their condition and the appropriate steps to be taken in the event of any episodes
Don't hide your condition if you are diving, and make sure your dive leader knows what to do in case you had a low or high blood sugar. It could be very dangerous to hide your condition, so don't do it. You should always have a buddy, and inform them of how they can assist you if you were to get into trouble on a dive due to your diabetes. Show them where the glucose is, and how to give a glucagon injection if needed.2,3,4
Avoid prolonged cold and arduous dives which can cause hypoglycemia
Diving is physical, though not strenuous. It's almost the same as hiking. On long dives, even under an hour, you could have a low blood sugar. The deeper that you go, the colder the water can get. This can also precipitate a low blood sugar episode. Stick with the guidelines, and stay within 30 meters of the surface, and keep your dives under 60 minutes in duration.
Things to consider when diving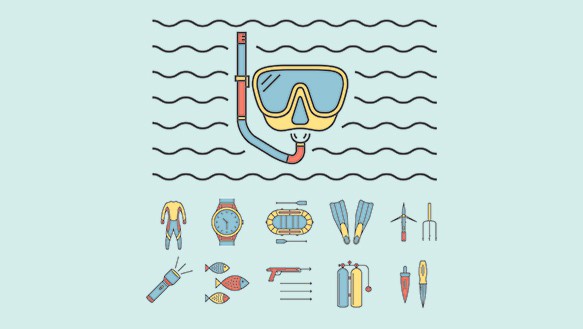 Make sure to speak with your doctor or provider before you undertake recreational diving
Isolation from medical help is a reality when diving
Bring your medications and insulin with you to the dive site
Keep them in packages or bags that are waterproof
If you are not sure of your cardiovascular health, have an evaluation prior to diving
Start diving in shallow water first, and work up to deeper waters (no deeper than 100 feet [30 meters])
Decompression dives should be avoided
Keep your dives under one hour
If you follow the same rules for each dive, you can dive multiple times
Carry extra oral glucose. You could lose your primary source, or it could get wet.
Make sure that your buddy and your dive leader both know your condition, and have them carry extra glucose for you
Check blood sugars at 60 minutes, 30 minutes, and right before you dive, then right after you dive, check your blood sugar again
Resurface with your buddy and obtain buoyancy before treating low blood sugar while diving
Once you surface and take glucose, do not dive again that day
Don't try to take insulin pumps and CGMs underwater – disconnect – sites seem fine to 120 feet
Have a buddy who does not also have diabetes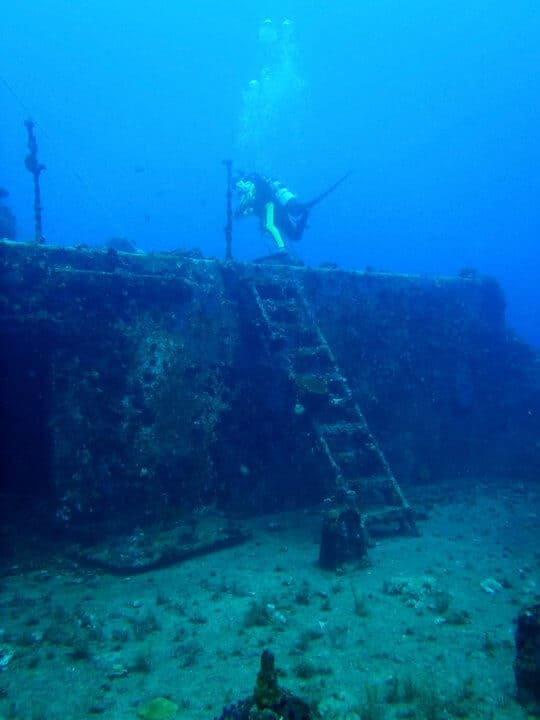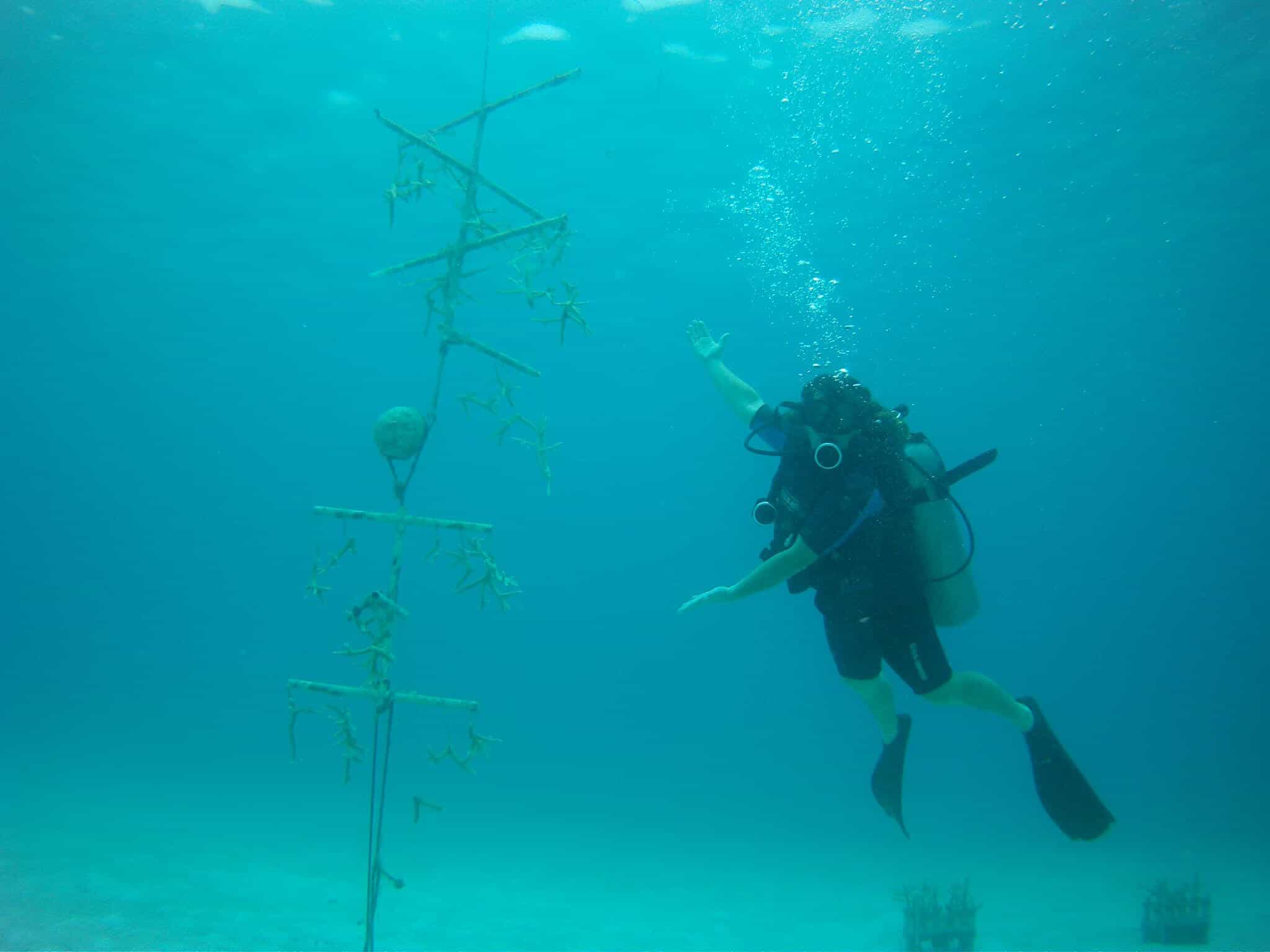 Over to you
Are you a certified recreational or professional diver with diabetes? We would love to hear from you. Are you thinking of becoming certified to dive? Let us know how this article helped you in the comments section below. We hope that when you get your wet suit on, and head out on your diving adventure, that you are safer after reading this article.
References:
Pollock NW, Uguccioni DM, Dear GdeL, Bates S, Albushies TM, Prosterman SA. Plasma glucose response to recreational diving in novice teenage divers with insulin-requiring diabetes. Undersea Hyperb Med. 2006; 33(2): 125-33.
Pollock NW. Evolving standards for diabetes and diving: implications for scientific diving. In: Godfrey JM, Pollock NW, eds. Diving for Science 2006. Proceedings of the American Academy of Underwater Sciences 25th Symposium. Dauphin Isl, AL: AAUS, 2007: 25-38.
Pollock NW, Uguccioni DM, Dear GdeL. Diabetes and recreational diving: guidelines for the future. Diving Hyperb Med. 2006; 36(1): 29-34.
Pollock NW, Uguccioni DM, Dear GdeL, eds. Diabetes and recreational diving: guidelines for the future. Proceedings of the Undersea Hyperbaric Medical Society/Divers Alert Network 2005 June 19 Workshop. ISBN #978-0-09673066-9-8. Durham, NC: Divers Alert Network; 2005; 136 pp.
https://www.diabetesdaily.com/forum/type-2-diabetes/50810-research-scuba-diving-type-2-diabetes-what-i-have-found-my-situation/
Dear GdeL, Pollock NW, Uguccioni DM, Dovenbarger J, Feinglos MN, Moon RE. Plasma glucose response to recreational diving in divers with insulin-requiring diabetes. Undersea Hyperb Med. 2004; 31(3): 291-301.