People with diabetes struggle with many things, but one of those things is the frank and sheer stupidity of some people when it comes to diabetes. Not only that, but some people without diabetes can be downright insensitive and rude to those people who do have diabetes.

Lately, I think most people who are called "diabetic" would prefer the term Person with Diabetes, or PWD. After all, they are a person first, and a "diabetic" second. They have feelings, and they are great in numbers. Some articles, like a recent one in the New York Times, says that diabetes is on the decline for the first time in decades. You can read the full article here: New Diabetes Cases, at long last, begin to fall in the United States.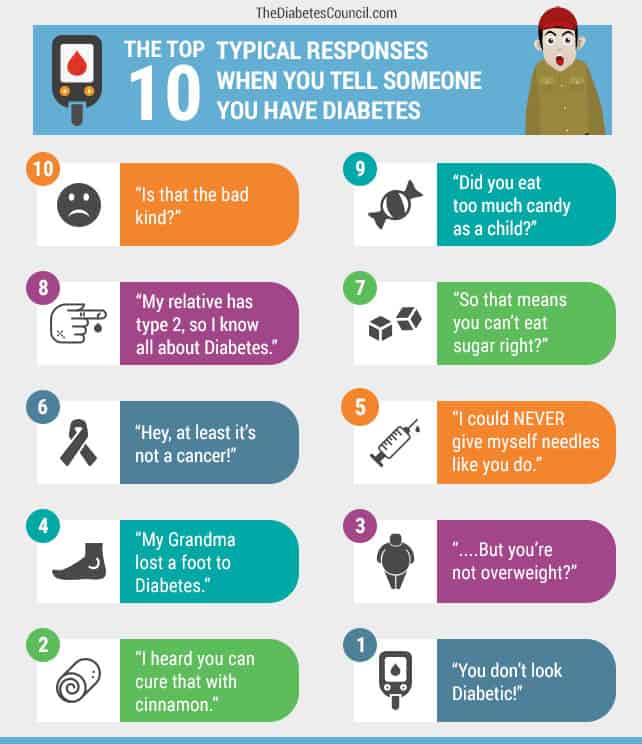 iSince we all could use a little more awareness and sensitivity to what it means to be a Person with Diabetes, let's look at the top 10 responses when you tell someone you are a person with Diabetes.
Let's see why these are some pretty insensitive responses. What might be some better responses to have for a Person with Diabetes? We will look at that also, after this…
You Don't Look Diabetic!

What do you exactly mean by that? What is a person with diabetes supposed to look like?
Should I be thin, or fat, or in between? In fact I could be any of those things. No one is immune to diabetes anymore. Haven't you heard it's an epidemic?
A thin person could be a Type 1 PWD. A thin person could be a Type 2 PWD who has some visceral fat, or fat around the pancreas.
Someone who is at a normal weight can have Type 1 or Type 2 Diabetes.
Someone who is overweight can have Type 1 or Type 2 Diabetes.
Someone who is young can have Type 1 or Type 2 diabetes, and someone who is older can have Type 1 or Type 2 Diabetes.
So how do suppose a "diabetic" looks? He or she looks like you or me.
I heard you can cure that with cinnamon

Hmmm…I wouldn't try it. I've heard of cinsulin.
I guess I should read about it. But though it might be a good supplement, I doubt I will recommend it to my patients to take the place of their insulin or oral medications. But wait…we have an article about the effects of cinnamon on A1C and blood sugar, among other things, right here at thediabetescouncil.com! You can read it here: Fact from Fiction: Is Cinnamon Good for Diabetes?
Here are some excerpts from the article
Research in a number of animal models of diabetes indicate that cassia cinnamon can increase insulin secretion, though its effects on blood sugar levels does not seem to be very significant. In clinical trials, the evidence that cassia cinnamon can effectively lower blood sugar levels and lower A1c percentage has been inconsistent. Some clinical studies have indicated that cassia cinnamon can lower the fasting blood sugar, HbA1C percentages, total cholesterol, low-density lipoprotein (LDL) cholesterol, triglycerides, and blood pressure when compared to placebo in patients with type 2 diabetes while others have not demonstrated any effect.
The evidence supporting the use of cinnamon to help improve insulin sensitivity and to lower blood sugar levels as well as other important lab values (eg. A1c, triglycerides, cholesterols) is not very strong right now.
So no, you can't cure diabetes with cinnamon.
But you're not overweight?

No, I'm a normal weight. But diabetes runs in my family. Or…I got diabetes when possibly a dreaded virus struck my immune system and decided to attack my pancreas, and render the beta cells that make insulin useless. They don't know what exactly causes diabetes.
Maybe I'm super thin, but I yo-yo dieted and wore my beta cells out. They just can't keep up anymore, and I'm a Type 2.
Or maybe I am super thin, and I have some fat around my liver and pancreas, which makes it hard for my beta cells to work right, and I have insulin resistance. I'm Type 2.
Maybe I have some other endocrine problem that makes me more susceptible to Type 2 Diabetes. Maybe I have Polycystic Ovarian Syndrome.
So no, you don't have to be overweight to be a Person with Diabetes.
This is getting exhausting.
For more informative articles read the following:
My grandma lost a foot to diabetes.

The scare factor? Does it echo the sentiments of the current Presidential race?
Yikes! What a way to say hello! Talk about open veritable mouth and insert veritable foot. Or should I say cut off veritable foot? Are you kidding me?
Oh no, your poor grandma! I'm really sorry for her, but I manage my diabetes and keep my A1C where it needs to be. I'm not looking at that sort of complication. And I check my feet every single day!!!
I've got some great foot and skin care routines I could show you. I'll bet my cuts heal faster than yours!
I could never give myself needles like you do

Well you could if your life depended on it like a Type 1 PWD. And you could if you would end up in the Intensive Care Unit if you didn't.
So believe me (a faint echo of sarcasm there from the current Presidential candidacy), you would too take your shots!!! There is no doubt in my mind that you would buck up and be a big boy like you did back in your school days, when you got all of those needed vaccines.
Not only that, you would learn how to wash your hands, draw up your shot, clean your site, administer your injection, dispose of your sharps, all while making sure to rotate your sites around from your arms to your thighs, and to your abdomen. You would use a new needle every time so that you didn't get an infection.
You could prick your finger to check your blood sugars, too. You could do it multiple times a day. You could make sure to rotate between fingers and use your palms sometimes, so you don't lose the feeling in your fingertips.
You could do all this and more if you were a person with diabetes.
Hey, at least it's not a cancer!

Well, bonus there! Halleluiah!!!
At LEAST it's not the dreaded "C" word. My mom had skin cancer and they took it off. She's fine. I can't take my diabetes off, so just what do you mean?
It's quite a ridiculous notion. At least it's not a cancer. Sometimes I can't believe that people even think up such things to spew from their mouths. Think much?
Ok, so seriously, it's much worse than some cancers. You can't just get rid of it most of the time. Some people with diabetes can reverse it with diet and exercise. They will go right back to it if they abandon healthy lifestyle changes.
Others have just had it too long to get off medications, and there is already some complications. Perhaps they didn't manage it so well. Maybe they never learned how to self-manage, count their carbohydrates and exercise regularly.
Maybe they did like Salina who contacted me this past week. Maybe they stopped taking their medication and their A1C went up to a 14. Maybe they got a cut and it wouldn't heal because their blood sugar was so high. Maybe they had just been wishing diabetes would go away.
You see, you just don't know if you don't have diabetes. It's so much worse than some cancers.
So that means you can't eat sugar, right? (As you bite into a brownie)

No, I can eat sugar. Everybody eats sugar. Don't you eat sugar? You eat natural sugar, you eat processed sugar, you eat fruit sugar, you drink milk sugar. High fructose corn syrup, honey, Sucrose, glucose, lactose, fructose, maltose, dextrose, pick your poison!!! It's all sugar.
I just have to take medicine to help my body process the sugar. Or at least I have to watch my carbohydrates and exercise regularly.
I could have to take insulin shots, or I could have to use an insulin pump and a continuous glucose monitor. I could be swallowing pills a few times a day, or I could be taking a weekly GLP-1 injection.
I could be at a party and decide to have a drink of wine, and give myself a bolus of insulin without you even knowing it. So don't judge me when I get an extra piece of pizza, or take that slice of birthday cake. I won't judge you, though you could lose a few pounds yourself!
My relative has Type 2, so I know all about Diabetes

Well, I just bet you do. Although I don't doubt you have some great points to add, can you be so bold as to tell me what I should do? Please don't think that you have the least idea of what I have to go through.
I may have Type 1 diabetes, which is more difficult to manage than your relative who has Type 2 diabetes.
I may have Type 2 diabetes also, but mine may be much more severe because I've had it longer. I may not be able to manage with just diet and exercise like your relative. I may need to take pills, or insulin shots. I may have to use an insulin pump.
You see, all people with diabetes are different. So don't think you know what it's like to walk in my shoes.
Did you eat too much candy as a child?

Plenty of children have Type 1 diabetes, and they nor their parents do not need your negative encouragement.
Eye roll. Is that even a question? I didn't eat any candy as a child (said no one ever).
If that's how you get diabetes, then shouldn't you, and you, and you, have diabetes?
Every Sally and Jim who ever went trick-or-treating would be in grave danger in that scenario. Every kid who ever dove into his birthday cake on his first birthday should be doomed to diabetes.
Didn't we already go over this? They don't know what causes diabetes, at least not really.
Is that the bad kind?

Excuse me, newsflash! What's the bad kind, exactly? Please enlighten me. Is there a good kind?
A Type 1 or a Type 2 can have a bad time with diabetes. Believe me, this is not intentional. The beta cells just get pooped out and tired, and they don't work. The old gray cell just ain't what she used to be.
Despite all their great effort, as time goes by, it can get more and more difficult to manage diabetes.
Ask Maureen, who contacted me at age 62. She had Type 2 diabetes for over 10 years, and despite her attempts to count her carbohydrates, exercise daily, and take her medication as prescribed, she was having trouble with blood sugars higher than in the past.
She struggled with the fact that increasing her exercise, cutting her carbohydrates, and losing 16 pounds, she still had not been able to keep her A1C from creeping up to 8.6 percent. She finally had to come to the conclusion with the help of her doctor, that it was time to start insulin injections.
She had put it off as long as she could. I guess you could say she had the bad kind.
What would be a better response to someone who has just told you that they have Type 1 Diabetes?
How about try…
Now you will be eating healthier and getting more exercise
How can I support you? Can I bring something particular to the church supper for you?
Did you know they have a good Diabetes education program at the health department you could go to?
We have a walking group in town. Why don't you come join us?
They started a new yoga class at the community center. I heard stress makes diabetes worse. Maybe that will help you to relax.
I saw some really great low carb dessert recipes in the diabetes magazines at work. Why don't we try some new recipes?
You really do look healthy. I'm sure you can learn to manage your diabetes like a lot of other people.
These are just a few of the responses that you could have to PWD's when they tell you of their diagnosis instead of the ill thought out responses in the Top 10 List. I'm sure that you can think of some more.
Over to you
We invite our readers, whether PWD's or those who have stuck their foot in their mouth from time to time, to make comments on this article. Tell us what you think. We strive to write meaningful articles about diabetes related issues. We hope that you found this article helpful. If there is anything that you would like to add, please do so in the comments section below.
TheDiabetesCouncil Article | Reviewed by Dr. Sergii Vasyliuk MD on September 01, 2018